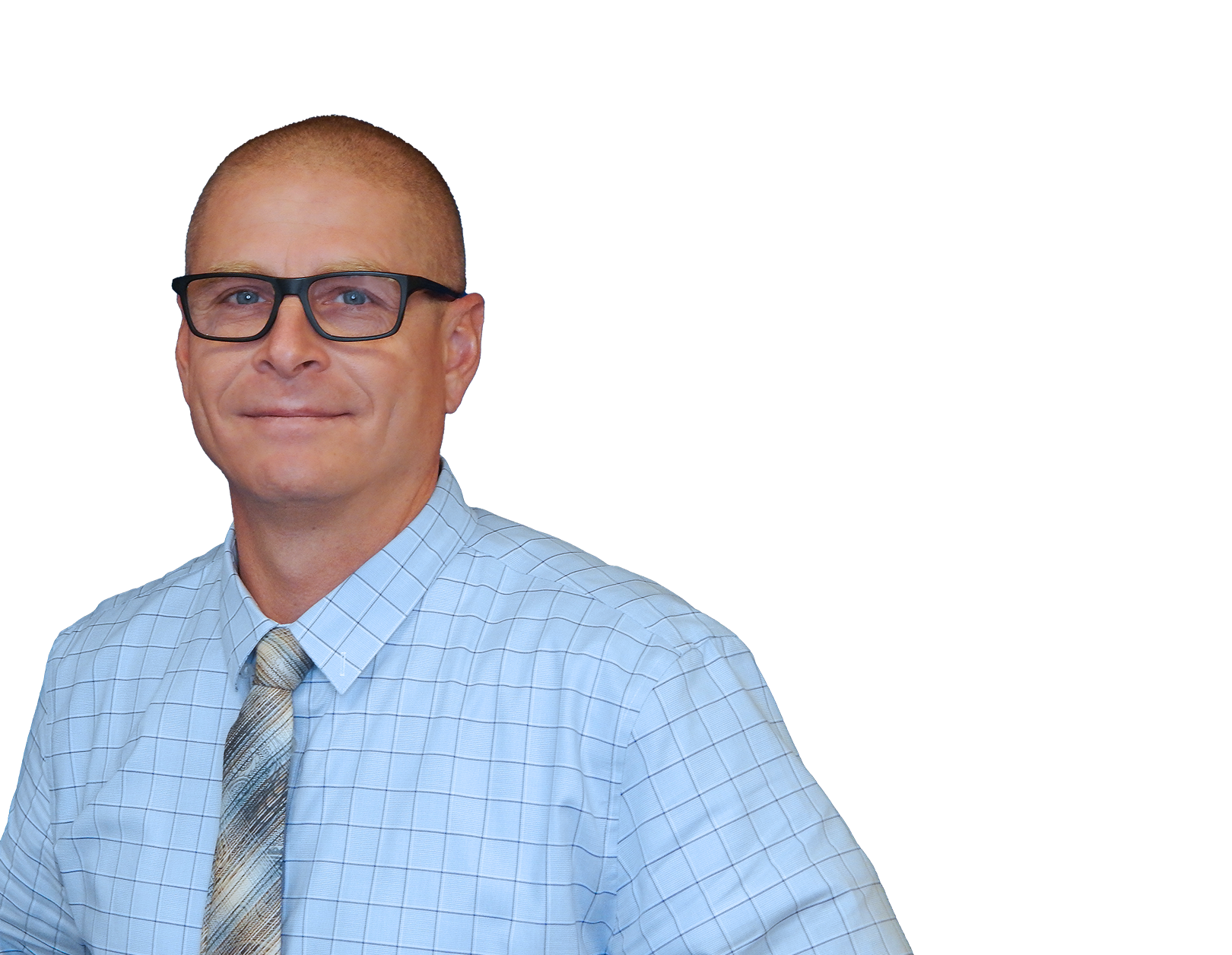 John Button
District Director
Ukiah Center
The Ukiah Center is located in southern Mendocino County about two hours north of San Francisco. Originally the site of a dairy farm, the residential facility sits on 6.7 acres with cabins constructed by staff and Corpsmembers in the 1980s. It is home to 80 Corpsmembers.
Benefits of enrolling at the CCC Ukiah Center include:
Earn a monthly stipend of $2,709
Opportunities for excess pay during fire season
Health insurance
State holidays and personal leave
Earn up to $8,000 in scholarships per year
Finish your high school diploma
Personal and career development
Learn skills that can lead to a career in natural resources
Ukiah crews work throughout Lake, Mendocino, Sonoma, and Marin counties on a variety of natural resource projects including trail construction, salmon habitat restoration, stream-bank enhancement, and a CAL FIRE partnered fire crew.
2600 Old River Rd.
Ukiah, CA 95482
707-463-2822
The CCC Ukiah Center will move to Willits and become the Mendocino Center in 2024. The above video highlights the construction progress as of May 2023. Stay tuned for updates on this exciting new chapter for the CCC in Mendocino County.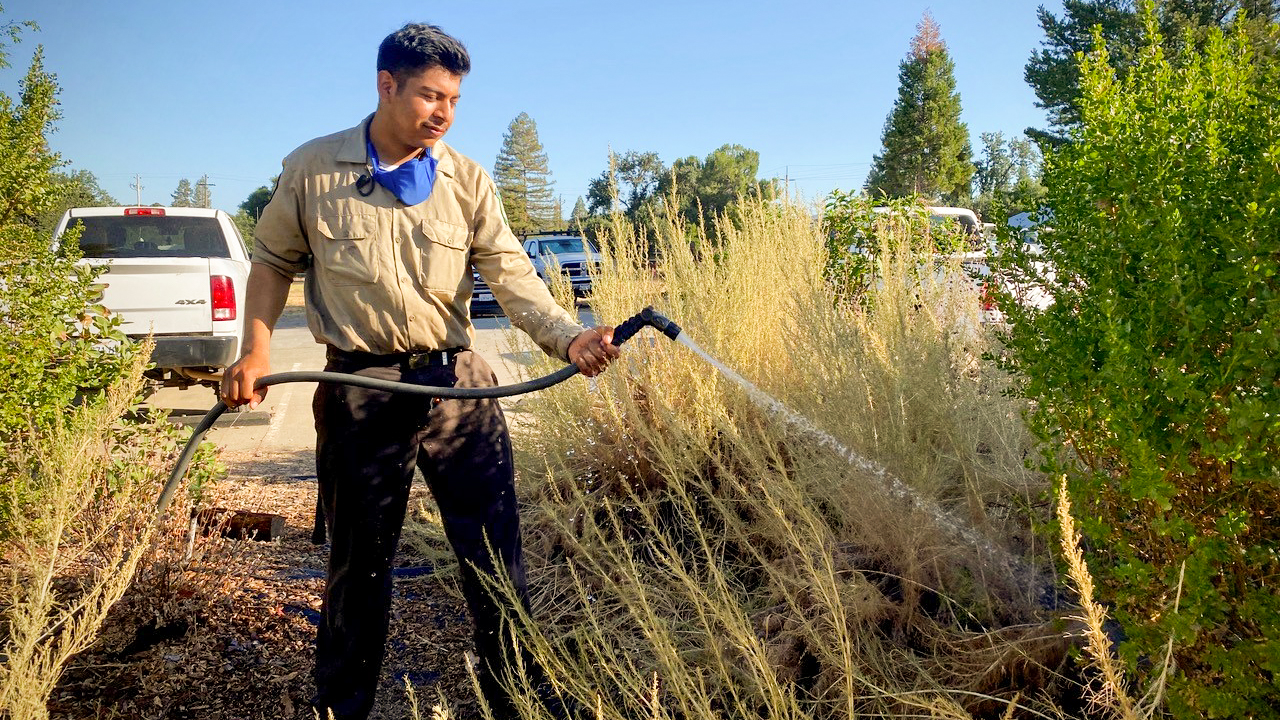 Ukiah Corpsmember Carlos Lopez Contreras waters plants on the center grounds. Keeping the campus maintained and healthy is a responsibility of all Corpsmembers assigned to the center. 
The Corpsmember Advisory Board (CAB) conducts weekly community meetings with Corpsmembers and Ukiah staff. Announcements are made about upcoming trainings and classes. Community members provide updates on crew projects and coordinate recreation trips and volunteer activities. Comprised of community-elected Corpsmembers, the CAB initiates many activities, holds fundraisers, and provides input and suggestions to the center director about community improvements and issues.
When residents are not in class or working, they are free to do what they want — go into town for a movie; hike in Low Gap Park; lounge in the center recreation room; or play basketball, horseshoes, and softball. Ukiah Center staff and Corpsmembers coordinate recreation trips to Fort Bragg on the coast, shopping trips in Santa Rosa, and attend local music festivals. Visitors are welcome after work and on weekends.
To be eligible for the CCC scholarship, Corpsmembers volunteer on the weekends at a variety of events and organizations including parades, the local food bank, community gardens, blood drives, and animal shelters.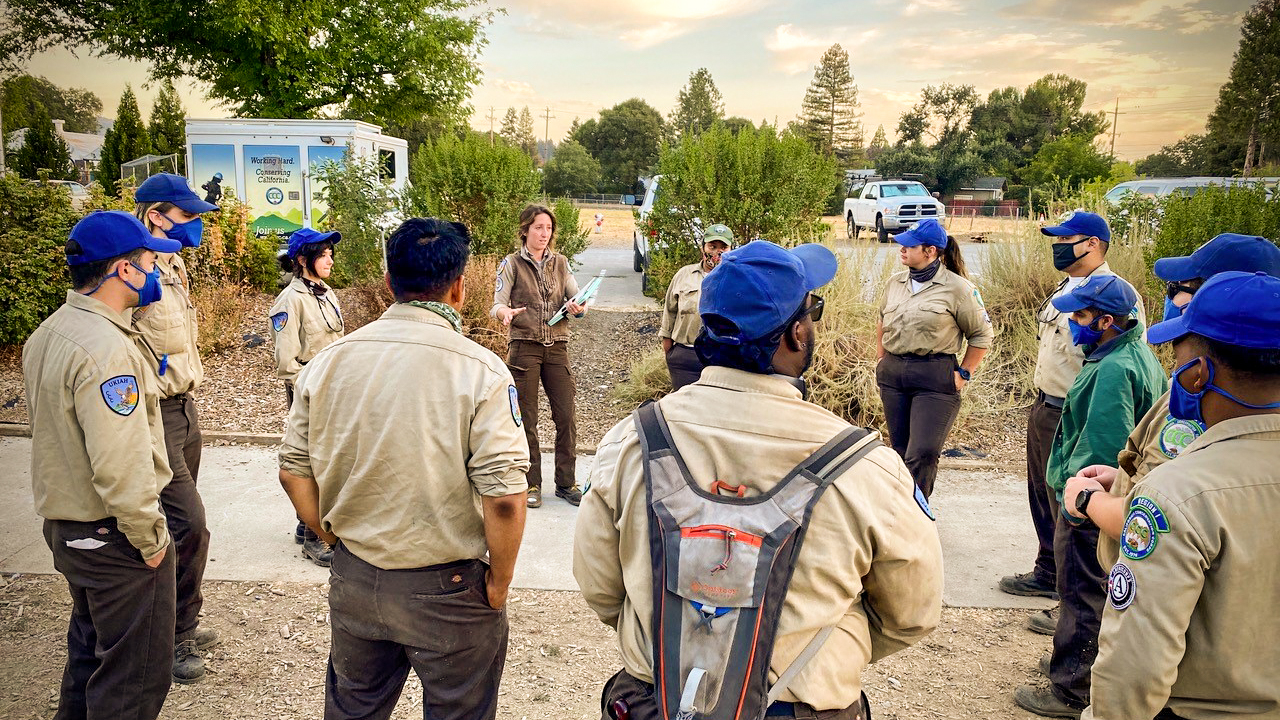 Crew supervisor Anne Highley-Smith meets with her crew for what's called "morning circle," or a safety tailgate meeting, before heading out to a project for the day. Safety and work assignments are discussed regularly with crews on project sites. 
Ukiah Corpsmembers are exposed to a variety of outdoor work projects offering them diverse work experience and skill knowledge. Projects include trail rehabilitation and construction, landscaping and native planting, invasive Douglas fir removal to protect badger habitat, erosion control, fire hazard reduction, salmon habitat restoration, and stream bank enhancement. These projects typically occur within Lake, Sonoma, Marin, and southern Mendocino counties. Some of these projects, called "spikes," are not within a reasonable commuting time and require the crew to stay near the work project in available housing or tents.
Ukiah has long established relationships with federal, state, and local agencies as well as other public entities to conduct natural resource projects throughout the year. Such sponsors include Ukiah Valley Trail Group, Ukiah Fire Safe Council, Mendocino Redwood Company, California State Parks, the Department of Fish and Game, Bureau of Land Management, U.S. Forest Service, National Oceanic and Atmospheric Administration (NOAA), Marin Municipal Water District, and Caltrans.
Wildland Firefighting: The CCC Ukiah Center operates a wildland firefighting hand crew in partnership with CAL FIRE. Corpsmembers receive training and hands-on experience working with CAL FIRE captains responding to wildfires year-round locally and across the state. The center is collaborating with the CAL FIRE Mendocino (MEU) unit to operate the crew. Wildland hand crews help build fire line with hand tools and conduct mop-up work. The crew is known as Willits 1 when dispatched. In 2023, the center will begin operating a second wildland firefighting hand crew in partnership with CAL FIRE.
CCC-NOAA Veterans Corps Fisheries Program: In partnership with NOAA, this program provides post-9/11 veterans new opportunities to build their skills and work experience by restoring and protecting fisheries resources. Veteran Corpsmembers work side-by-side with experts from state, federal, and non-profit restoration partners. Work involves habitat restoration and monitoring projects identified by NOAA Fisheries. Veterans must possess a DD214 to participate in this program.
At the Ukiah Center, veterans conduct fisheries work in the coastal Mendocino County Watersheds, including Navarro, Big, Noyo, and Albion rivers. Veteran Corpsmembers participate in conferences, CCC training opportunities, CDFW training opportunities, and even volunteer snorkel surveys held by the Mattole Salmon Group and the Smith River Alliance. Other partners include
Mendocino Redwood Company's fisheries department: conducting spawner surveys, longitudinal profiles, and outmigrant smolt trapping/tagging in the Navarro River watershed
Russian River Salmon & Steelhead Monitoring Program: conducting spawner surveys, outmigrant smolt trapping/tagging, data collection and maintenance of instream tag reading antenna arrays, electrofishing, summer habitat assessment and modeling surveys, and advanced streamflow monitoring
California Department of Fish & Wildlife (CDFW) Lake Sonoma Warm Springs Hatchery: conducting fish counts, measuring, handling, feeding, holding tank cleaning, construction of fish screens and ladders, and releasing captive fish at key locations throughout the Russian River watershed
CCC Salmon Restoration Program: many of our NOAA Vets have chosen to work with our CCC crews from mid-July to October, participating in instream large wood restoration projects and post-implementation monitoring
As an emergency response department, the CCC is called upon to respond to emergencies throughout the state at any time during the year for fire camp support, floods, oil spills, earthquakes, and pest eradication.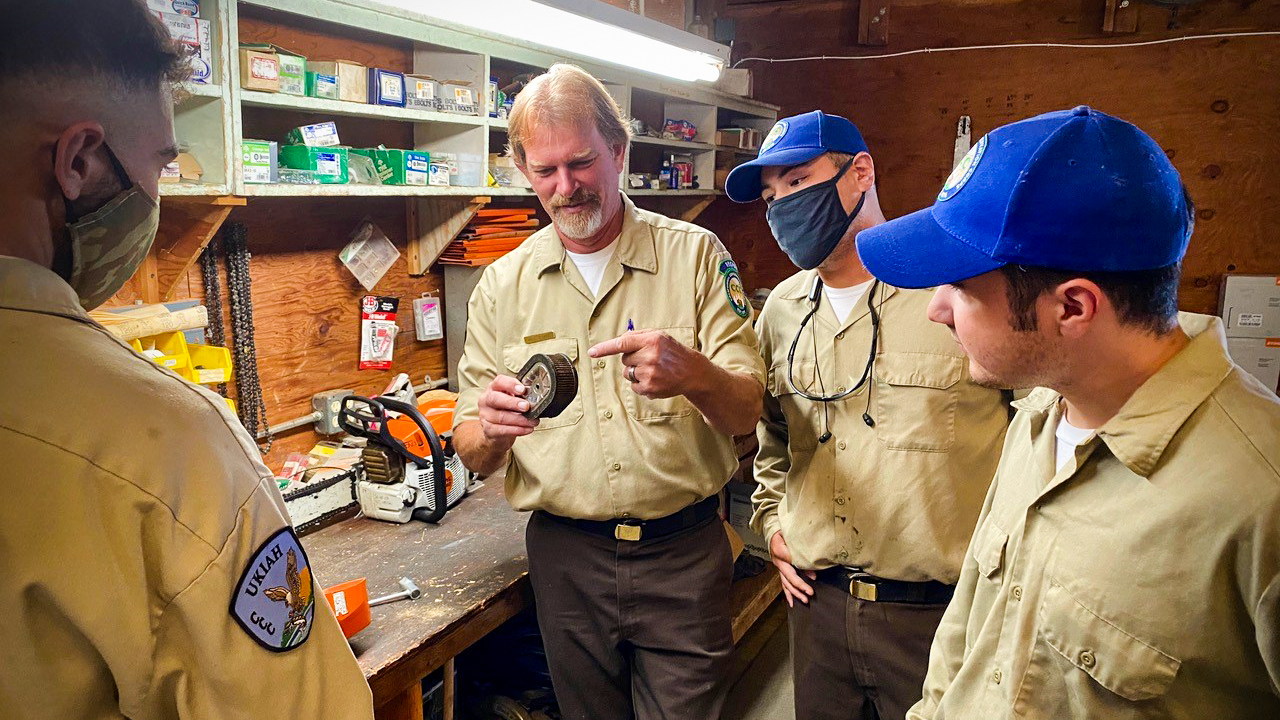 Ukiah maintenance mechanic William Evans instructs Corpsmembers on what to look for and how to repair equipment in the field. 
Wildland Firefighter Training
Backcountry Trail Construction & Maintenance
Bobcat Equipment Safety & Operation
Chain Saw Training
Chipper Safety & Training
Construction & Trades Training
Cross Cut Saw
First Aid & CPR
Flora and Fauna Identification
Hazardous Waste Operations and Emergency Response (HAZWOPER) 40-Hour Training
Ladder Safety
Leave No Trace
Power Tools Safety and Operation
Safety Stand Down
Salmon Restoration Program Training
Trail Construction and Maintenance
Trainings and certifications are provided in the center's training room after the Corpsmembers' work day has ended. The computer lab is available for computer program trainings, job searching, and completing online applications, as well as recreational internet access for Corpsmembers.
Corpsmember internship opportunities are also available to provide on-the-job training for Corpsmembers interested in exploring careers in natural resource.