The Placer Center has remained in continuous operation for over forty years serving the State of California.
When it first opened in 1951, the Placer Center was known as the Iron Mine Conservation Camp operated by the California Department of Forestry. In 1977, the facility became a residential center for the California Conservation Corps, focusing on natural resource conservation, and later In 1984, was renamed the Placer Energy Center as it combined its energy conservation work and solar programs into one operation. More recently, the Placer Center's projects have refocused on resource conservation work and emergency response including relief efforts on Hurricane Katrina in 2005 and Hurricane Harvey in 2017. Additionally, it is one of three CCC centers that train Type I fire hand crews in partnership with CAL FIRE. The Placer Center maintains an average of eighty Corpsmembers at the facility throughout the year.
The Placer Center sits on sixty six acres in the Sierra foothills just off Interstate 80, eight miles north of Auburn in Placer County. The town of Auburn is a fifteen minute drive away from the center, and downtown Sacramento about a forty minute drive. The Auburn State Recreation Area is nearby where plenty of outdoor recreation is available, such as mountain biking, hiking, and you can access the north and middle forks of the American river for gold panning, fishing, and in late spring, white water rafting. Wild animals native to the local area include wild turkeys, mule deer, rattlesnakes, coyotes, and mountain lions.
3710 Christian Valley Road
Auburn, CA 95602
530-823-4900
Life at the Placer Center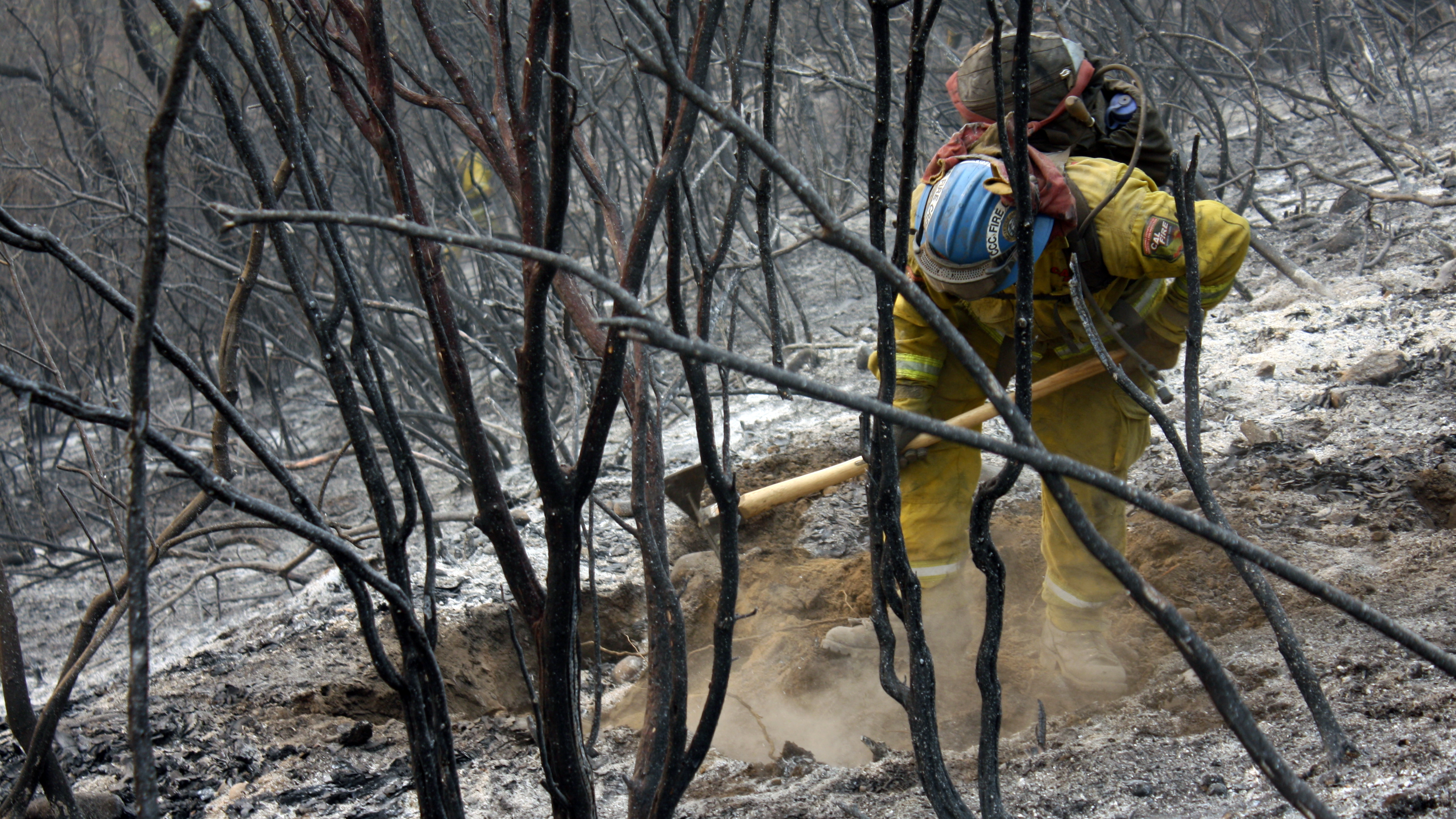 A Placer Wildland Firefighting Corpsmember digs out a smoldering tree root during mop up operations at the November 2018 Camp Fire near Paradise, CA.
Volunteering in nearby communities or for local organizations is a valuable way to get Corpsmembers involved in something bigger than themselves. It allows them to see firsthand how the direct giving of one's time can affect others in a positive way. Corpsmembers can expect to volunteer a minimum of six hours per month.
In the last year, events have included various Placer County Nature Center events, community tree planting events in the City of Roseville, and support to a children's therapeutic equestrian center.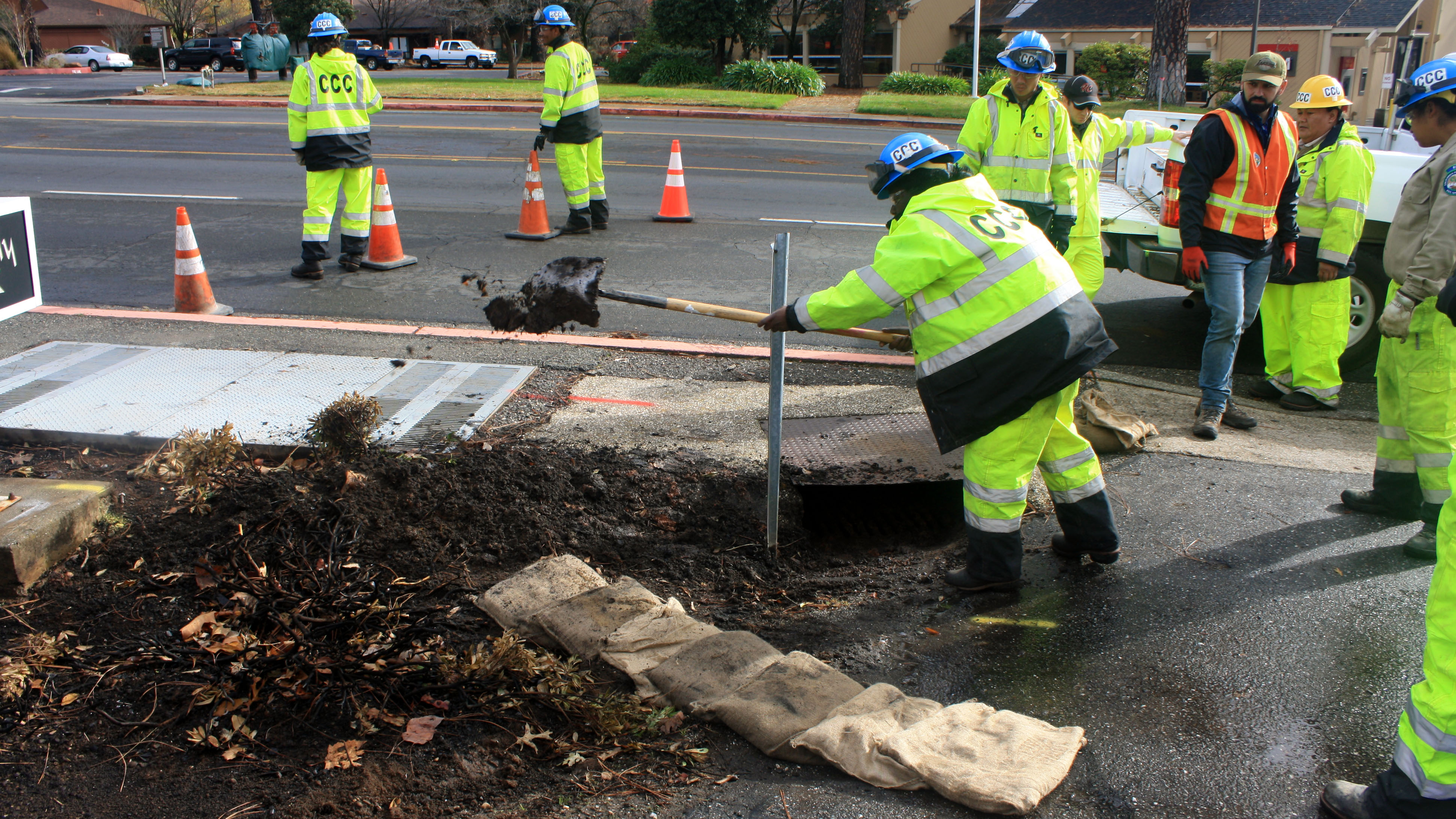 Placer Center Corpsmembers remove dirt from a drainage ditch and lay sandbags to prevent debris flows in Paradise, CA during an emergency response.
The California Conservation Corps and CAL FIRE established a partnership at the center in spring of 2017. The center houses two Type I wildland fire hand crews overseen by CAL FIRE captains who will also provide technical supervision and training to the crews. Men and women interested in joining the CCC and gaining experience for a career in firefighting should call 800-952-5627.
Project work in recent years has included trail construction, fuel reduction, stream clearance, tree planting, native flora planting and maintenance, highway vegetation maintenance, tree trimming, storm damage clean up, flood emergency response, wild land fire response, and fire camp support. Sponsors include city and county agencies, Department of Water Resources, CAL FIRE, California State Parks, CalTrans, Cal Recycle, U.S. Forest Service, Nevada Irrigation District, and more.
No matter the weather, distance, or type of emergency, the Placer Center is committed to timely response to emergencies with well-trained crews in all circumstances. Whether cutting line, assisting with fire camp operations, sand bagging homes or property during a flood emergency, or staffing emergency shelters, Placer Corpsmembers are ready to offer their services at a moment's notice.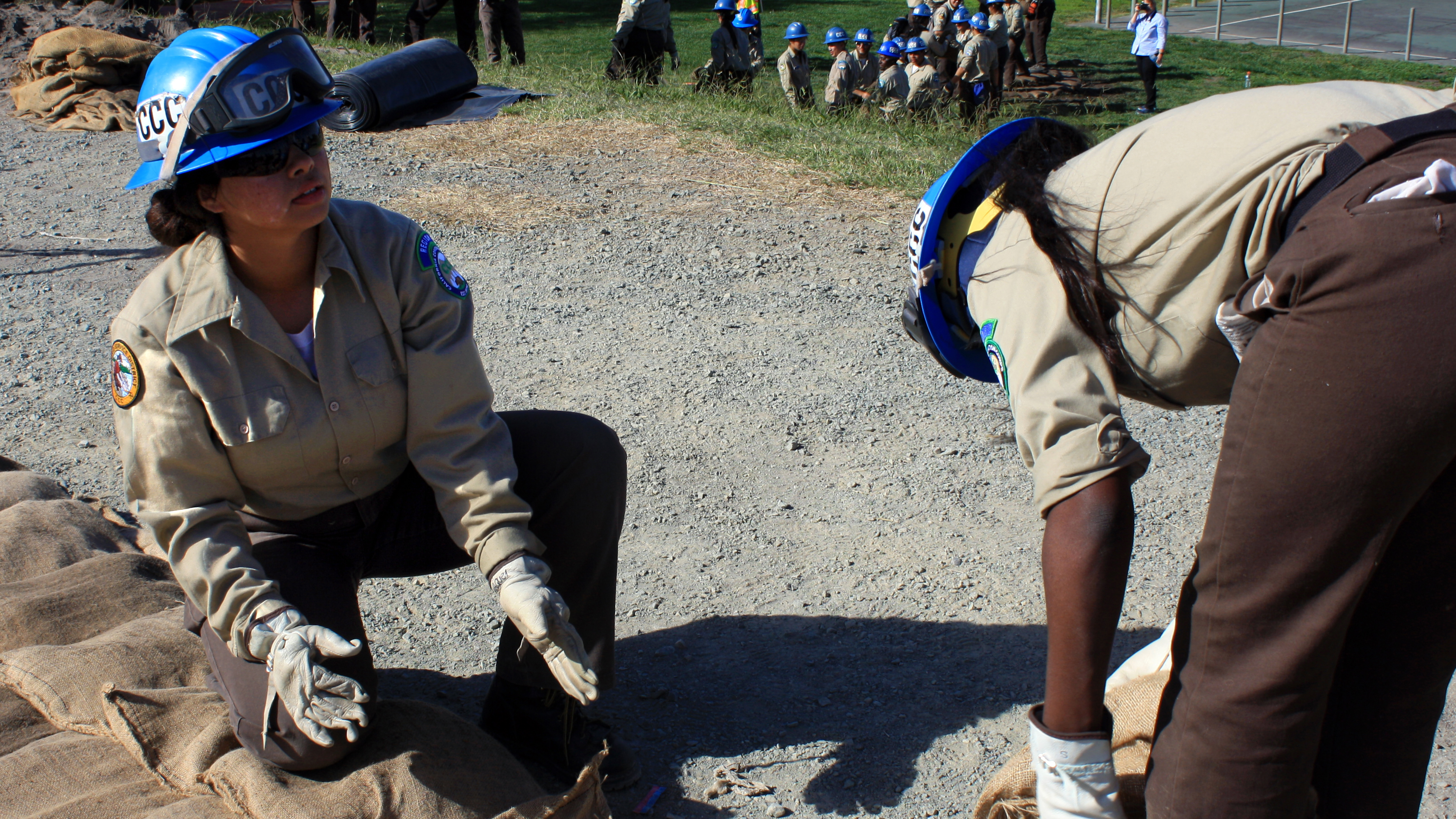 Corpsmember Raquel Velasquez waits to be handed a sandbag during the 2018 Flood Fighter exercise in Stockton, CA. All Corpsmembers are trained in flood fighting techniques. 
CAL FIRE Type I Firefighter Training
Chain Saw Training and Certification
Chipper Safety & Training
First Aid & CPR
Flora and Fauna Identification
Hazardous Waste Operations and Emergency Response (HAZWOPER) 40-Hour Training
Herbicide Application and Safety
Ladder Safety
Pesticide Handler Safety
Power Tools Safety and Operation
Safety Stand Down
ServSafe Food Handler Certification
ServSafe Food Protection Manager Certification
Trail Construction and Maintenance
The CCC is a one year program, however it is possible for Corpsmembers to promote into a second year as a Specialist or as a Crewleader.
Through a partnership with John Muir Charter School, CCC Placer Center offers classes to Corpsmembers in need of their high school diploma. Many Corpsmembers consider earning their high school diploma to be one of most important achievements obtained while in the CCC.