The Monterey Bay Center is located in Watsonville, California. The nonresidential center manages three crews consisting of 45 Corpsmembers. These crews provide resource conservation work such as trail construction, wetland habitat restoration, and fire hazard fuel reduction in the Watsonville and surrounding communities.
The Monterey Bay Center primarily consists of administrative offices, classrooms, and storage space for vehicles, tools, and other supplies. Located thirty minutes from both Santa Cruz and Monterey, the center is about 10 miles from the ocean which results in a mild climate.
The Monterey Bay Center also operates the Fresno Satellite. Three crews meet at the satellite every morning then depart for the day's work in the Fresno area.
30 Aviation Way
Watsonville, CA 95076
(831) 768-0150
2536 N. Grove Industrial Drive
Fresno, CA 93727
(559) 458-0914
Life at the Monterey Bay Center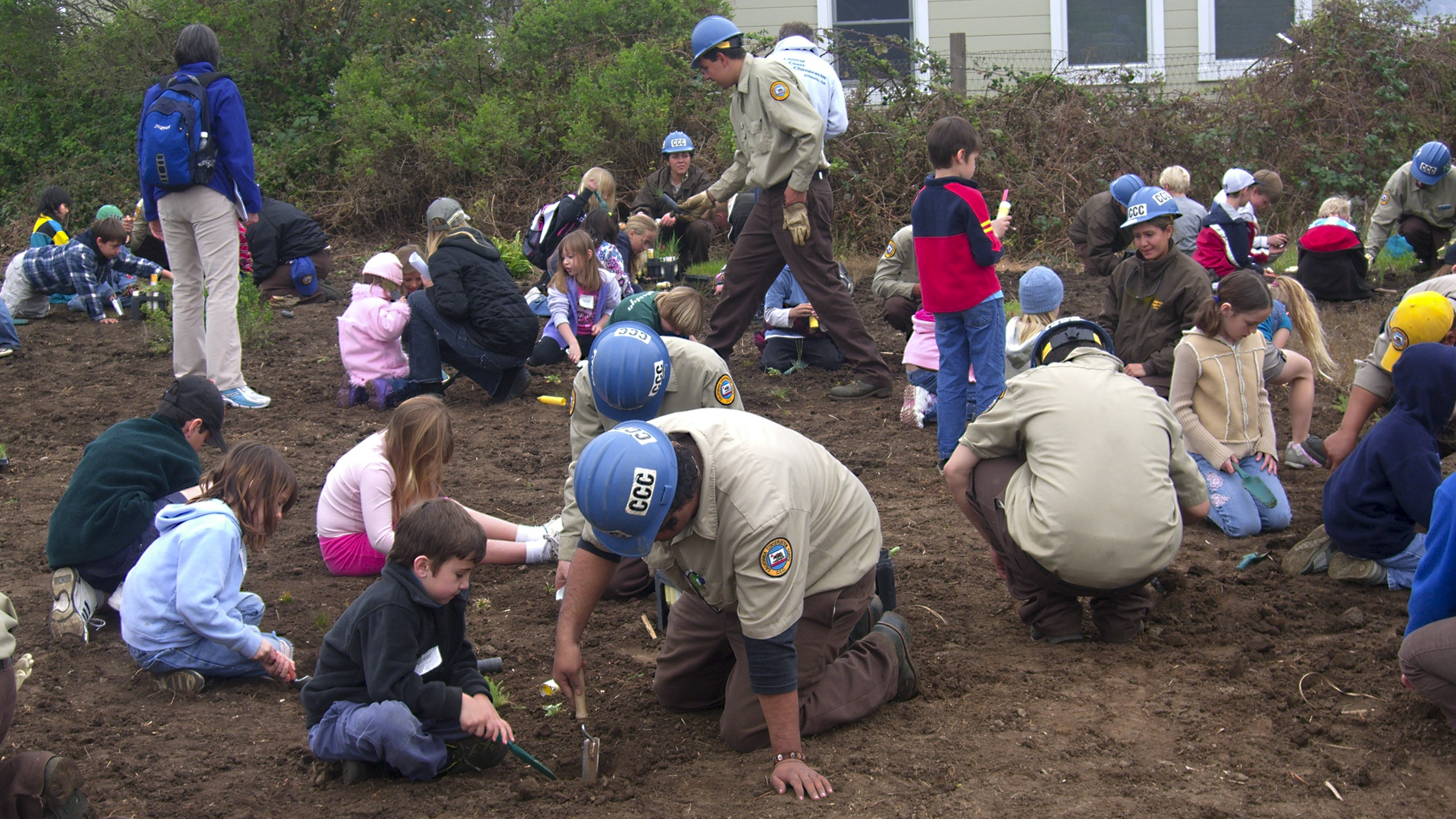 Corpsmembers from the Monterey Bay Center are volunteering with children to plant trees and plants.
Corpsmembers work Monday through Thursday from 7 a.m. until 5:30 p.m. They must be prepared to start work in their proper uniform with lunch, water, and full safety gear by roll call at 7 a.m. Most projects are within an hour drive from the center. The crews return to the center around 5 p.m., at which time they clean vehicles and tools, then return the tools to where they belong. In addition, Corpsmembers are able to attend classes after work to satisfy their required educational hours.
On the weekends, there are plenty of community volunteer activities available to interest Corpsmembers and meet the CCC's requirement for volunteer service. Otherwise, Corpsmembers are free to do what they'd like.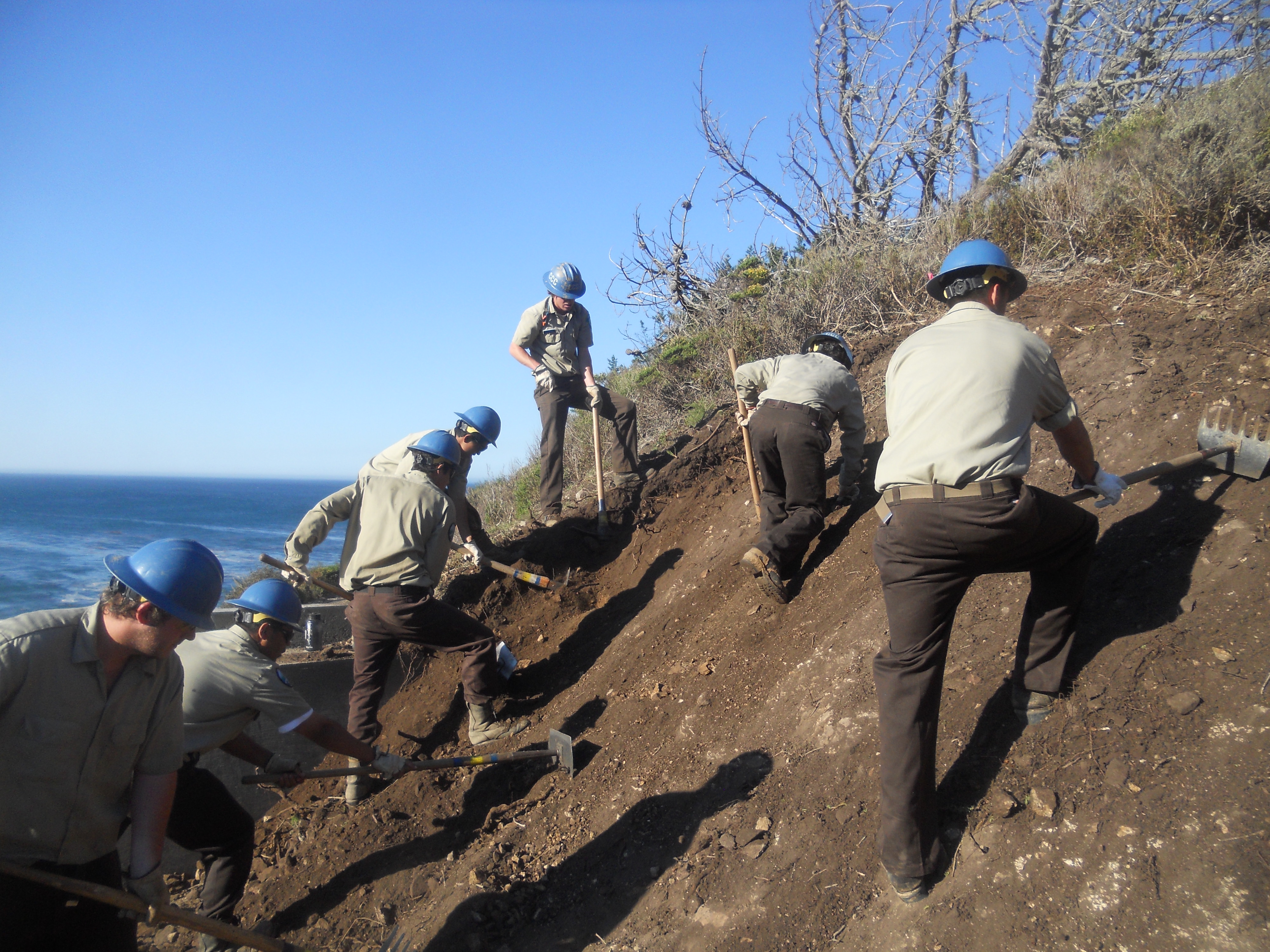 Corpsmembers from the Monterey Bay Center are restoring a habitat on Bird Island off of California's Central Coast.
The Monterey Bay Center's natural resource projects include trail rehabilitation, trail construction, fire hazard reduction, tree planting, native plant restoration, landscaping, park development, and minor construction. Crews have also constructed trails to meet American's with Disabilities Act (ADA) requirements. The Monterey Bay Center has a Salmon and Steelhead Restoration Program, which includes riparian restoration, exotic species removal, fish-passage improvement, stream bank stabilization and upper watershed erosion control. Center projects take place primarily in Monterey, San Benito, Santa Clara, and Santa Cruz counties, though it is not uncommon to work on projects outside of these areas.
Some project sponsors include the California Department of Forestry and Fire Protection, California State Parks, the Big Sur Land Trust, Hollister Hills State Vehicular Recreation Area, Watsonville Wetlands Watch, Friends of Santa Cruz State Parks, Resource Conservation Districts, and Central Coast Energy Services.
The Monterey Bay Center has a long history of fully participating in emergency response throughout California. Crews respond each fire season, providing logistical and facility support to help fire camps operate smoothly. Other emergencies that the Monterey Bay Center has responded to include earthquakes, search and rescue efforts, and Department of Food and Agriculture emergencies such as Mediterranean fruit fly infestations. Corpsmembers also support the American Red Cross in providing shelter and food. When responding to emergencies, Corpsmembers may be away from home and their regular conservation work for several weeks.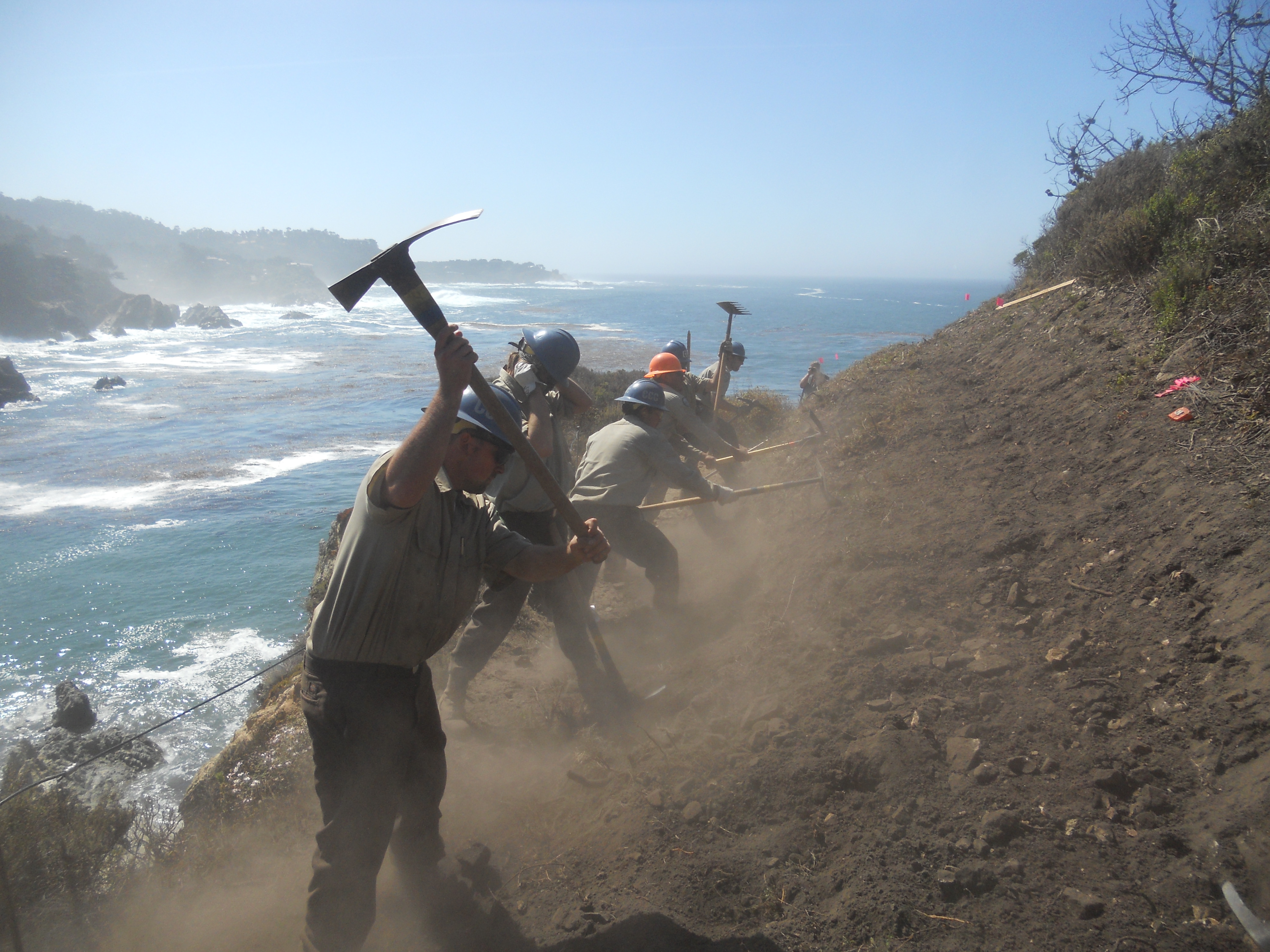 Corpsmembers at the Monterey Bay Center use a variety of tools to do their job. Training is provided to all Corpsmembers so they know how to safely and properly use these tools.
All Corpsmembers at the Monterey Bay Center complete Corpsmember Orientation, Motivation, Education, and Training (COMET) and core training courses. Once completed with all required CCC competencies, Corpsmembers are encouraged to take college courses.
Aside from these evening courses, various training opportunities, seminars, and workshops are offered to Corpsmembers throughout each year. These are designed to ensure their successful program completion and to assist them in becoming more responsible, well-rounded, and highly employable adults following their experience in the CCC.
Specialized trainings and certifications offered at the Monterey Bay Center include:
Backcountry Trail Construction & Maintenance
Caltrans' Internship Program
Chain Saw Training
Chipper Safety & Training
Construction & Trades Training
Cross Cut Saw
First Aid & CPR
Flora and Fauna Identification
Ladder Safety
Hazardous Waste Operations and Emergency Response (HAZWOPER) 40-Hour Training
Leave No Trace
Power Tools Safety and Operation
Safety Stand Down
Salmon Restoration Program Training
Small Engine Repair
Trail Construction and Maintenance