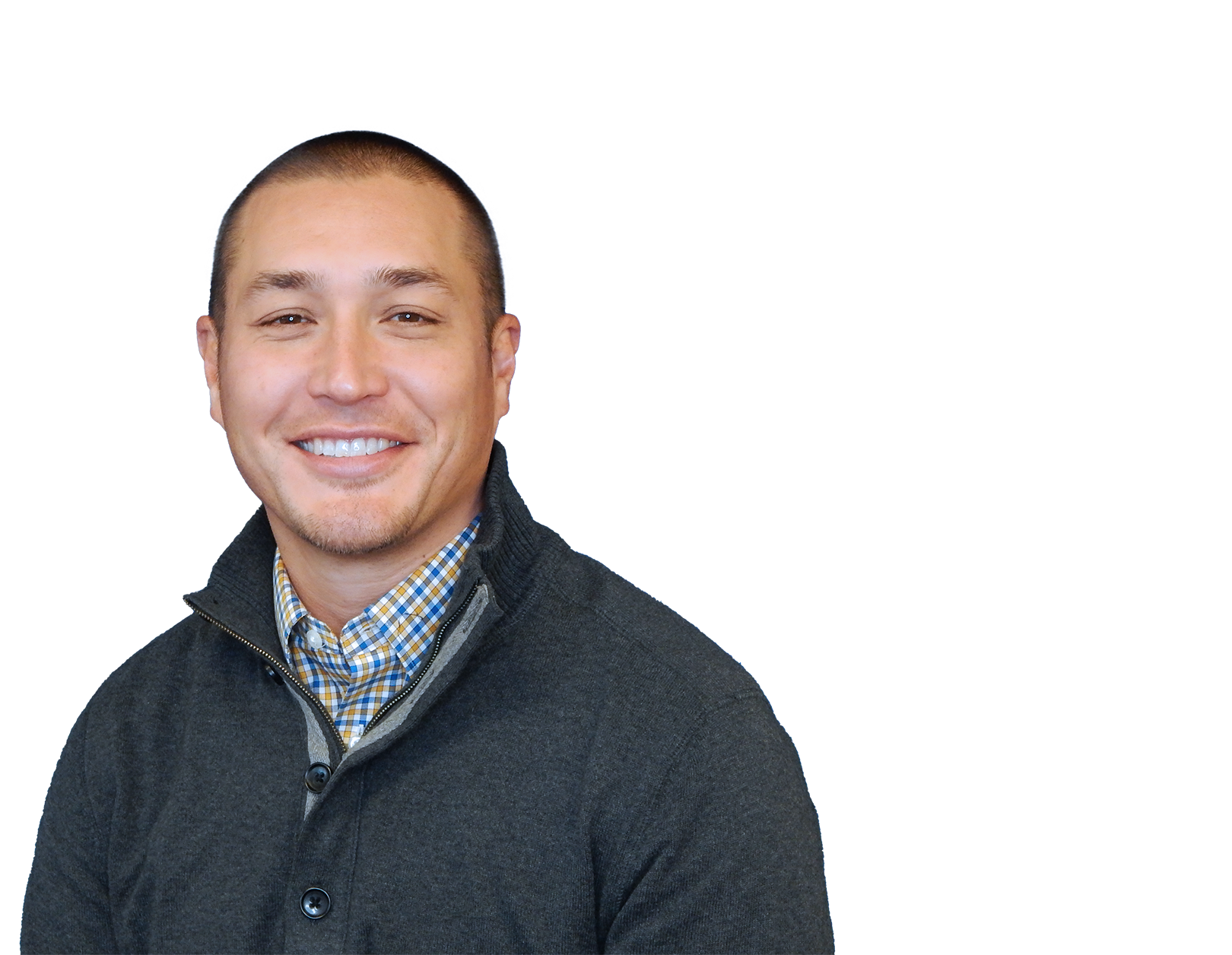 Gary Whitehouse
District Director
Tahoe Center
Corpsmembers from the Tahoe Center have performed work in the South Lake Tahoe Basin for more than two decades. The center completes thousands of hours each year on local projects managing healthy forests and limiting soil erosion around the lake.
Lake Tahoe is known internationally for its water clarity, and the Tahoe Center's mission is to assist in "Keeping Tahoe Blue." Located in the city of Meyers, the residential facility is about five miles from the City of South Lake Tahoe and is home to 80 Corpsmembers.
The center has a total of three buildings. One building consists of administration offices, a computer lab, classrooms, and a conference room. The second building is the multi-purpose building contains the kitchen and dining hall, which converts to a basketball court or a meeting room when needed.
Furthest away from Highway 50, the third building is the residential facility. Each dorm has its own bathroom, shower, and exterior door overlooking the golf course. There is a recreation room with a pool table for Corpsmembers to enjoy, a movie room with a big-screen TV and stereo speakers, and a weight room that is popular among Corpsmembers.
1949 Apache Ave.
South Lake Tahoe, CA 96150
530-577-0850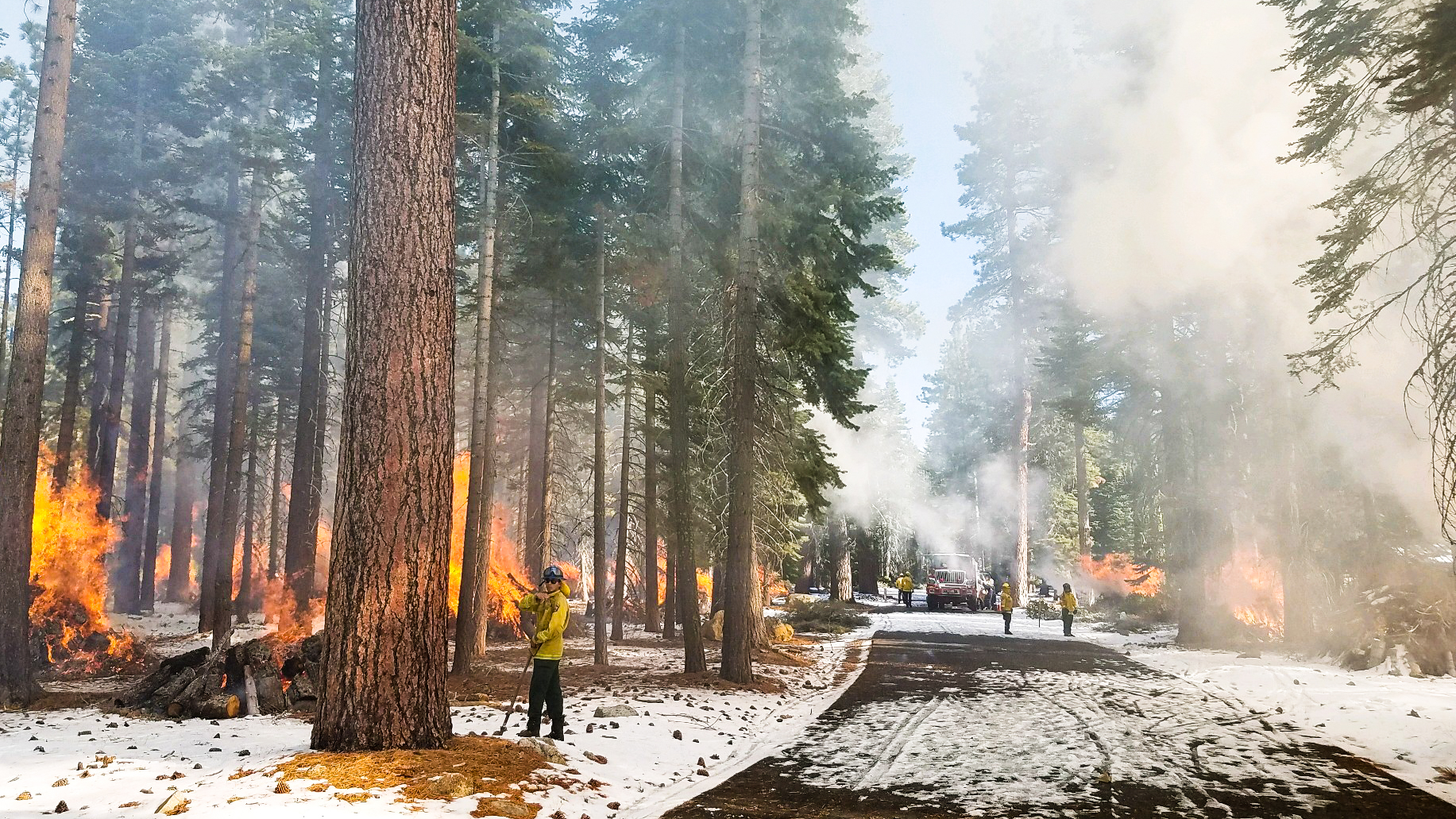 CCC Tahoe fire crews help with burn piles in the greater Tahoe Basin. Those piles removed dead vegetation and other debris that could help fuel large wildfires this summer and fall. 
Field workdays start promptly at 5:45 a.m. when breakfast is served and Corpsmembers have the opportunity to pack lunches. Roll call takes place every morning at 7:00 a.m., during which Corpsmembers are briefed on the day's events. Crews depart the center around 7:30 a.m. Most outdoor project assignments end at 5:30 p.m., at which time dinner is served.
After dinner, Corpsmembers may take classes on the premises or through Lake Tahoe Community College (LTCC). Tahoe Corpsmembers are invited to enroll at LTCC to earn college credits while in the CCC. All Corpsmembers are encouraged to continue a pattern of "life-long learning."
The Corpsmember Advisory Board (CAB) meets weekly with the entire Corpsmember population in a community meeting. The purpose of community meetings are to provide general center information, voice questions and concerns, discuss upcoming events and activities, elect new officials, go over policy and procedure changes, and various other agenda topics. The CAB members serve as the voice of the Corpsmember community and meet with staff to ensure active communication.
Tahoe Corpsmembers are encouraged to participate in local community volunteerism. The Corpsmember Development Staff works with local community organizations and schedules volunteer events. Many of these volunteer hours are done on the weekends when Corpsmembers can choose to participate in a plethora of recreation, education, and volunteer events, or can act independently and have some free time to themselves. Family members are welcome to visit for special events and on the weekends with advance approval from the District Director.
A Tahoe Corpsmember uses a chain saw to buck, or cut up, a downed tree. Every year, Corpsmembers perform fuel hazard reduction by removing dead trees and plants between homes and in urban areas to minimize the spread of fire.
The Tahoe Center partners with several agencies in managing the extensive fuel hazard reduction work in the Lake Tahoe Basin. Some project sponsors include the California Tahoe Conservancy, Lake Tahoe Basin Management Unit (USFS), Eldorado National Forest (USFS), and California State Parks.
Corpsmembers at the Tahoe Center have planted more than 200,000 trees since 1987. The center has been of great assistance to the re-growth effort in the Angora burn area, assisting in clearing and stabilizing the soil in a once devastated coniferous forest region. The center also assisted in the completion and re-routing of trails around the basin. These combined efforts allow for the environment to return to a natural state and assist in maintaining wilderness areas.
Corpsmembers perform extensive mitigation, which supports revegetation of burn areas and highway soil stabilization. This work includes planting and watering with an assortment of tools and water tenders. Some crews plant up to 200 trees a day and use up to 900 gallons of water. Corpsmembers learn about the environment in a high-elevation climate and help promote and protect the growth of our native species. Tahoe Center mitigation crews work closely with sponsors such as Caltrans and the California Tahoe Conservancy.
Trails projects are another specialty at the Tahoe Center. Crews work with the U.S. Forest Service and California State Parks in all aspects of trail building, including trail survey and design, construction, drainage, and building with rock and timber.
In the winter months and times of heavy snowfall, the Tahoe Center continues to work with arbor projects and snow removal. Crews may "spike" in many areas around California, working and camping away from the center for several days to complete a wide scope of projects.
Forestry Corps: The center operates a CCC Forestry Corps crew committed to improving California's forest health. Corpsmembers are trained to remove and reduce overgrown and dead vegetation posing a potential fire risk. The Forestry Corps may also assist in tree planting, tree felling, and other arborist work and training. In addition to project work, Corpsmembers are enrolled in the Forestry Program at Lake Tahoe Community College where they can pursue an Employable Skills Certificate and Certificate of Achievement in Forestry.
Wildland Firefighting: The Tahoe Center operates two year-round CAL FIRE partnered wildland firefighting hand crews. The crews receive training and hands-on experience working with CAL FIRE captains responding to wildfires around Lake Tahoe, as well as major incidents throughout California. The center is collaborating with the CAL FIRE Amador-El Dorado (AEU) unit to operate the crews. Wildland hand crews help build fire line with hand tools and conduct mop-up work. When not fighting fires, Corpsmembers work with CAL FIRE on fuel reduction projects to reduce the threat of wildfire.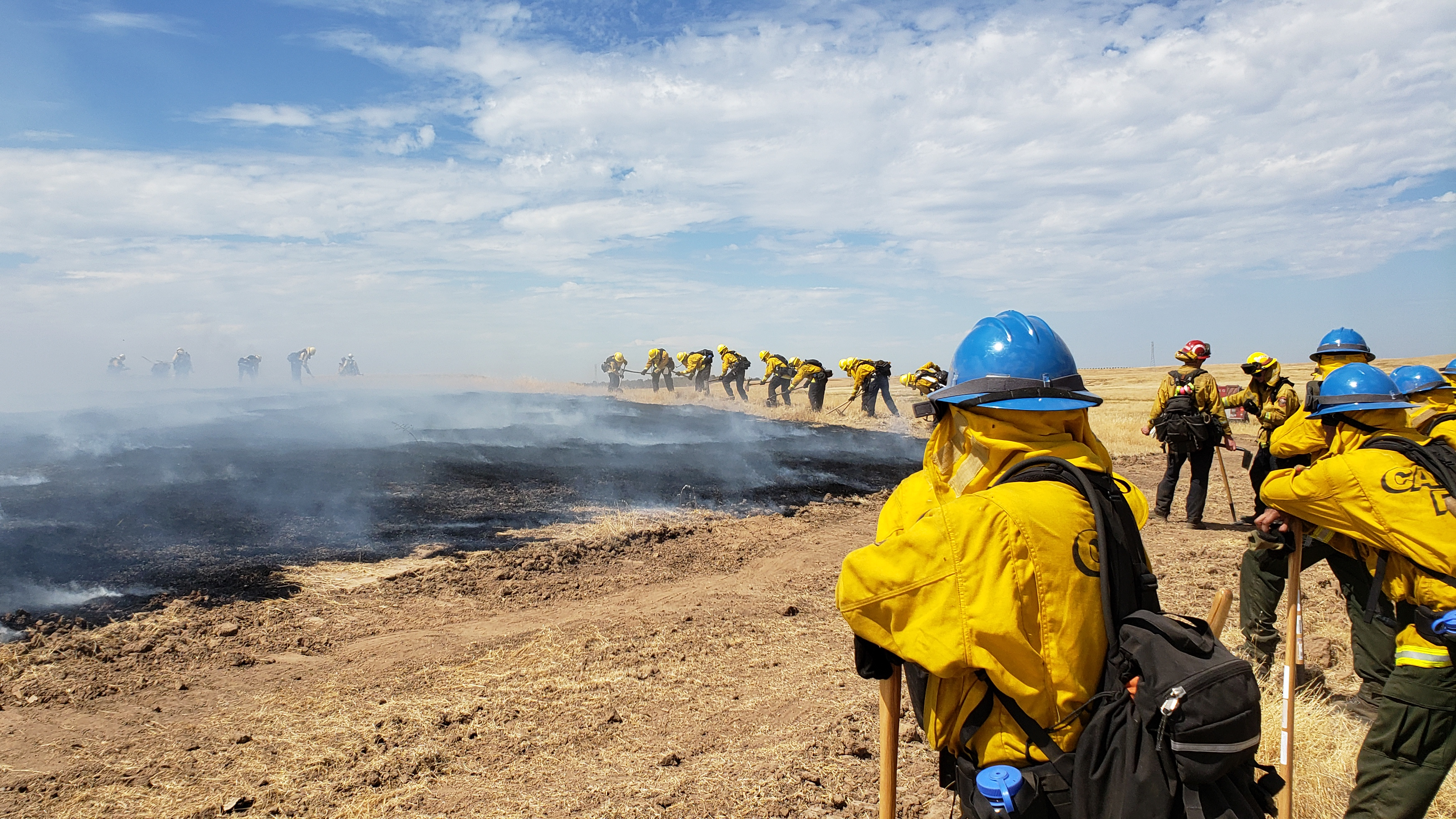 CCC Tahoe Corpsmembers receive training with our CAL FIRE partners as part of wildland fire crew initial training. Corpsmembers regularly participate in prescribed burns as well as respond to active fires across the state.
CAL FIRE Wildland Firefighting Training
Arbor (Includes tree climbing, rope safety, knots, limbing)
First Aid & CPR
Automated External Defibrillator (AED) Certificate
Chain Saw Training
Power Tools Safety and Operation
Chipper Safety & Training
Culinary Academy Boot Camp
Safety Stand Down
ServSafe Food Handler Certification
ServSafe Food Protection Manager Certification
Tree Climbing Safety
Leave No Trace
Trail Construction and Maintenance
The center also partners with Lake Tahoe Community College to allow Corpsmembers to earn college credits by taking academic courses that have been approved by Corpsmember Development staff. These courses include work experience, Physical Training, Culinary Boot Camp, Wildland Fire Fighting Training, and other classes that benefit our Corpsmembers. The Tahoe Center provides transportation for Corpsmembers attending the community college.