The CCC Vista Energy Center completes green technology projects across Southern California and helps launch Corpsmembers' career in the electrical and renewable energy fields.
Corpsmembers get paid while receiving hands‐on experience and certificated training designed to increase work opportunities in green technology fields, including:
Whole building energy audits including control systems, internal plug loads and HVAC
Lighting retrofits
Solar
Electrical vehicle charging stations
Corpsmembers learn basic electrical skills that can be utilized to simply upkeep their own homes or to serve as a basis for a career in electrical fields. Some of the benefits of enrolling at the CCC Vista Center include:
Paid Time Off
Healthcare coverage
No experience required
Up to $8,000 in scholarships your first year
Finish your high school diploma
Career pathway examples: energy conservation, energy efficiency, renewable energy
The Vista Energy Center enrolls as many as 20 Corpsmembers to complete energy projects. A majority of the work takes place in San Diego, Los Angeles, Orange, and Riverside counties, but crews can complete work anywhere in the state as needed.
The center partners with the Norwalk Energy Center and Cerritos College to offer all Corpsmembers enrollment in a state approved apprenticeship program. All Vista Energy trainings count toward earning a Nonresidential Lighting Technician (NRLT) license.
1120 Sycamore Avenue
Vista, CA 92081
760-599-9711
Life at the Vista Energy Center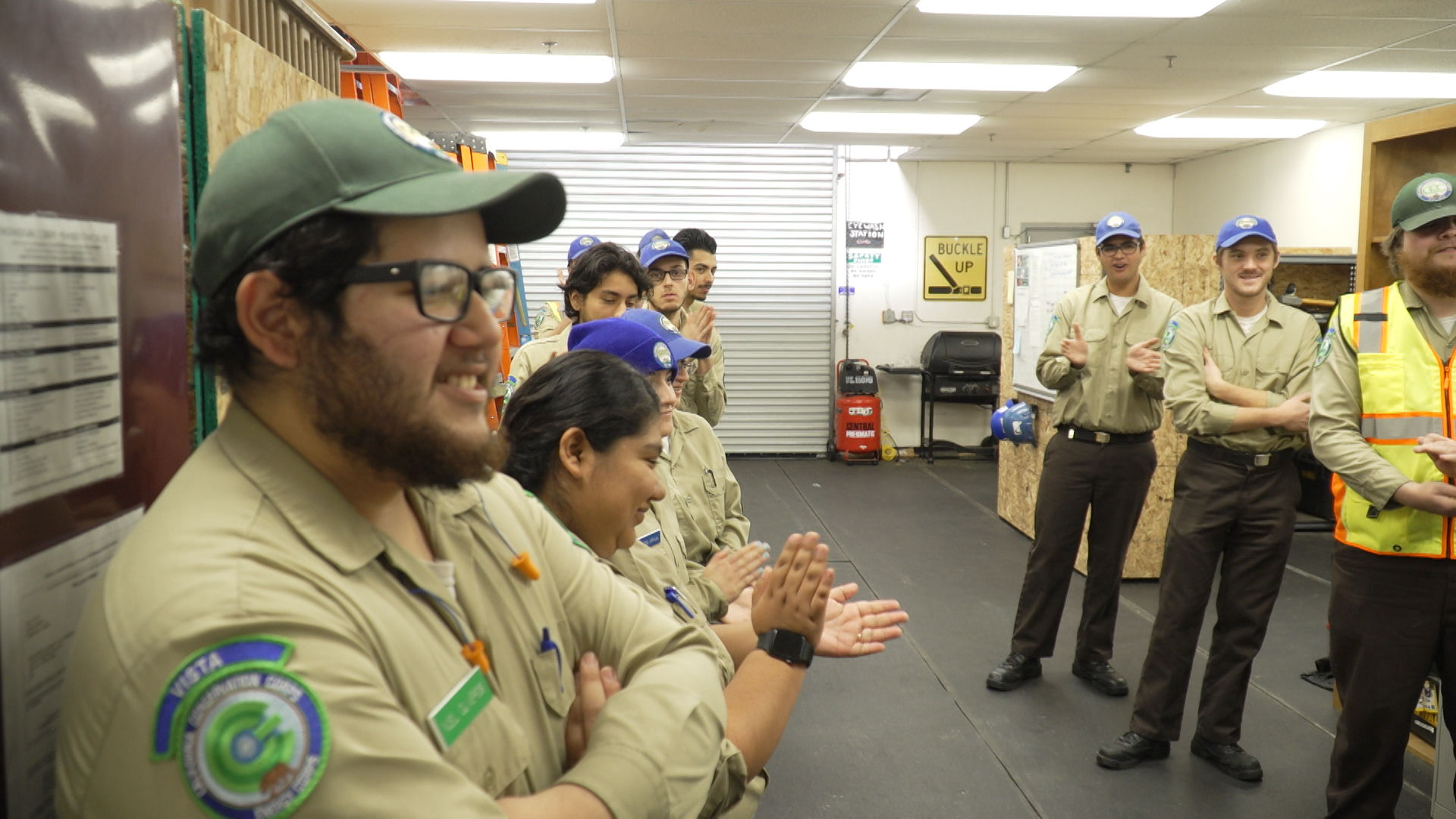 Vista Energy Corpsmembers applaud in celebration as one of their colleagues is announced to participate in leadership training during afternoon hook line at the center.
Crews at the Vista Energy Center mostly work evening shifts. Corpsmembers live at home and report to work at the Vista Energy Center each day. Corpsmembers often have class before work, either to complete their high school diploma or other CCC Core Trainings. They then report to roll-call and leave to the project site where they work all evening.
A Corpsmember Advisory Board (CAB) meets once a month, or when needed during that month, to discuss possible volunteer projects, recycling opportunities for CAB, upcoming events and community issues.
Energy Corpsmembers participate in an active volunteer program. Corpsmembers are required to perform a minimum of 48 hours of volunteer service in their first year to earn the CCC Brad Duncan Scholarship. Examples of volunteer work include beach clean-ups, assisting local municipalities with special events, and helping a nonprofit organization called GRID Alternatives with solar installations in low-income communities.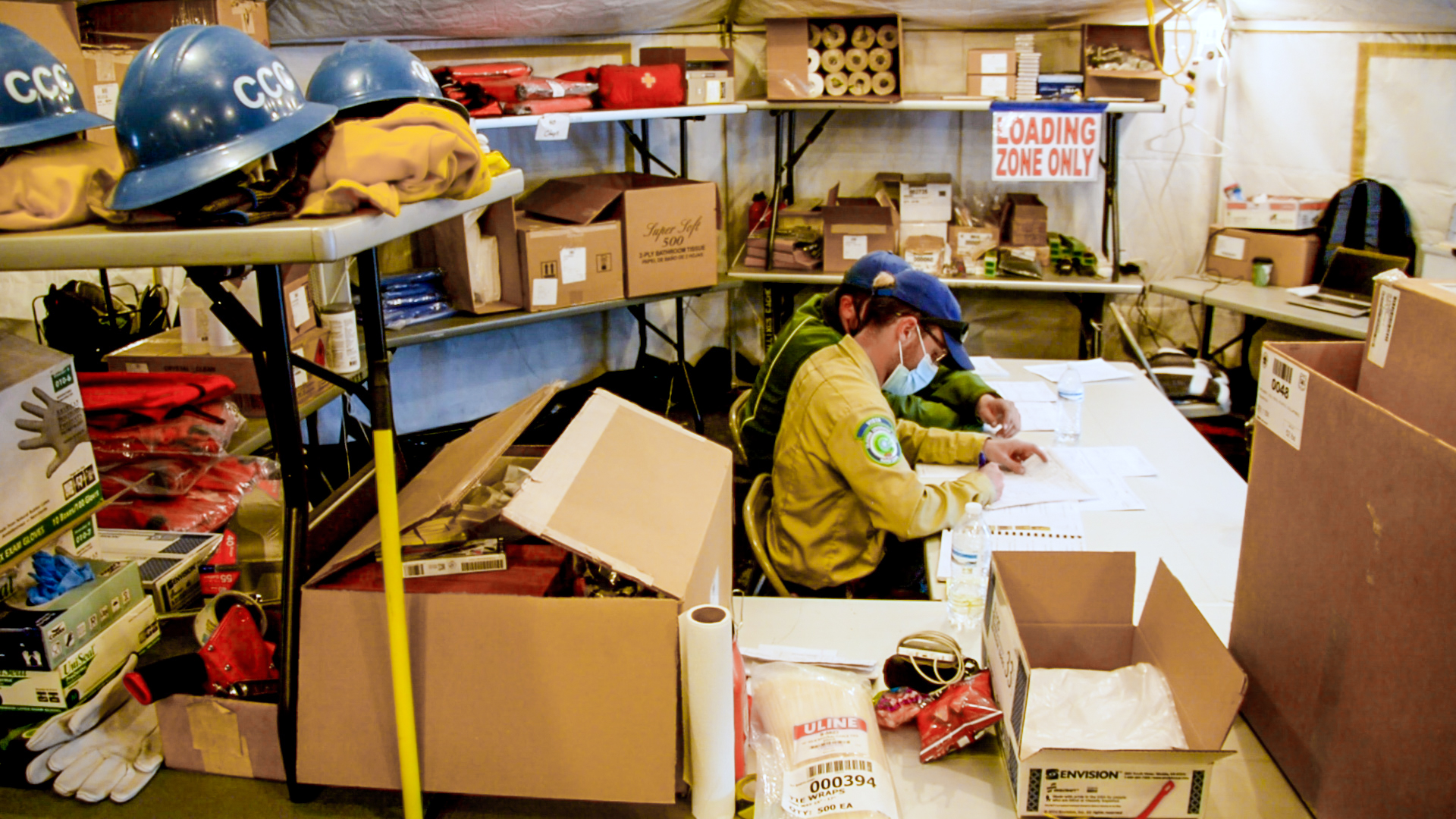 Vista Corpsmembers Alexander Nowicki and Joshua Flores look over work booklets and tracking sheets inside the supply unit at the Caldor Fire east base camp in South Lake Tahoe, CA.
The Vista Energy Center works on energy projects, energy surveys, retrofit projects, solar installation, and EV charging station installation. Project sponsors include school districts, colleges, Judicial Council of California (JCC), and state, county and city agencies, as well as non-profits.
A year in the CCC Energy Corps provides an excellent base for launching a career in green technology. Corpsmember train in state-of-the-art facilities where they gain hands-on training in basic electrical, solar, and EV charging.
Energy Corpsmembers can also be dispatched to emergency assignment, most often at wildfire base camps. Corpsmembers may only have a few hours to pack up and report for duty, traveling to various regions for up to 21 days at a time working 16-hour shifts.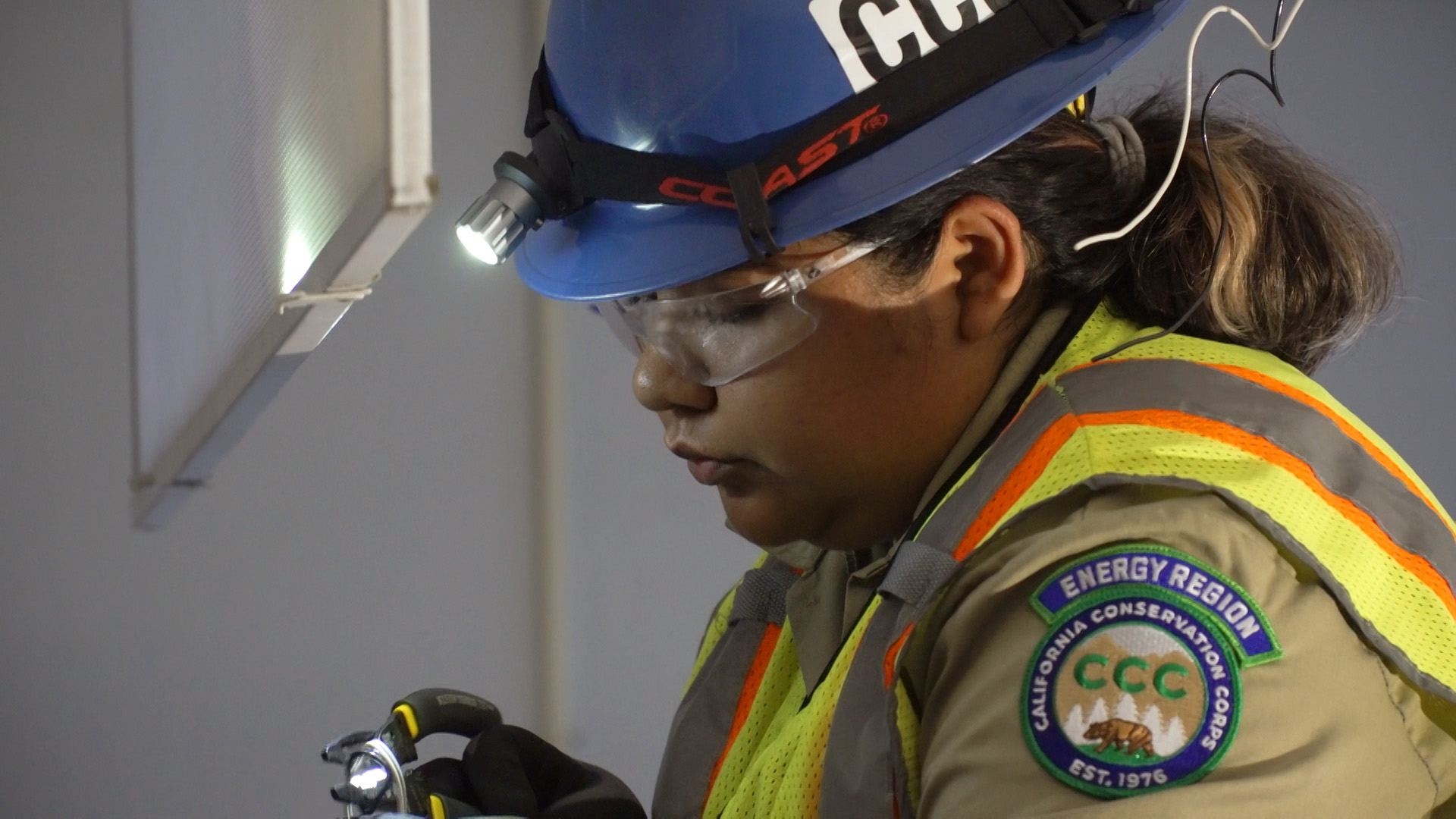 Vista Energy Corpsmember Ruby Guerrero prepares equipment as part of a lighting retrofit project at a school in Temecula, CA.
The Vista Energy Center partners with the Norwalk Energy Center and Cerritos College as part of its training program. The partnership is a state approved school, as certified by the California Community College Chancellor's Office and California Department of Industrial Relations. Only enrolled Corpsmembers can take the course work through Cerritos.
All Vista Energy Center trainings apply toward earning a Nonresidential Lighting Technician (NRLT) license. To be eligible to take the NRLT exam with DIR, Corpsmembers must accumulate 2,000 hours of classroom and project work. Energy Corpsmembers will typically earn those hours in 12 to 24 months.
The NRLT license is the entry level electrician license in the State of California. Once all hours are met, Corpsmembers can apply to take the NRLT exam. Corpsmembers must pay the fees to take the exam, and then pass it, to earn the certification.
All Corpsmembers  are required to complete Corpsmember Orientation, Motivation, Education, and Training (COMET) and core training courses.
Specialized trainings and certifications available at the Vista Energy Center:
Building Envelope
Cal-OSHA 10-Hour Safety Training for Construction
Electrical Concepts
Energy Audits
Energy Efficiency Basics & Data Collection for Energy Surveys
Energy Efficiency Fundamentals
First Aid & CPR
Introduction to Wiring and Lighting Retrofits
Introduction to Solar Photovoltaic Systems
Caltrans Electrical Internships
Ladder Safety
Lighting Control Installation
Lighting I: Lighting Your Way
Lockout-Tagout
Maintenance Best Practice for Energy Efficient Facilities
Power Tools Safety and Operation
Safety Stand Down
Scissor (Aerial) Lift
ServSafe Food Handler Certification
Electrical Vehicle Charging Station Installation Training