The Greenwood Center currently operates with five field crews, an in-camp crew, and a culinary crew.
The in-camp crew is responsible for the landscaping of the center grounds, maintenance of buildings including minor plumbing and minor construction repairs, small engine repair, and maintenance of grade tools and equipment.
The culinary crew is responsible for the daily preparation of meals for the center, and packing food for spike crews working in remote locations for days at a time.
The center is located in the rural foothills of the Georgetown Divide in El Dorado County. Temperatures can get as low as 35 degrees Fahrenheit during the winters and as high as 90 degrees Fahrenheit during the summers.
The Greenwood Center's facilities include dormitories, a dining hall, classrooms, computer lab, recreational facilities, and outdoor space along with administrative and supply/tool buildings.
Greenwood Center operations extend into the San Joaquin Central Valley with a two-crew nonresidential satellite in downtown Stockton.
4411 Highway 193
Greenwood, CA 95635
530-823-4075
Life at the Greenwood Center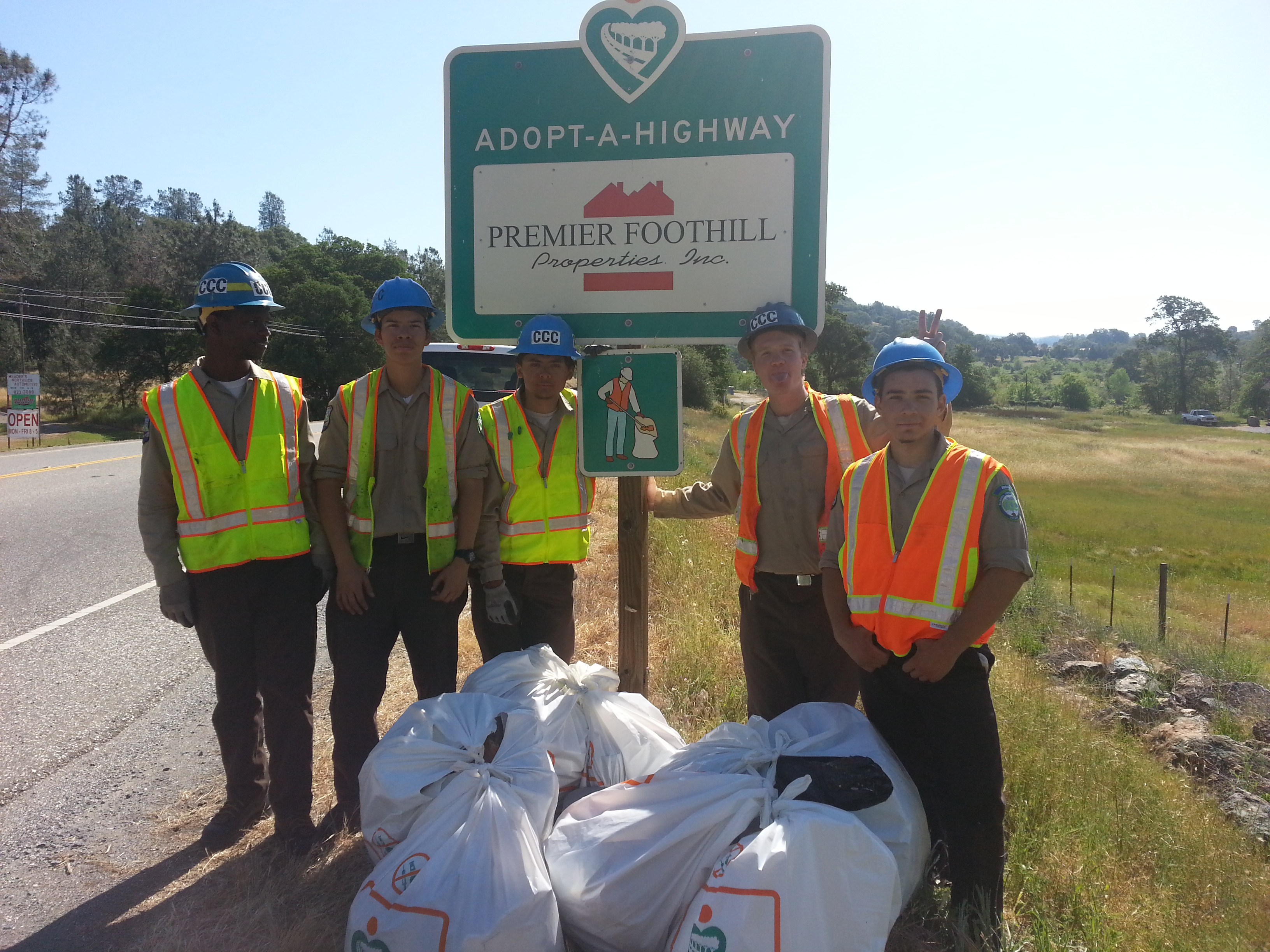 Corpsmembers at the Greenwood Center regularly volunteer in their local community. Here, Corpsmembers are volunteering to pick up trash on a highway.
The Greenwood Center encourages Corpsmembers to be active in many volunteer and recreational events in the community, such as setting up booths at local festivals and participating in local parades, Earth Day activities, Coastal Cleanup days and more.
An active Corpsmember Advisory Board (CAB) works with residential staff to plan and manage the monthly recreation schedule for Corpsmembers. The CAB is responsible for the supervision of the gym, TV room with a billiard table, the center store, vegetable garden, the recycling program, and selecting weekend volunteer events.
During their days off, Corpsmembers can visit the cities of Auburn and Roseville for major shopping or the Middle and North Forks of the American River for outdoor fun. Only 90 minutes away, Lake Tahoe and the Sierra are popular destinations for year-round recreational activities.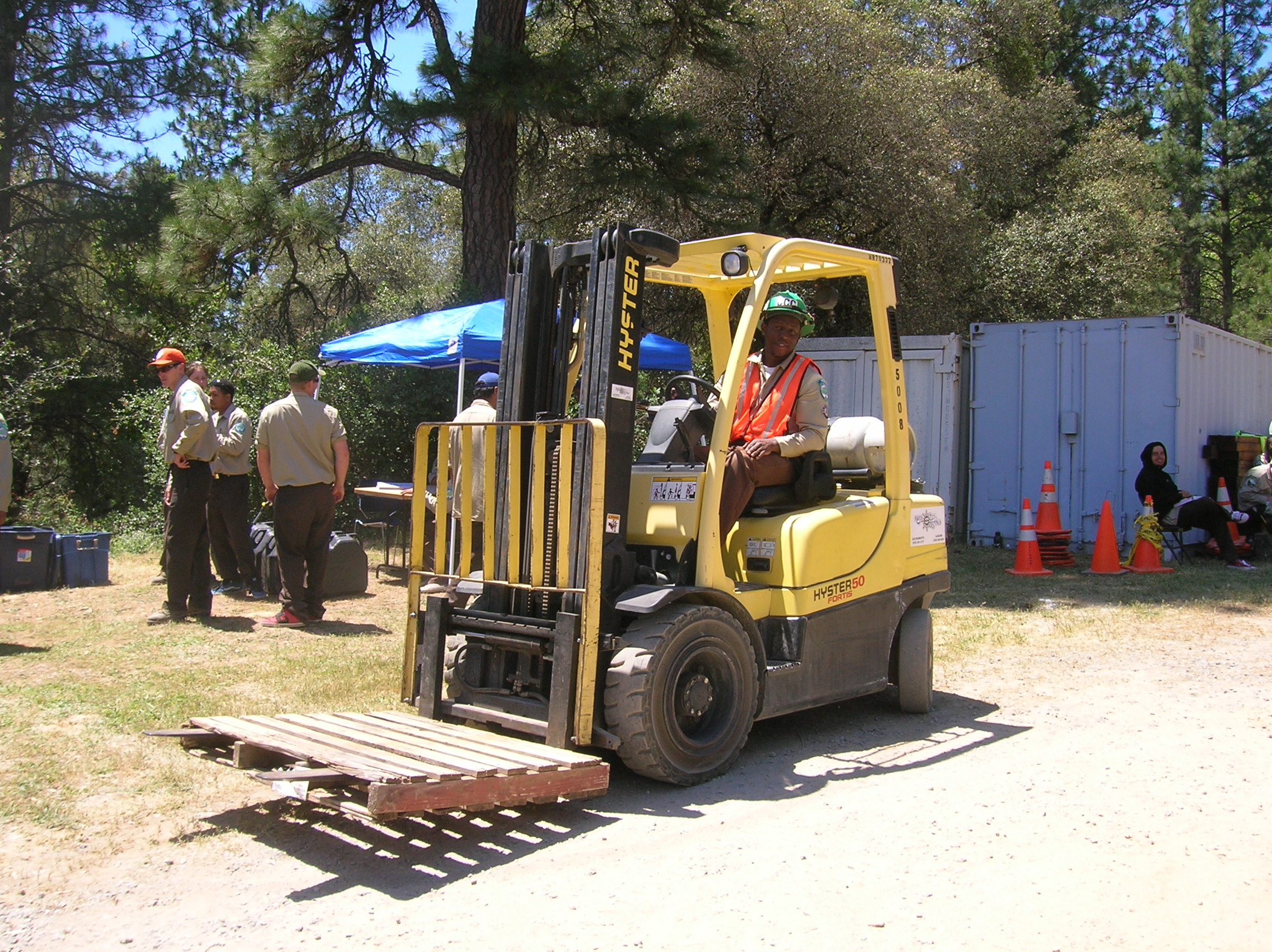 A Corpsmember from the Greenwood Center is operating a forklift to transport supplies within a fire base camp during a fire emergency.
The Greenwood Center performs a wide range of projects that includes conservation and restoration of ecosystems, fuel hazard reduction, arborist work projects, planting of native shrubs and trees, invasive weed/plant eradication, trail construction in accordance with the American Disabilities Act (ADA), and campground construction. These projects take place primarily in El Dorado, Amador, Calaveras, Tuolumne, and Mariposa counties.
Partnerships are developed and maintained with sponsoring agencies such as the Department of Forestry and Fire Protection (CAL FIRE), United States Forest Service, California Tahoe Conservancy, California State Parks, Department of Water Resources, Department of Transportation (Caltrans), California Department of Food and Agriculture, Department of General Services, American River Conservancy, Amador Fire Safe Council, El Dorado County Department of Transportation, El Dorado Equestrian Foundation, and local nonprofit land conservancies and councils.
Another duty of the CCC is to respond emergencies such as natural disaster relief, search and rescue, fires, and floods. The Greenwood Center's location allows for response to emergencies in the Sierra to the coast, and all crews are ready at a moment's notice to provide services and relief to the citizens of California.
For more information about projects contact Brian Lussier, Project Coordinator, or Jeremy Edwards, Conservationist Supervisor.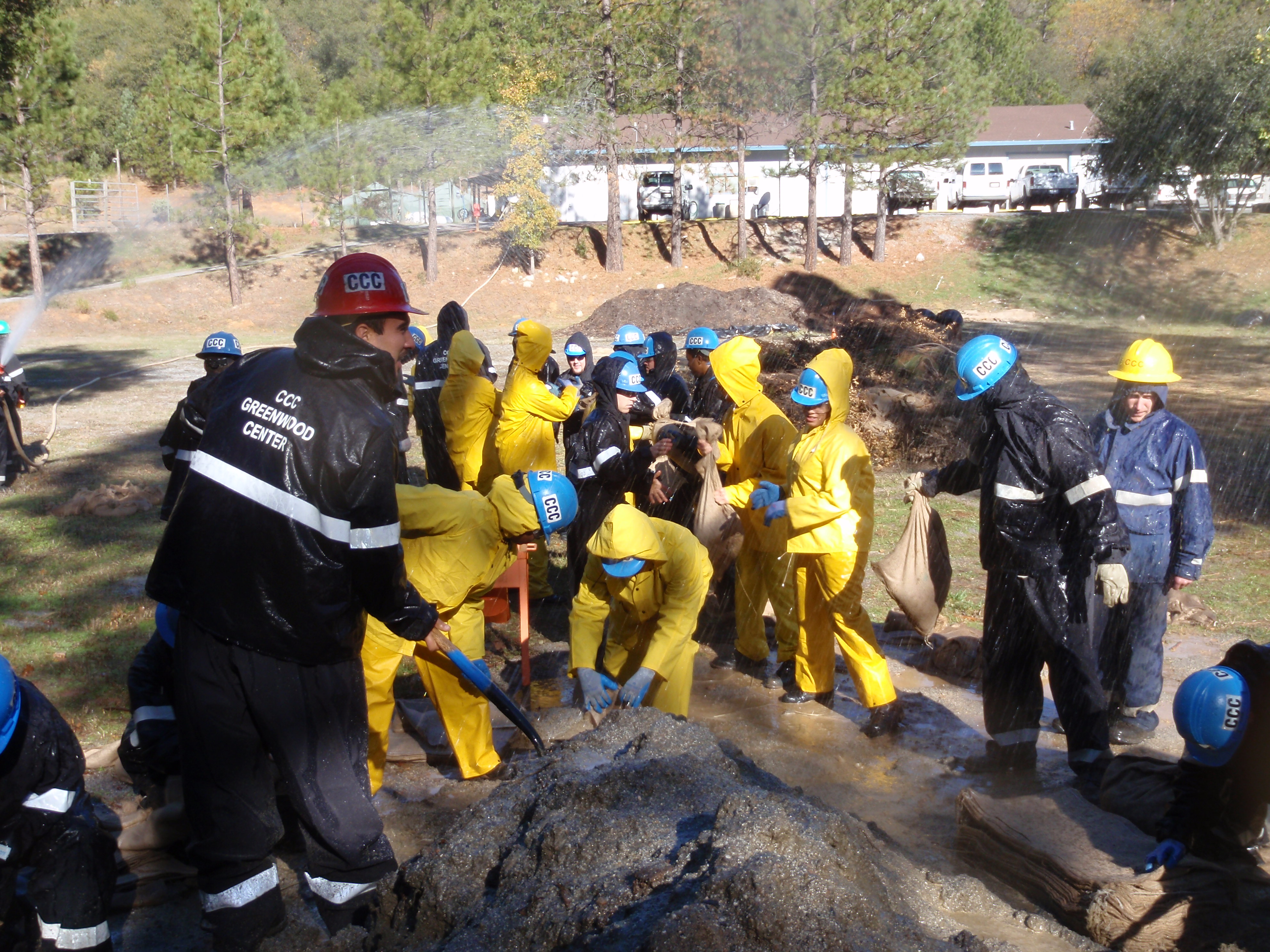 Crews at the Greenwood Center are trained in flood fighting annually to prepare for the rainy winter months and the possibility of being called to respond to flood emergencies.
First Aid & CPR
Automated External Defibrillator (AED) Certificate
Arbor (Includes tree climbing, rope safety, knots, limbing)
Bobcat Equipment Safety & Operation
Chain Saw Training
Chipper Safety & Training
Construction & Trades
Flora and Fauna Identification
Hazardous Waste Operations and Emergency Response (HAZWOPER) 40-Hour Training
Herbicide Application and Safety
Leave No Trace
Map and Compass Course
Pesticide Handler Safety
Power Tools Safety and Operation
Safety Stand Down
ServSafe Food Protection Manager Certification
Small Engine Repair
Trail Construction and Maintenance
Tree Climbing Safety