Built by Corpsmembers in the 1980s, the Greenwood Center is an important part of the CCC story. Greenwood has served many roles over the years and is currently the operational home of the CCC Yosemite Tent Camp. Tent Camp crews are conducting restoration work in the Stanislaus National Forest.
Located in El Dorado County, Greenwood's location has helped Corpsmembers enhance and restore several regions of the Sierra Nevada. However, the campus needs some improvements after its decades of service.
In the coming years Greenwood will undergo some major upgrades, including a kitchen renovation. With the improvements impending, Corpsmembers previously residing at Greenwood are now a part of the new Delta Center in Stockton.
Greenwood is very much a part of the CCC's future. While no Corpsmembers currently live at the facility, Greenwood will temporarily house the Placer Center when its own remodeling project begins.
Meanwhile, CCC staff will run the Yosemite Tent Camp from Greenwood and Corpsmembers may participate in training opportunities on site.
4411 Highway 193
Greenwood, CA 95635
530-823-4075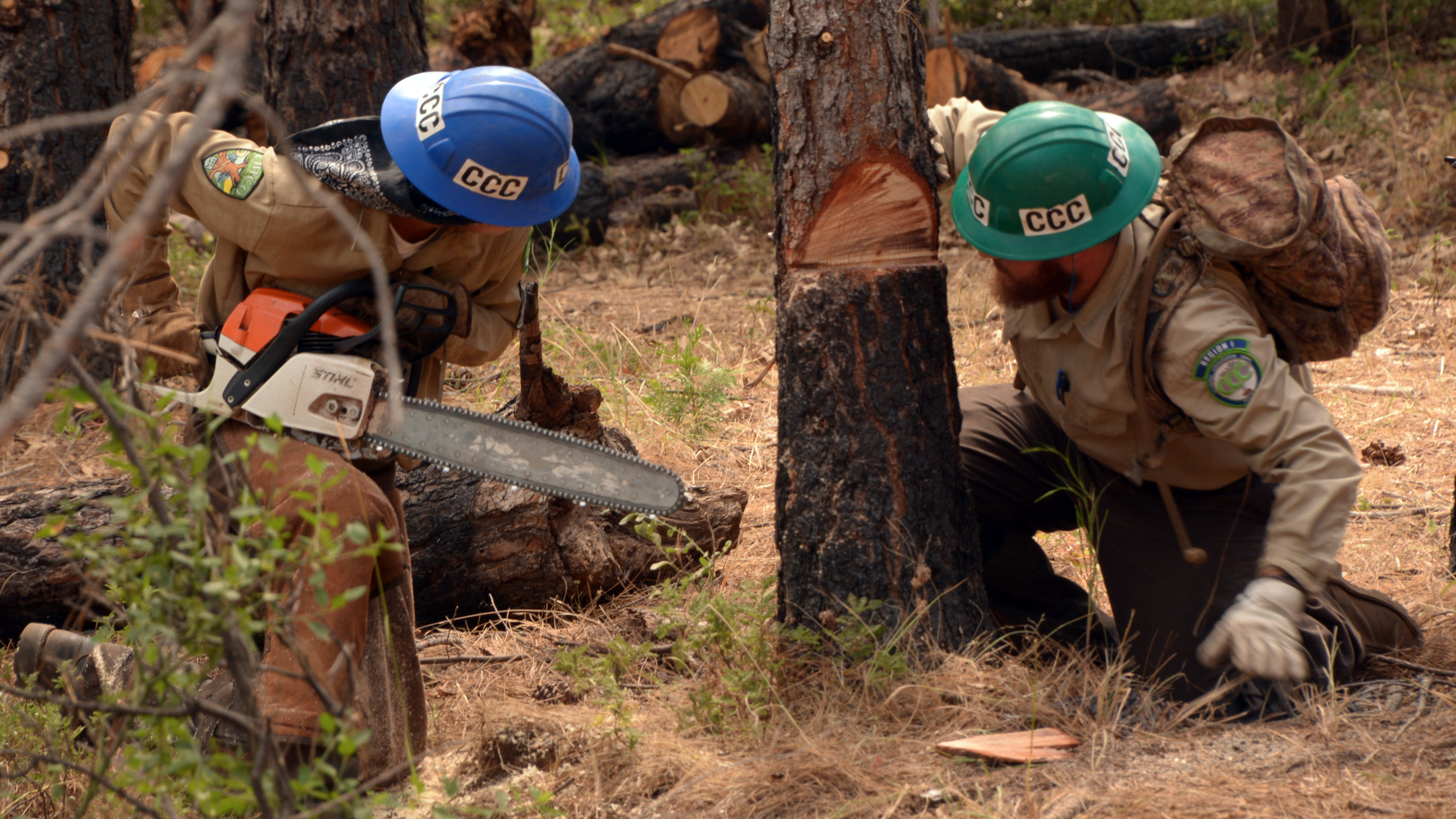 Corpsmembers Sydney Rowe and Dylan Lopez examine their cut on a tree in the Lost Claim Campground near Groveland as part of the Yosemite Tent Camp's Rim Fire Restoration work. 
Greenwood Center is home to the CCC Yosemite Tent Camp operations and serves as its basecamp. Tent camps are where Corpsmembers are committed to one specific project for months at a time. They camp in and around their work sites so that they can accomplish more work. Unlike traditional spikes, Corpsmembers live at the camp facilities and do not return to a center for off days.
The Yosemite Tent Camp is a six-month project, where more than 30 Corpsmembers are performing restoration work in the Stanislaus National Forest. The camp is located near project sites in and around Groveland in Tuolumne County.
In partnership with the U.S. Forest Service, and funded through the state's Greenhouse Gas Reduction Fund, Corpsmembers are helping to repair the forest inside the 2013 Rim Fire burn scar. Corpsmembers from centers across the state applied and interviewed for the opportunity to participate.
The work includes hard physical labor using hand tools to scrape vegetation away from newly planted trees. Corpsmembers are also removing underdeveloped trees to improve the overall health of the forest. The Rim Fire is the largest fire in the history of the Sierra Nevada.