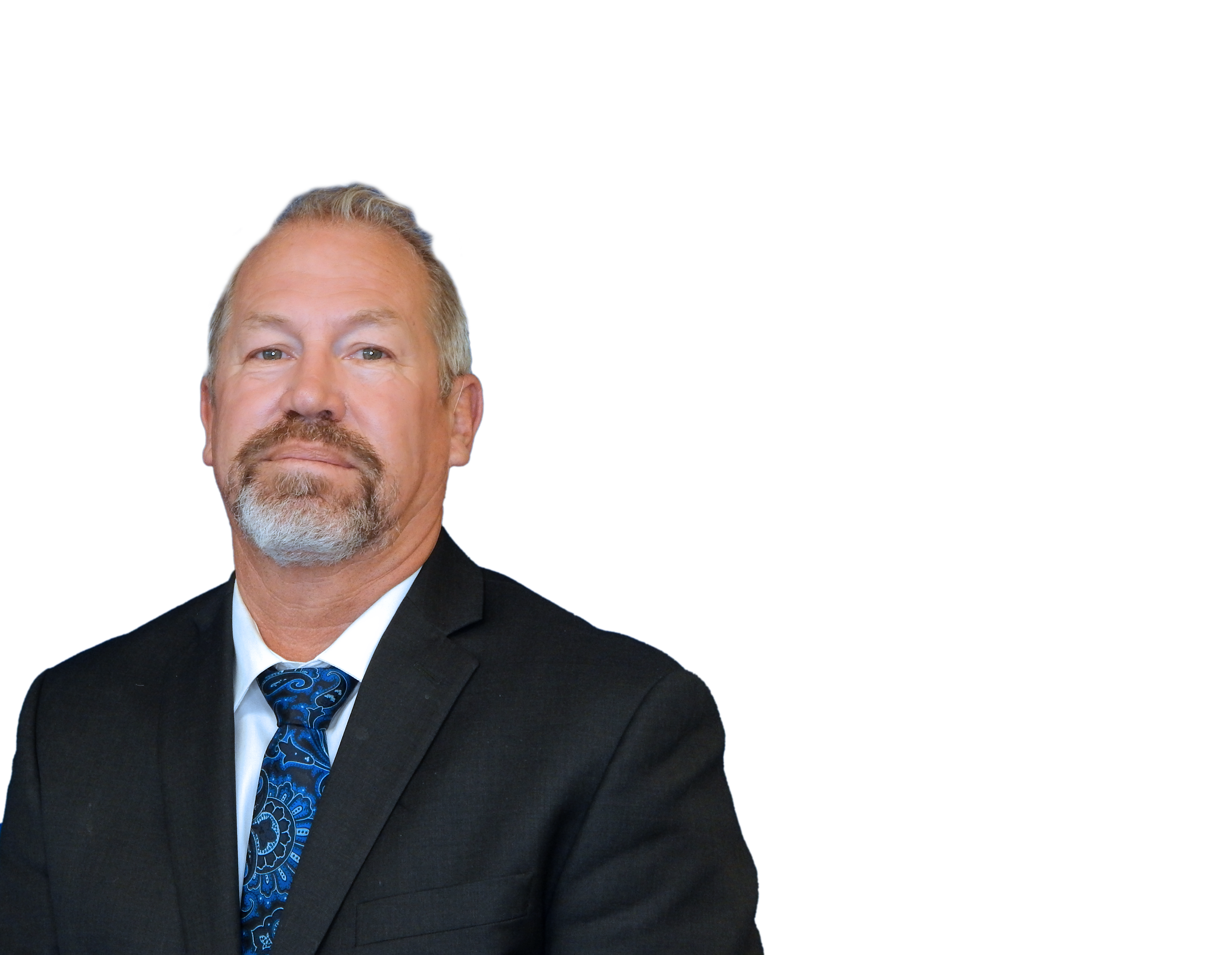 Mike Anderson
District Director
San Luis Obispo & Santa Maria Centers
The Santa Maria Center is located in the heart of the Santa Maria Valley. The non-residential center has been providing young adults in northern Santa Barbara County the opportunity to transform their lives for decades.
The center is home to as many as 18 Corpsmembers who commute to work at the center each day. The crew may occasionally camp at project sites for eight straight days.
The center is part of the Los Padres District and regularly completes work projects with Corpsmembers and staff from the San Luis Obispo Center, located about 30 miles to the north between San Luis Obispo and Morro Bay.
1619 South Thornburg Street
Santa Maria, CA 93458
(805) 349-7383
Life at the Santa Maria Center
The Santa Maria Center is located just a few blocks south of Main Street in the heart of town. Click on the video above to see what Corpsmembers are saying about the experience. 
Santa Maria Corpsmembers work on projects across the Central Coast, from in their own backyards in Santa Maria to throughout Santa Barbara County and as far north as Monterey County. At the center, Corpsmembers are able to complete their high school diplomas if they do not already have one.
The center started a small community garden, which Corpsmembers tend to on their off hours. There is also some gym equipment for the crew to stay in shape, as well as lockers to store personal gear when at project sites or on spikes. Spikes are when crews camp near their projects to reduce travel time.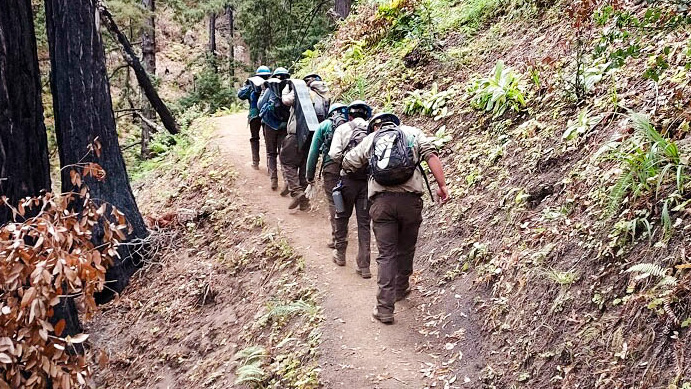 Santa Maria Corpsmembers hike past fire damaged trees on their way to a work site near Big Sur, CA. 
Santa Maria Corpsmembers work in rural environments along the Central Coast as well as near urban landscapes, including Santa Maria, to complete a variety of project work. Santa Maria partners include State Parks, U.S. Forest Service, Santa Barbara County Flood Control District, as well as other local conservation districts, cities, and counties.
The crew performs fuel reduction and forestry work which requires the use of chain saws, pole saws, loppers, and wood chippers. Corpsmembers may also spike near Big Sur to complete trail work in a variety of State Parks requiring on-going maintenance and rehabilitation work related to wildfires or floods.
The crew will also respond to emergencies across California where they assist state and federal partners with wildfire base camp operations. Extended hours means Corpsmembers can work up to 16 hours in a day, earning excess pay. Emergency assignments away from center can last up to 21 days in a row.
Corpsmembers will also do beautification projects in and around Santa Maria, including habitat restoration and tree planting along U.S. Highway 101.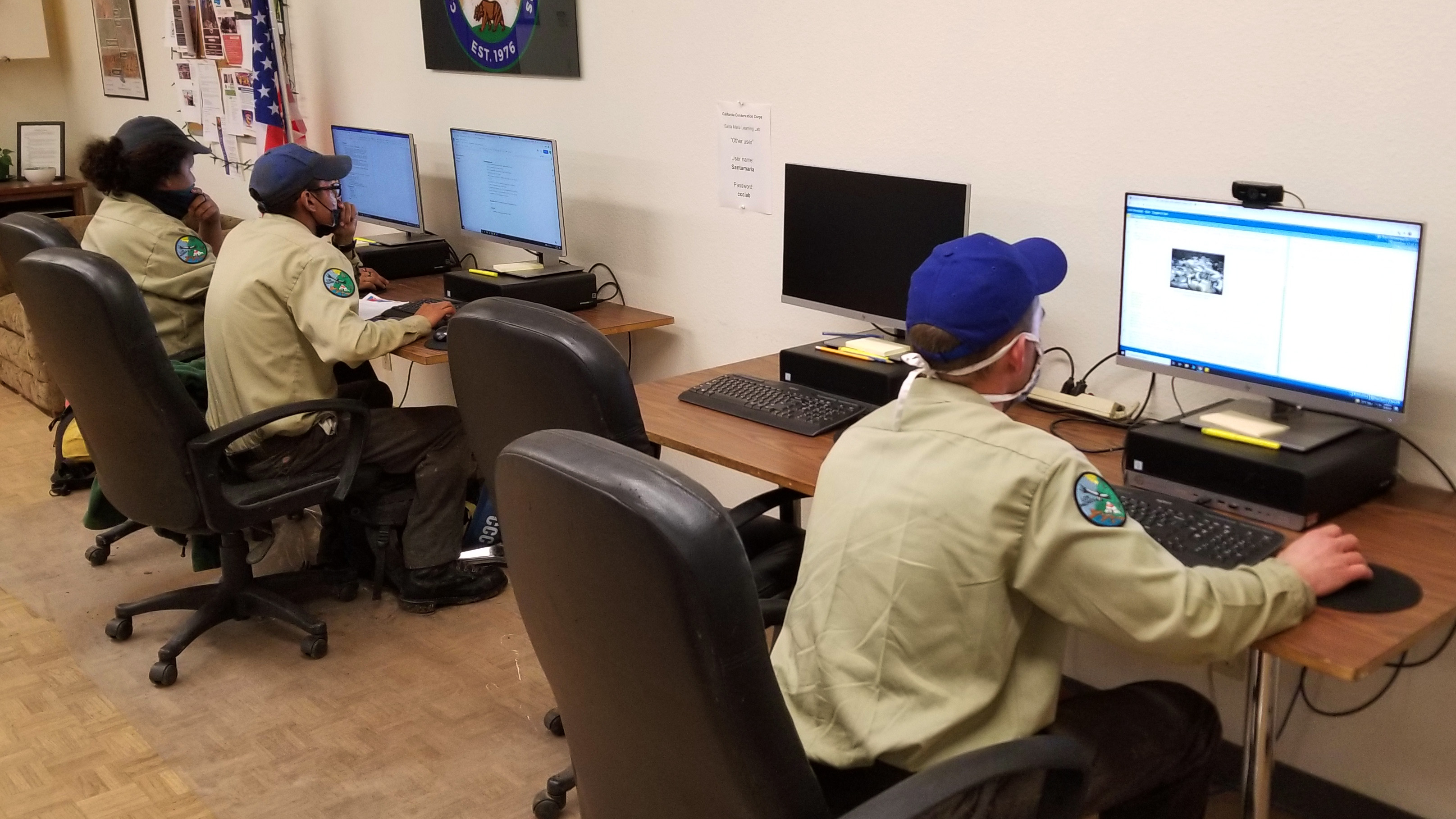 After work, Santa Maria Corpsmembers are able to use computers to search for jobs, work on their resumes, or complete work in order to finish their high school diploma. 
Corpsmembers receive hands-on training directly affiliated with their assigned project work. Training may include chain saw operations, wood chipper operations, trail building, flood fighting, and more.
All Corpsmembers are required to complete Corpsmember Orientation, Motivation, Education, and Training (COMET) and core training courses.
Specialized trainings and certifications available at the Santa Maria Center include:
First Aid & CPR
Automated External Defibrillator (AED) Certificate
Backcountry Trail Construction & Maintenance
Chain Saw Training
Chipper Safety & Training
Flora and Fauna Identification
Leave No Trace
Map and Compass Course
Power Tools Safety and Operation
Safety Stand Down
ServSafe Food Handler Certification
ServSafe Food Protection Manager Certification
Trail Construction and Maintenance
Santa Maria Corpsmembers who have yet to complete their high school diploma are able to do so through the CCC's partner charter schools. After work hours are complete, Corpsmembers will work with a teacher to complete the necessary coursework and units to be able to achieve their high school diploma.