Media Inquiries
If you are a member of the media and are requesting information or access to our centers or projects, please call (916) 341-3144. You can also email the CCC Communications office at cccnews@ccc.ca.gov
About the Office of Communications
The California Conservation Corps Office of Communications provides timely and relevant information that educates the public, potential recruits, media, lawmakers and CCC team members on our policies, projects, and successes. The Office of Communications coordinates media and public outreach; develops and disseminates public information via news releases, media advisories, and website and social media postings; arranges media interviews; and is responsible for the CCC brand and marketing.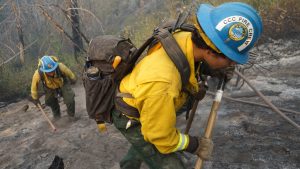 Camarillo fire crews 2 and 4 have spent the last month traveling more than 800 miles and assisting on at least six major wildfires.
Published: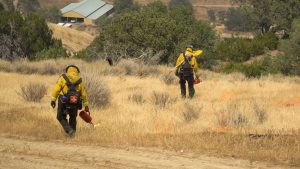 Butte Fire Center crews spent two weeks working on the SCU Lightning Complex fires burning in the East Bay and Central Valley.
Published: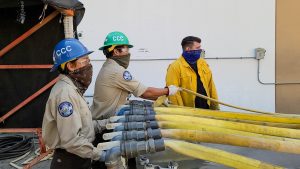 The Inland Empire Center's Forestry Corps crew is working with the U.S. Forest Service to help keep firefighters equipped on the fire lines.
Published:
Building trails, fighting wildfires, making courthouses and schools brighter; who does that? The California Conservation Corps and we have a challenge for you!
Published: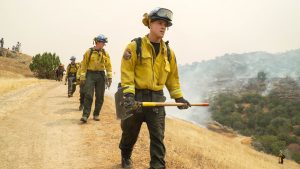 At least 60, CCC crews are responding to the front lines and base camps of wildfires burning throughout California.
Published: