The Camarillo Center is a residential center housing as many as 101 Corpsmembers. The center is located in Ventura County, between Santa Barbara and Los Angeles. The state-of-the-art facility is Silver Leadership in Environmental Efficiency Design (LEED) certified with drought tolerant and California native plants and landscaping.
The Camarillo Center partners with CAL FIRE and other organizations for unique and meaningful training and projects:
Wildland firefighter training provided by CAL FIRE
Supporting firefighting camps during large fires
Working on hiking and multi-purpose trails in state parks, local mountains, and at beaches
Performing important environmental work including restoring habitats for native species
Learning professional-level cooking in the Culinary Program
The CCC-NOAA Veterans Corps Fisheries Program provides military veterans the opportunity to learn how to conserve and manage coastal and marine ecosystems
The climate in Camarillo is mild all year-round with the beaches of Ventura County just a few miles away.
3200 Wright Road
Camarillo, CA 93010
805-278-2787
Camarillo Center Video Tour
Life at the Camarillo Center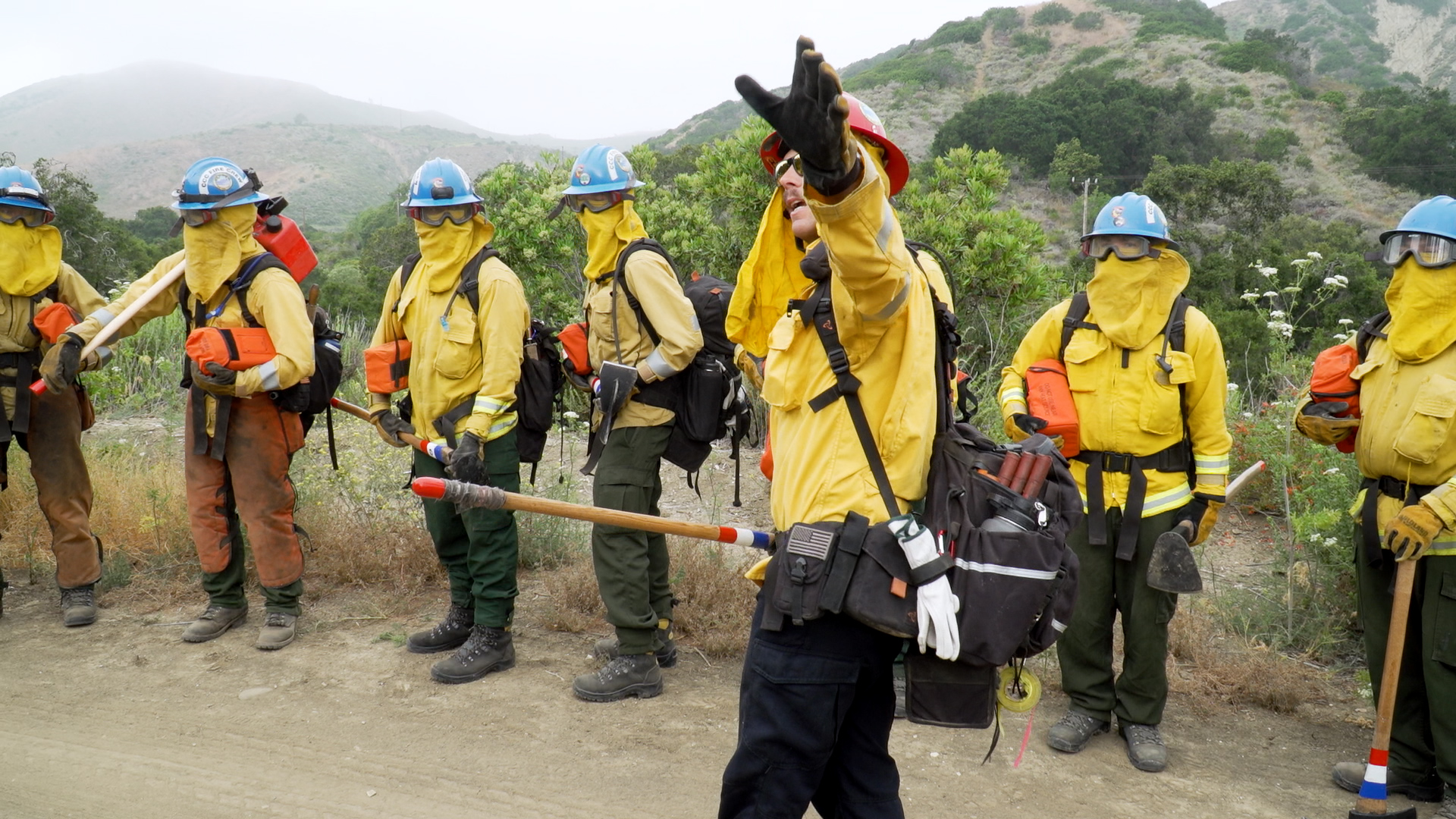 Corpsmembers receive instructions from their CAL FIRE captain during a readiness drill in the hills above Ventura, CA.
The Camarillo Center recreation staff coordinate trips to local stores, movies, parks, basketball games, beaches, and many other exciting, entertaining events and locations within Camarillo and nearby cities Ventura and Oxnard. The center has a very active Corpsmember Advisory Board (CAB). CAB Corpsmembers lend a hand in the planning and logistics of activities. The Camarillo Center is not far from a number of locations in the greater Los Angeles area including Disneyland, Magic Mountain, Universal Studios, Beverly Hills, and other popular tourist spots.
There is a natural running track circling the property, a beach volleyball court, brand new pickle ball and outdoor basketball courts, an indoor basketball court, a field for soccer and activities along with a modern fitness facility. The modern kitchen is equipped with high quality preparation tools, knives, and more for cooking and baking. The large dining room is next to a multipurpose room that can be used for indoor basketball games, graduations, and holiday banquets.
Corpsmembers are required to serve 48 hours of volunteer service during their year to be eligible for the CCC Brad Duncan Scholarship. There are many non-profit organizations that need volunteers and local cities often have large-scale events that depend on volunteers for their success. Corpsmembers can also create their own volunteer project and submit it for approval.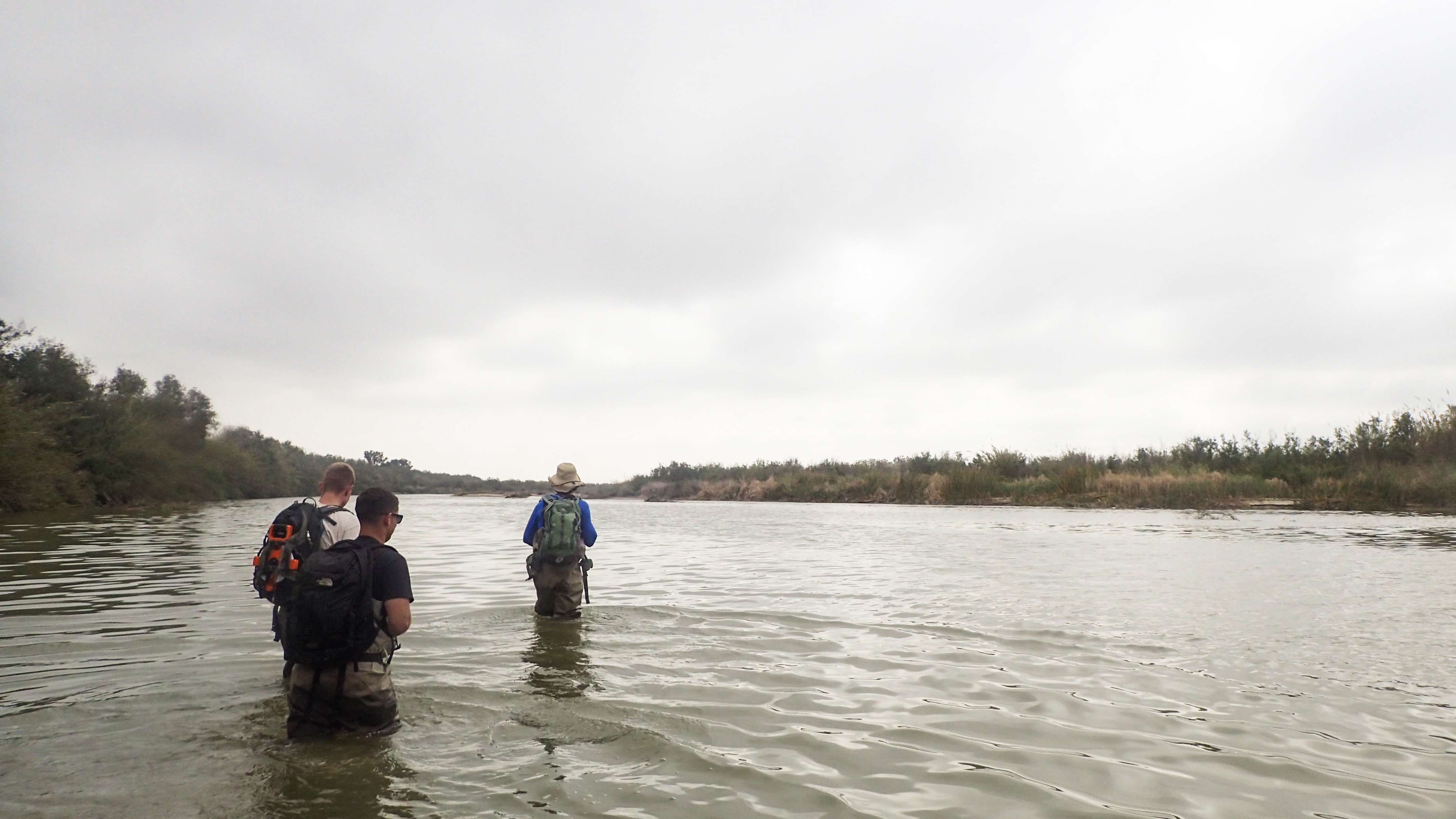 Veterans Corps Fisheries Program Corpsmembers out in the field preparing for surveys in Santa Clara.
Corpsmembers participate in a variety of conservation work projects. The projects are sponsored by federal, state, county, and city agencies as well as nonprofit organizations. Typical partnering agencies include the California State Parks; Los Angeles, Ventura and Santa Barbara counties; California Department of Fish and Wildlife; California Department of Transportation (Caltrans); the National Park Service; and various other environmentally related organizations.
Wildland Firefighting: Under the command of CAL FIRE, Camarillo operates four wildland firefighting hand crews which can be dispatched to fires across the state. These skilled crews go through an intensive training course to prepare them to fight wildland fires. At the end of the sessions, Corpsmembers will have received their L 180, S 110, S 190, S 130, ICS 100, ICS 200, and ICS 700.
Arundo Removal: Arundo is a cane-like type of non-native plant that can grow from nine to thirty feet tall. Arundo pushes out natural plants and animals and uses up valuable water. It is highly flammable and can make wildfires worse. Corpsmembers are trained to handle and spray special environmentally friendly chemicals that kill the arundo.
Steelhead Restoration Program: Crews work in creeks and surrounding watersheds using tools such as chain saws, heavy duty rock drills, and grip hoists to implement restoration projects that will long benefit fragile watersheds and threatened fish populations including the endangered southern California steelhead trout.
Resource Work for Various Agencies: Corpsmembers assist agencies such as the Department of Water Resources and Caltrans in their normal maintenance duties which include brush clearing, invasive weed management, and channel clearing.
Fuel Reduction Projects: Before the fire season starts each year, Corpsmembers are out in force cutting back overgrown vegetation and creating defensible spaces in state responsibility areas.
CCC-NOAA Veterans Corps Fisheries Program: In partnership with NOAA, this program provides post-9/11 veterans new opportunities to build their skills and work experience by restoring and protecting fisheries resources. Veteran Corpsmembers work side-by-side with experts from state, federal, and non-profit restoration partners. Work involves habitat restoration and monitoring projects identified by NOAA Fisheries. Veterans must possess a DD214 to participate in this program. Veterans can live on or off center as participants.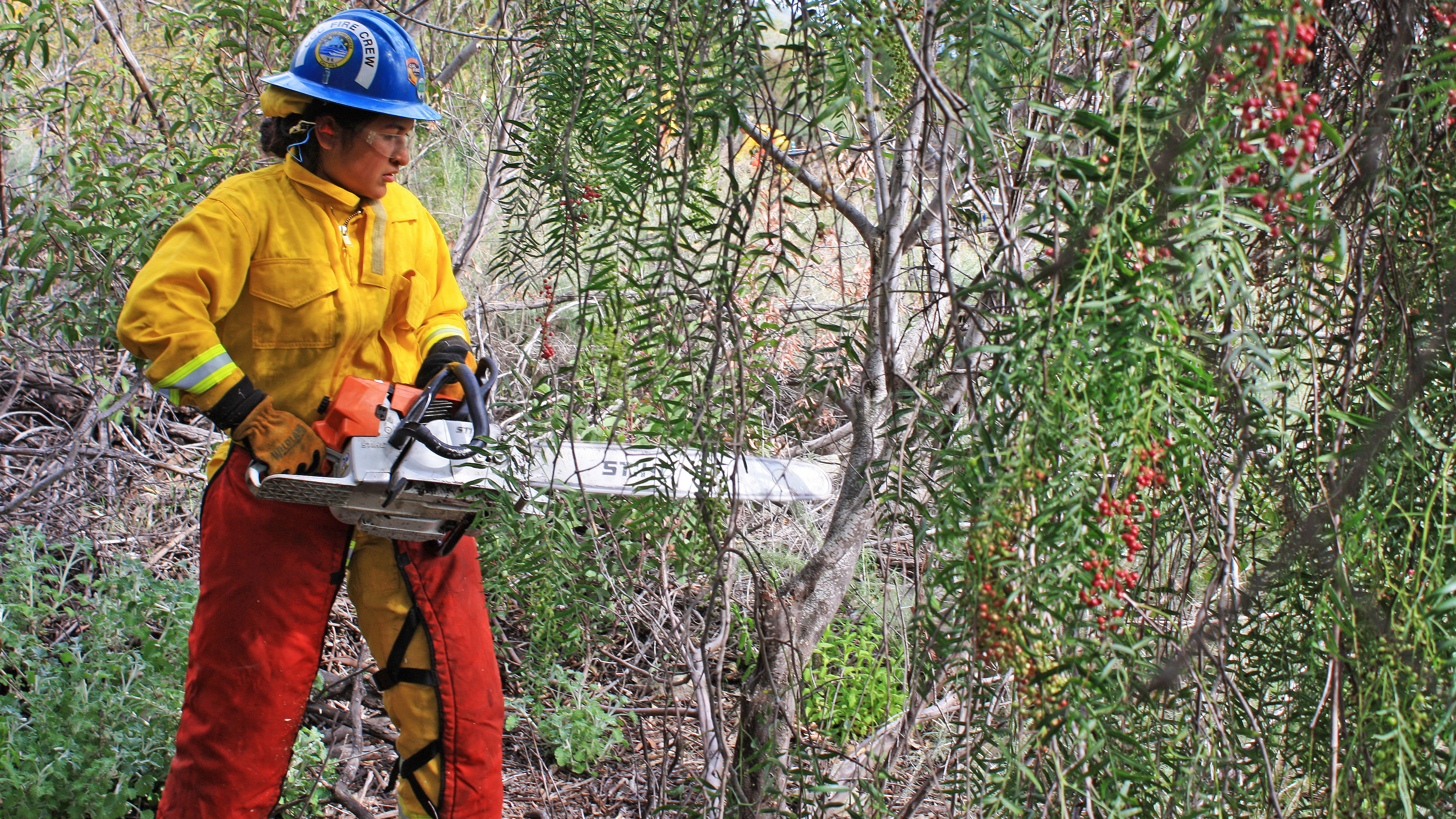 Camarillo Corpsmember Nataly Parra prepares to make a cut on an invasive species in Toland Park in Santa Paula, CA as part of chain saw training field exercises.
The Camarillo Corpsmember Development Program offers a variety of educational and training opportunities. These activities assist Corpsmembers in improving their skills, broadening their knowledge, and increasing their employability.
Participation in the education program is mandatory. All Corpsmembers complete Corpsmember Orientation, Motivation, Education, and Training (COMET) when they join the Corps and complete core training courses throughout their year of service. Educational scholarship dollars can be earned as well. Corpsmembers are encouraged to take advantage of internships, promotional opportunities, leadership training, firefighting courses, drivers training/licenses, chain saw certifications, and other skill building opportunities.
Specialized trainings and certifications offered at the Camarillo Center include:
CAL FIRE Type I Firefighter Training
First Aid & CPR
Automated External Defibrillator (AED)
Chain Saw Training and Certification
ServSafe Food Handler Certification
Confined Space Rescue Awareness
Ladder Safety
UCLA EXOS Fitness & Wellbeing Program
Small Engine Repair
Hazardous Waste Operations and Emergency Response (HAZWOPER) 40-Hour Training
HAZMAT First Responder Operations (HAZMAT FRO)
Pesticide Handler Safety
Chipper Safety & Training
Power Tools Safety and Operation