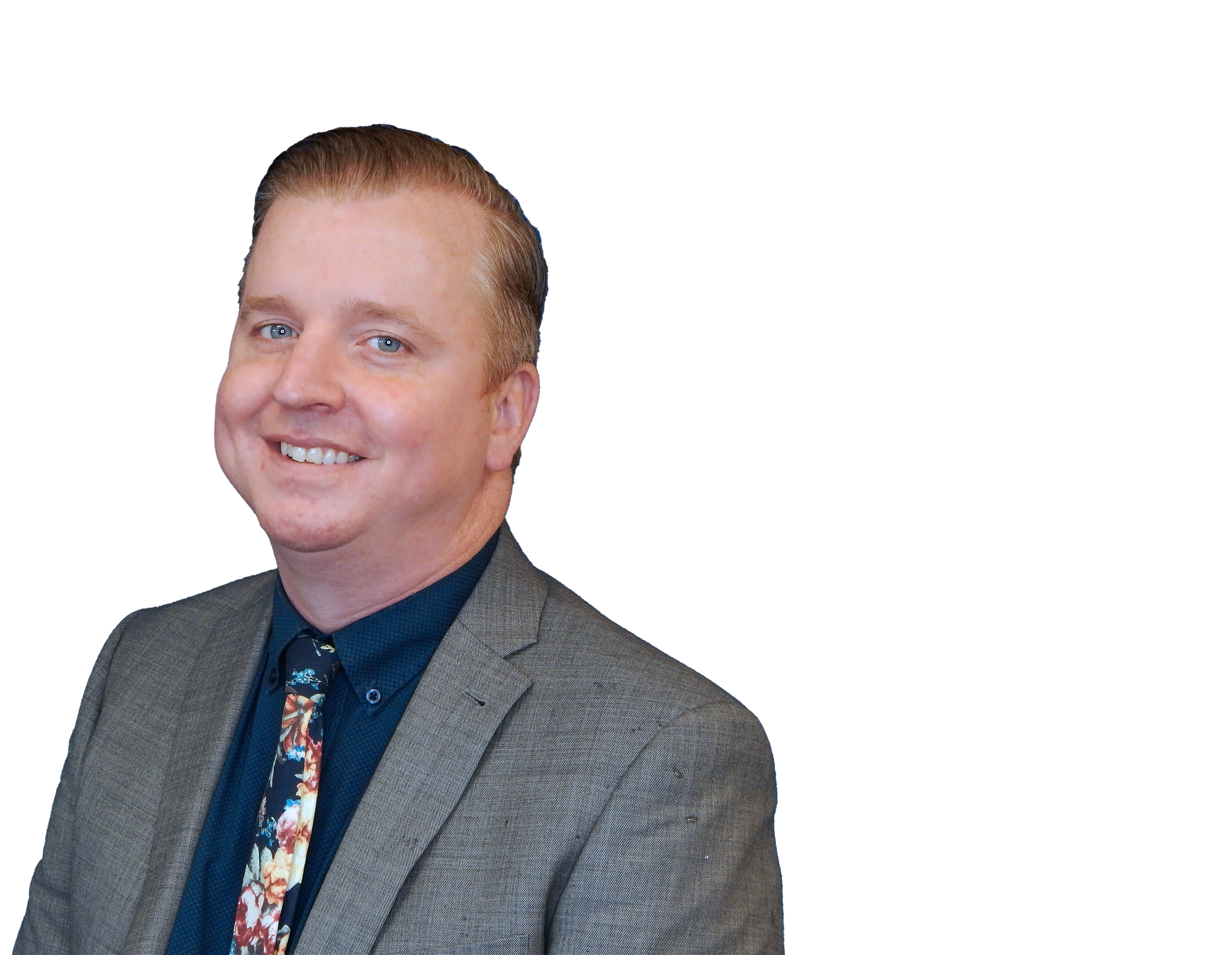 Lunar Martin
District Director
Sacramento & Fresno Energy Centers
The Sacramento Energy Center is committed to reducing greenhouse gas emissions throughout Northern and Central California. As part of the CCC Energy Corps, Sacramento Corpsmembers learn basic electrical skills that lead to meaningful careers in green technology.
The center enrolls as many as 50 Corpsmembers to complete project work, ranging from lighting retrofits to urban forestry.
Corpsmembers commute to the center in Sacramento's River District for work each day. Corpsmembers typically work 10-hour shifts Monday through Thursday, often including evening shifts to complete energy projects during off-hours at government and non-profit buildings.
570 Bercut Drive
Sacramento, CA 95811
916-414-6202
CCC Sacramento Energy Hub
Life at the Sacramento Energy Center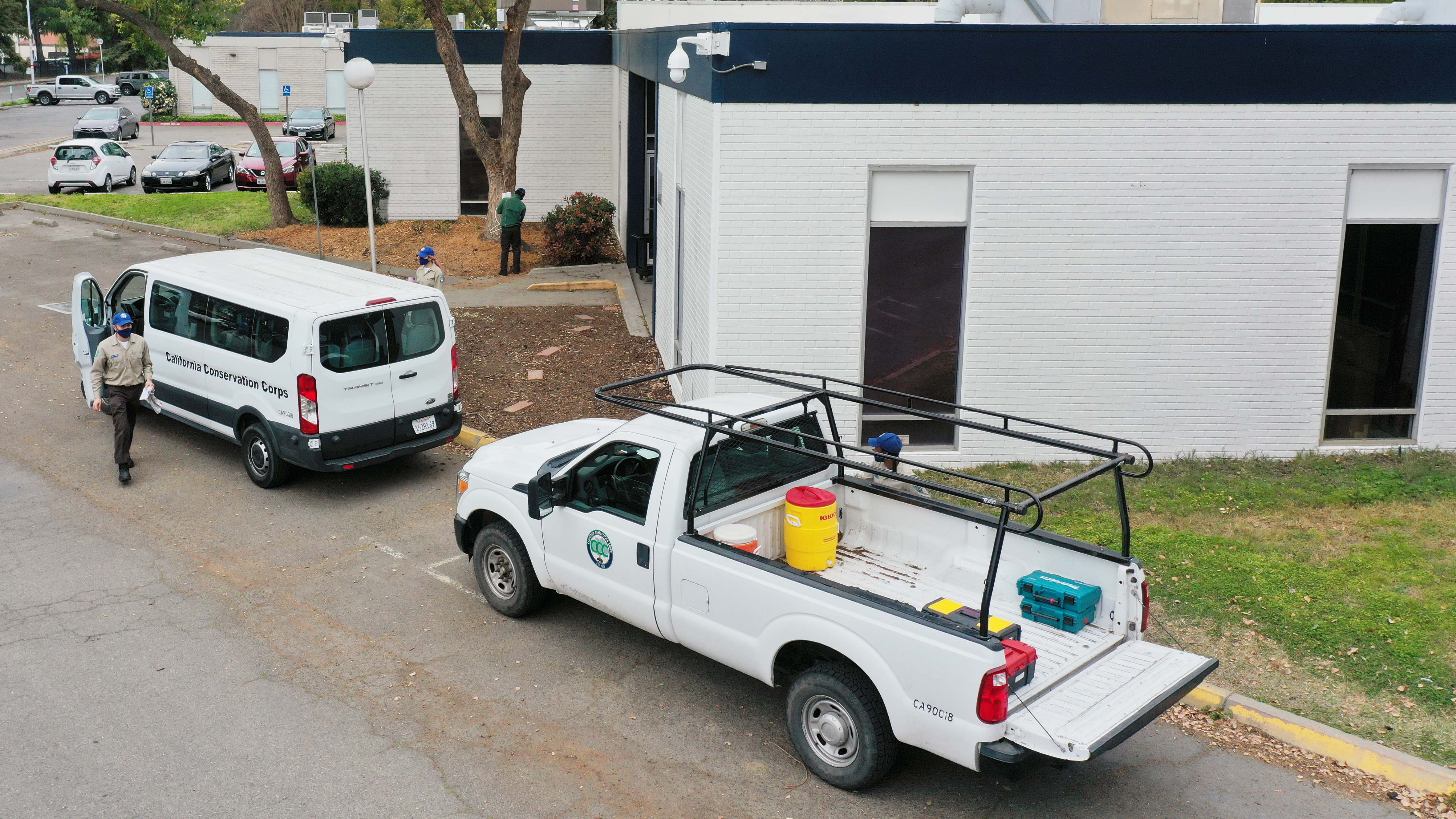 Sacramento Energy Corpsmembers ready their vehicles and equipment before departing for a work project.
Corpsmembers regularly participate in an active volunteer program. Corpsmembers are required to perform a minimum of 48 hours of volunteer service in their first year with the California Conservation Corps to earn the CCC Brad Duncan Scholarship. Corpsmembers often help at local festivals, clean-ups, area schools, and more to give back to the community.
The Corpsmember Advisory Board (CAB) is considered the governing body of the Corpsmember community. Corpsmembers have the opportunity to fundraise to pay for recreation activities, center improvement projects and more. The board works closely with staff to initiate positive change and improve the community. Participating in CAB is a required component of promoting to a second year, but is also a great way to boost a resume and gain great communication and public speaking experience.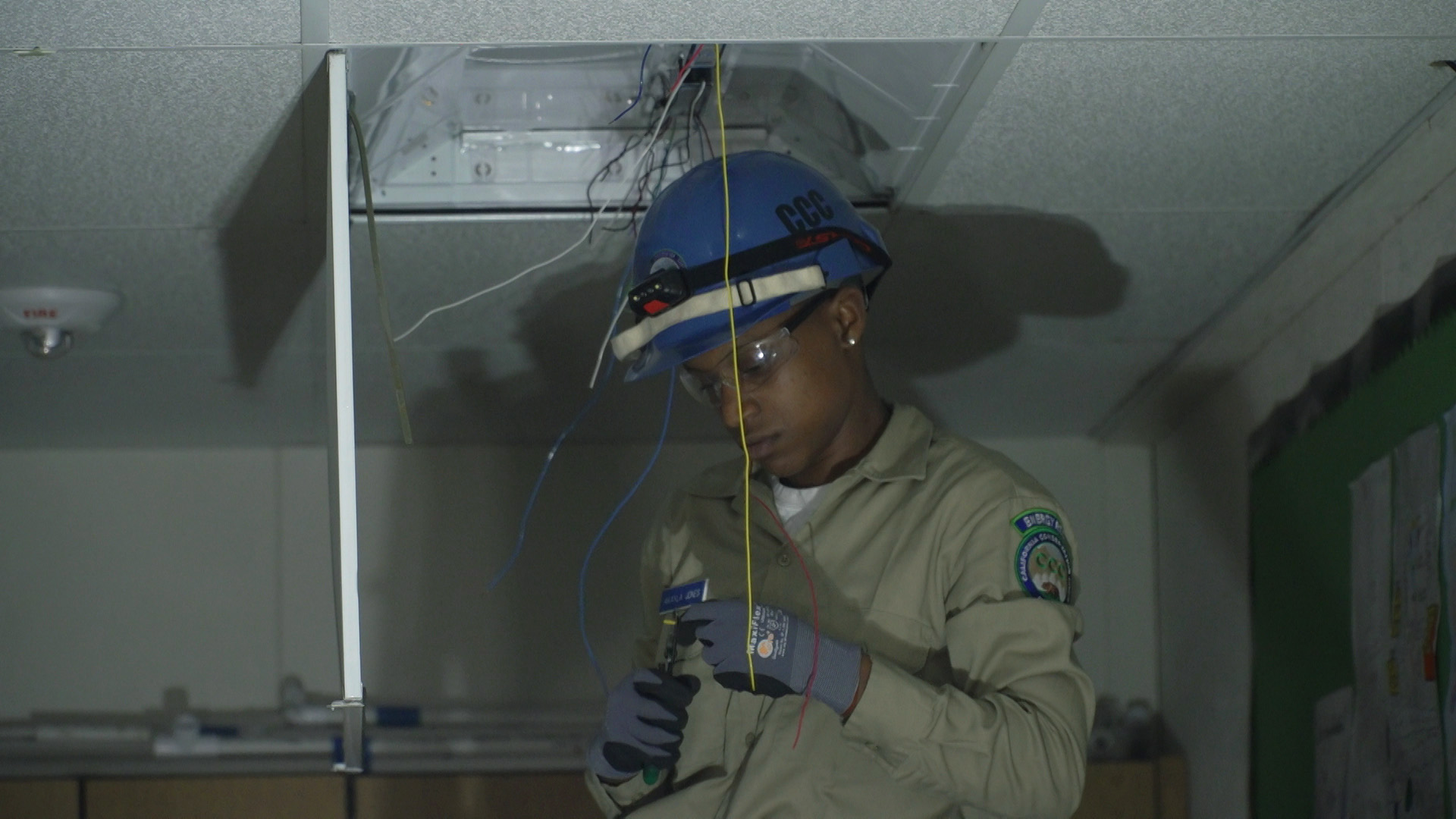 Sacramento Energy Corpsmember Akayla Jones strips wires as part of a lighting retrofit project at a Sacramento City Unified school.
All Corpsmembers at the CCC Sacramento Energy Center are trained in a variety of basic electrical skills. Corpsmembers have the ability to complete project work focused solely on green technology and electrical work, or may choose to join the center's trail crew.
Energy projects completed by the center include energy audits, where Corpsmembers survey government and non-profit building to determine energy use and improvements. Once these surveys are completed, crews may return to the buildings to complete lighting and energy retrofits, which includes replacing lighting systems.
Corpsmembers may also be trained in solar and EV charging station installation, among other electrical skills. Project work on energy projects takes place at varying times to accommodate our partners. This may include swing shifts, from 1:30 p.m. to Midnight, or other evening hours to complete the work.
The Sacramento trail crew is a new endeavor where a select number of Corpsmembers can choose to focus on natural resources work in and around the Sacramento area. This small crew consists of Corpsmembers who apply to work on the crew full-time and a rotation of other Corpsmembers to broaden their skillsets and experience. Project work include trails maintenance, fuel reduction to reduce fire danger, tree planting, and other projects focused on greenhouse gas reduction.
Sacramento Energy Corpsmembers are also required to respond to emergencies. These can occur at any time of the year and can include floods, fires, pest infestations, and oil spills. Corpsmembers may only have a few hours to pack up and report for duty, traveling to various regions of the state for up to 21 days at a time working 16-hour shifts.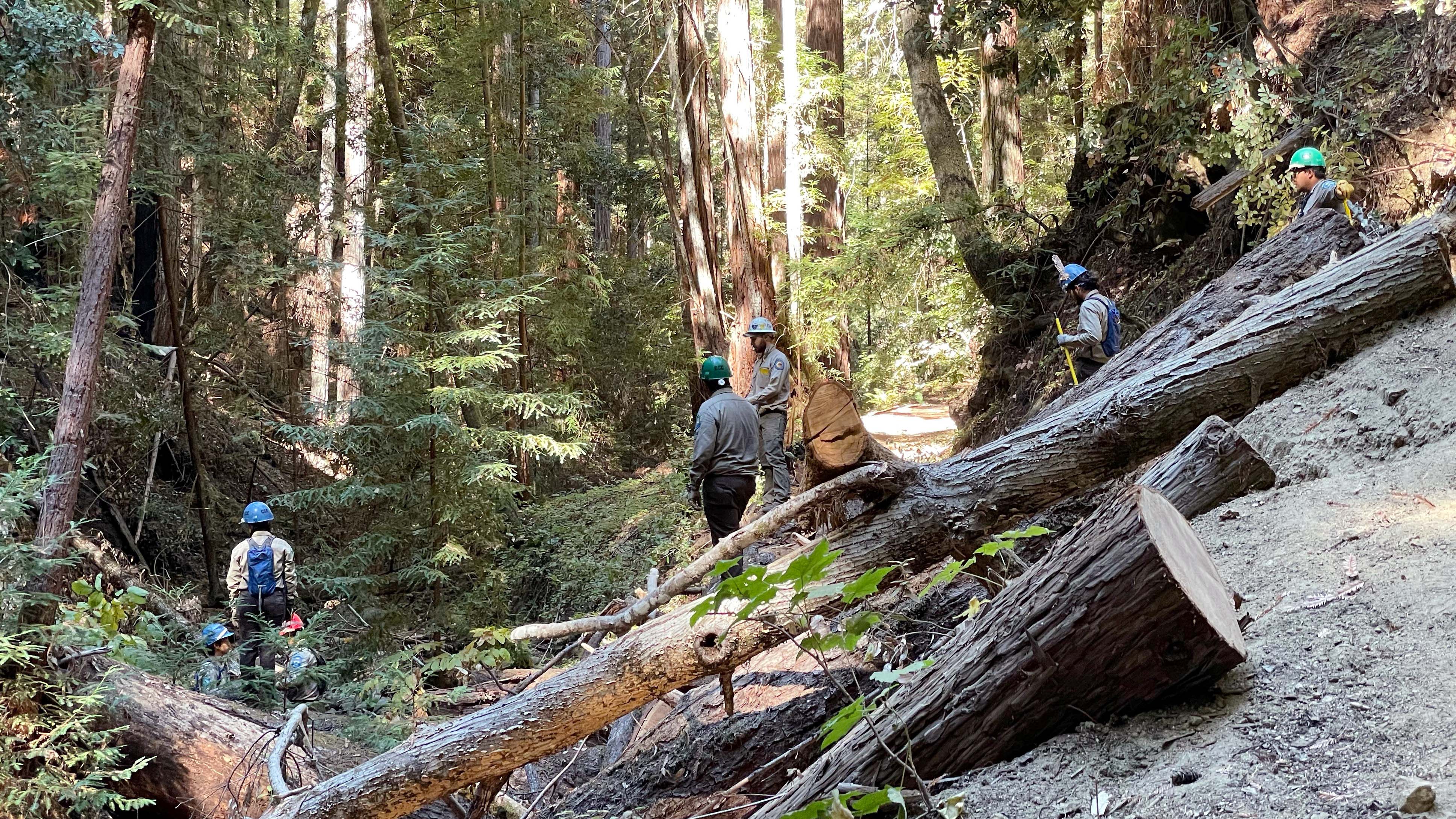 Sacramento Corpsmembers work with State Parks to clear hazard trees from near trails.
Building Envelope
Cal-OSHA 10-Hour Safety Training for Construction
Electrical Concepts
Energy Audits
Energy Efficiency Basics & Data Collection for Energy Surveys
Energy Efficiency Fundamentals
First Aid & CPR
Introduction to Wiring and Lighting Retrofits
Ladder Safety
LED Technology Hands-on Training
Lighting Commissioning
Lighting Control Installation
Lighting I: Lighting Your Way
Lockout-Tagout
Maintenance Best Practice for Energy Efficient Facilities
Safety Stand Down
Scissor (Aerial) Lift
ServSafe Food Handler Certification
Hazardous Waste Operations and Emergency Response (HAZWOPER) 40-Hour Training
The trails crew does a variety of natural resource projects, from building trails and fuel reduction to tree planting and more. Corpsmembers can apply to be permanently placed on the crew, or will be rotated in throughout the year to gain this beneficial and diverse project experience.
Corpsmembers participating in this part of the program can earn additional certifications and training in the following:
Chain Saw Training
Trail Construction and Maintenance
Hazardous Waste Operations and Emergency Response (HAZWOPER) 40-Hour Training
First Aid & CPR
ServSafe Food Handler Certification
Chipper Operations & Safety
Power Tools Safety and Operation