Tribal Youth Nature-Based Solutions Conservation Corps
Tribal Youth Nature-Based Solutions Conservation Corps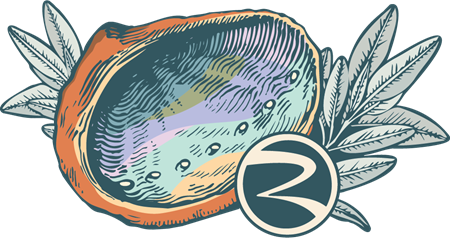 The Tribal Nature-Based Solutions programs logo. The species depicted in the design – red abalone and white sage – are culturally important to many California Native American people and each species' population is facing a rapid decline in nature.
The Tribal Youth Nature-Based Solutions Conservation Corps program (Tribal Corps) was established in 2022 in collaboration with the California Natural Resources Agency (CNRA) to advance the objectives of Executive Order N-82-20 (PDF). Assembly Bill 179 (Section 52) allocates $10 million in grant funding exclusively available to California Native American tribes – federally-recognized or non-federally recognized – to establish tribal youth conservation corps programs.
The priority of the Tribal Corps grant program is to implement projects and develop programs designed to provide educational and career pathways for tribe's young adults to engage in Nature-Based Solutions projects and programs on tribal lands that:
a) Support sustainable land management practices to tackle environmental, social, and economic challenges,
b) Promote biodiversity protection, habitat restoration, wildfire-resilient, sustainably managed landscapes, and other conservation outcomes, and
c) Accelerate natural removal of carbon and build climate resilience in our forests, wetlands, urban greenspaces, agricultural soils, and land conservation activities.
Tribal Corps Grant Program
The solicitation period for Tribal Corps is now open. Full proposals are due on June 2, 2023. Final awards will be announced on June 30, 2023.
Technical Assistance
The CCC will hold workshops on April 5, April 6, April 14, and April 17 at various CCC locations. For details please review the flyer below:
Proposal Support
To assist applicants in ensuring proposals meet eligibility and documentation requirements prior to the submission deadline, the CCC Bonds & Grants Unit will provide optional eligibility screening and proposal feedback to any applicant who requests it until close of business on May 5, 2023.
Applicants are invited to submit their proposed scope of work with a request for eligibility review and feedback to TribalCorps@ccc.ca.gov or by calling 916-217-7724 to set up an appointment.
Please allow three to five business days from receipt of the submission for a response. Requests for proposal feedback received after May 5 will not be reviewed. Technical assistance needed to complete and submit proposals will be provided on an ongoing basis until the submission deadline.