International Work Exchange Programs
International Work Exchange Programs
Over the years, representatives from more than 48 countries attracted to the CCC concept have contacted or visited the CCC seeking to address needs of youth employment and environmental protection. From these contacts, several international exchanges have developed.
The CCC's first international exchange began with the Canadian Katimavik program in 1983, and has since been followed by exchanges with Great Britain, Australia, the former Soviet Union, and Mexico. In 2016, the CCC helped the U.S. Forest Service establish a conservation corps in Honduras with future plans to conduct an exchange. Upcoming exchanges with Canada are in the works, which would allow Corpsmembers to go to Banff to work within one of Canada's National Parks.
While participating in an exchange, Corpsmembers earn their regular stipend and pay their own transportation costs. Each host country provides food, lodging, and other operational expenses.
Australian Work Exchange Program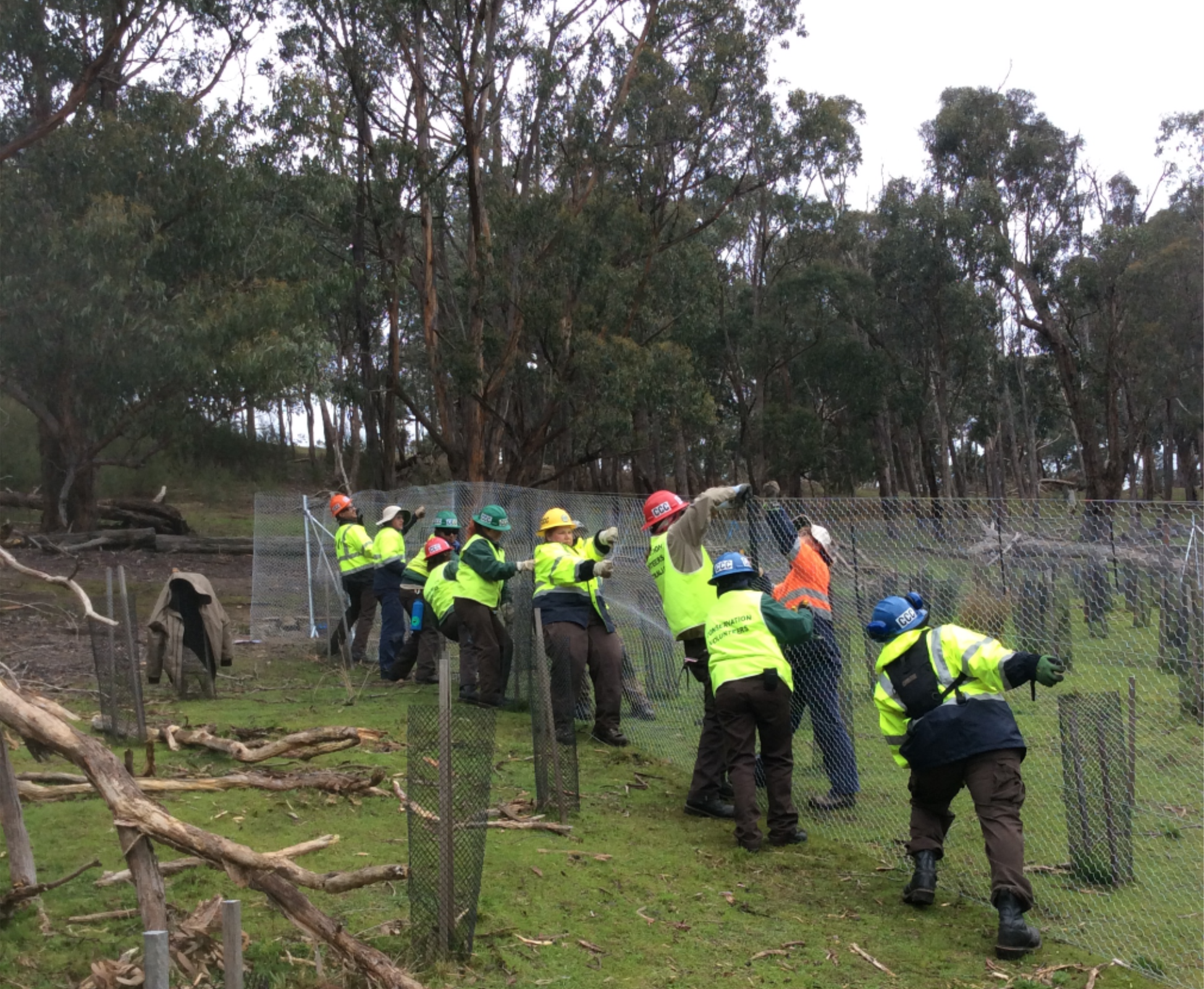 CCC exchange crews work on a variety of projects in Australia, such as installing exclusionary fencing to keep wild kangaroos out of a regional park rehabilitation area.
Since 1988, the CCC has regularly sent Corpsmembers to Australia through an International Work Exchange program with Conservation Volunteers Australia (CVA).
Each spring, interested Corpsmembers may apply to join a crew to travel to and work on conservation projects in Australia for up to nine weeks. Most years, an Australian contingent arrives for work in California. The Australians live and work in CCC centers during their stay, giving Australian youth the opportunity to experience the culture and environment of America.
Supervised by a CCC Staff Liaison, the crew works with CVA on a variety of conservation projects such as erosion and salinity control, tree planting, seed collection, invasive species removal, construction and maintenance of trails, endangered flora and fauna surveys and monitoring, weed control, habitat restoration, heritage protection, and more.
Weekends often consist of taking in the Australian culture. There is much to see and do in Australia, such as watch "footy" games (Australian Rules Football), shop in the cities, and snorkel and surf in the ocean. The CCC exchange may take place during the rainy season in Australia, so Corpsmembers are asked to be prepared for cold, rainy weather.
Due to the global pandemic and travel restrictions, the exchange is not guaranteed to occur at this time. Enrolled Corpsmembers should enquire with their District Directors as the CCC and CVA work together to resume this international partnership.