Get Paid to Finish Your High School Diploma
As classes come to an end for summer and graduation caps fly, thousands of California teenagers won't be celebrating. They didn't finish high school. With the help of the California Conservation Corps, many of these young adults can turn their lives around and finish their high school diploma.
"I was being teased for being poor, so I dropped out," said CCC Delta Center Corpsmember ShayVonna Jackson. "My life had no purpose; I was just drifting by and couldn't get a job. It's hard to find a job without a high school diploma. That's the big reason why I came to the CCC. To accomplish that."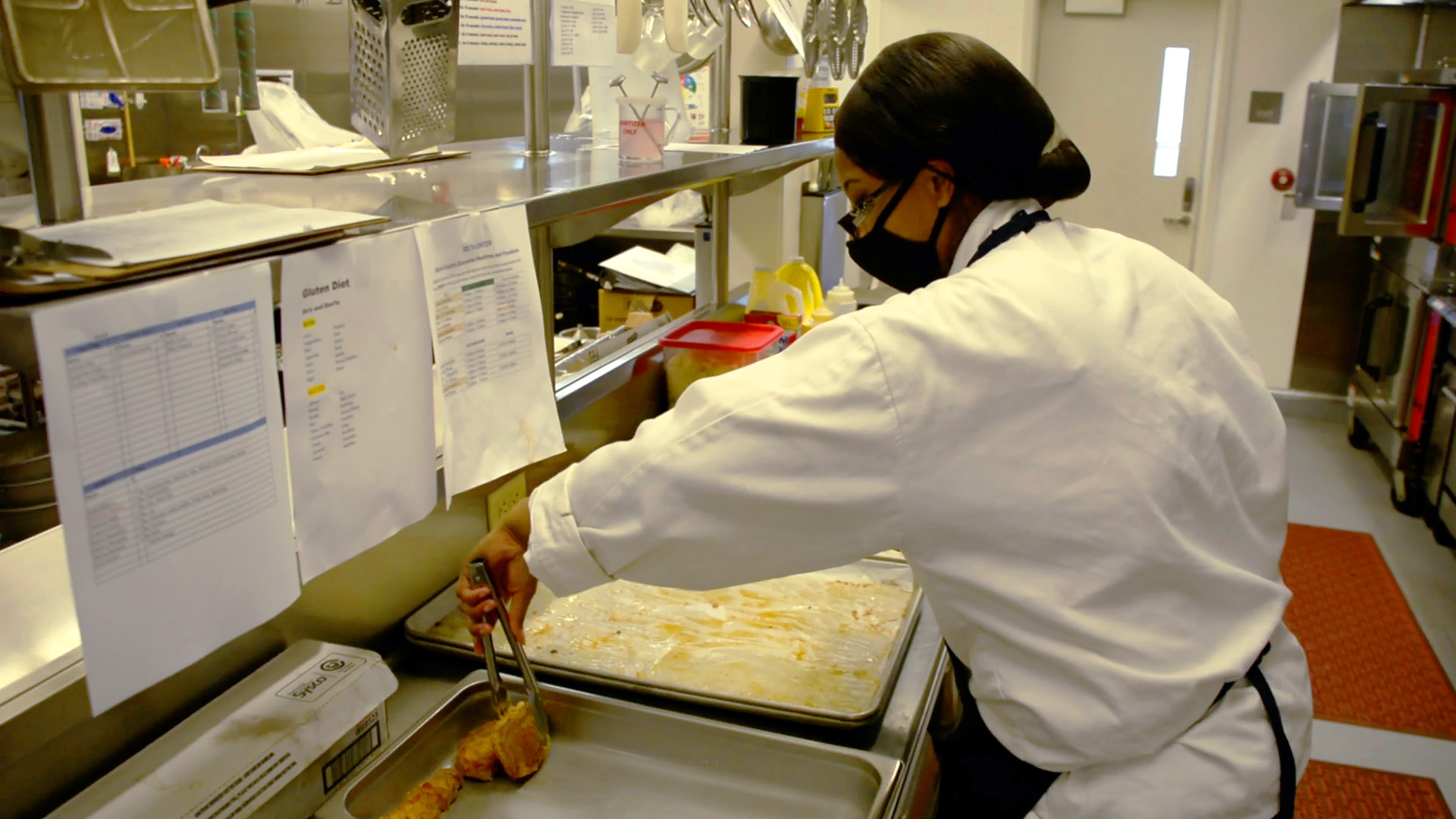 Delta Corpsmember ShayVonna Jackson helps prepare dinner at the residential center's kitchen. When not working in the culinary program, ShayVonna is busy finishing her high school diploma. 
ShayVonna's story of being stuck and looking for a path forward is a familiar one. The reason many  people don't finish their diplomas on time with their peers are varied and deeply personal. Through the CCC's partnering charter schools, success for ShayVonna is just around the corner.
"I only have math to complete now so I'm pretty close," she said.
CCC Placer Center Corpsmember Yusef Muzquiz agrees: "I signed up and a year later I've graduated high school. I'm working on college courses and I'm making something of myself for life. I wasn't able to finish high school because my mother had been put on dialysis and I had to help out with my younger sisters. The CCC opens up so many opportunities and it's helped my family because now my sisters get to look up to somebody as a role model."
Click button to play video. Placer Corpsmember Yusef Muzquiz stands in his graduation robes and cap during the center's graduation even in January 2021.
Corpsmembers get to finish their diplomas in the program, plus they get paid to train and learn job skills that can lead to careers in wildland firefighting, forestry, parks, energy, culinary arts, and more. Corpsmembers receive a monthly stipend of $2,700 and can also earn as much as $8,000 in scholarships in their first year.
"You can't really beat getting paid to finish high school," Yusef said. "It's important because graduating high school is such a big keystone in your life. The CCC has helped me fill in a lot of experiences that I missed during high school. And it's providing me work experiences to get into the workforce after I complete the program."
Yusef wants to pursue a career in forestry. He's already earned industry-recognized certifications to help achieve that goal. ShayVonna, meanwhile, is working in culinary learning to cook meals for her fellow Corpsmembers. She too has earned industry-recognized certifications and plans to pursue other endeavors after she finishes her diploma and earns her scholarships.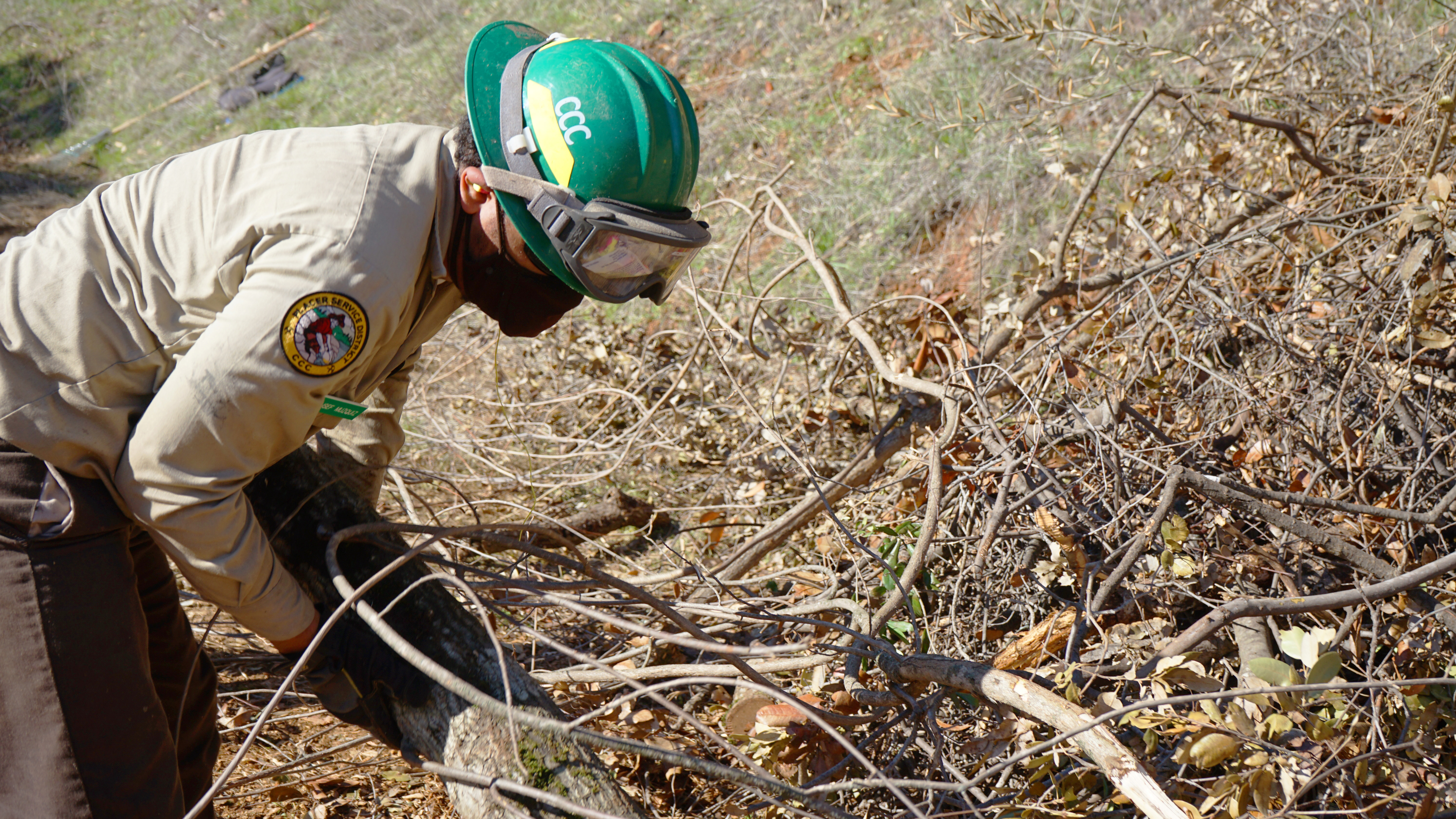 Placer Corpsmember Yusef Muzquiz collects branches from a pile to move into a wood chipper. After several months in the program, Yusef earned his high school diploma through John Muir Charter School. 
"I'm torn between two choices. My supervisor wants me to pursue culinary, which I do love. My first love was social work. I'm still not sure what I'll do next, but I will definitely pursue an education."
The CCC, she says, is an opportunity to get your life on track and become the person you want to be.
"If you don't really have any direction in your life this is a great place to come and figure it out," she said.
If you're looking to complete your high school diploma, earn college scholarships, or gain work experience and you're 18 to 25, or a U.S. military veteran up to age 29, fill out our online application today.