Empowering Internship Paving Way for Future Firefighters
You've likely seen those Instagram moments in Yosemite National Park — sunrise over Half Dome, low clouds misting around Wawona. For six women this summer, snagging some social media snapshots wasn't their reason for traveling to Yosemite Valley. No, they made the journey to transform their lives.
"I had to keep pinching myself, telling myself, 'You're really here,' because it's Yosemite," said Julia Barton, 20, of Roseville. A Corpsmember with the California Conservation Corps. "Not everybody gets to camp where we are. And even though we're doing 16-hour days of hard work sometimes, it's in a breathtaking area with a group of great girls."
You see, this unique experience wasn't just about the destination. The focus instead was on who was going to be there; six women determined to become wildland firefighters.
"Coming here to this program has boosted my confidence," said Corpsmember Andrea Chavez, 26, of Long Beach. "I'm learning to use the chain saw more comfortably. Having that one-on-one time with my crew members, it leaves me feeling so empowered."
Now, she and her crew are returning to their CCC centers after a summer of learning in the CCC Yosemite Women's Fire Internship, a collaboration with Yosemite's Fire & Aviation unit. The goal of the internship is to show Corpsmembers the careers and opportunities within the National Park Service (NPS).
The crew learns about Yosemite's fire philosophy—more fire management than suppression—and allows them to see a career pathway for themselves. Female firefighters are relatively few across the country in both structural and wildland. This internship aims to help change that.
"They were giving us a tour of each fire station and I saw women," Chavez said. "It really inspired me because I was like, 'Wow!' It piqued my interest more, as I feel like I would fit in a little more here and be able to learn from them."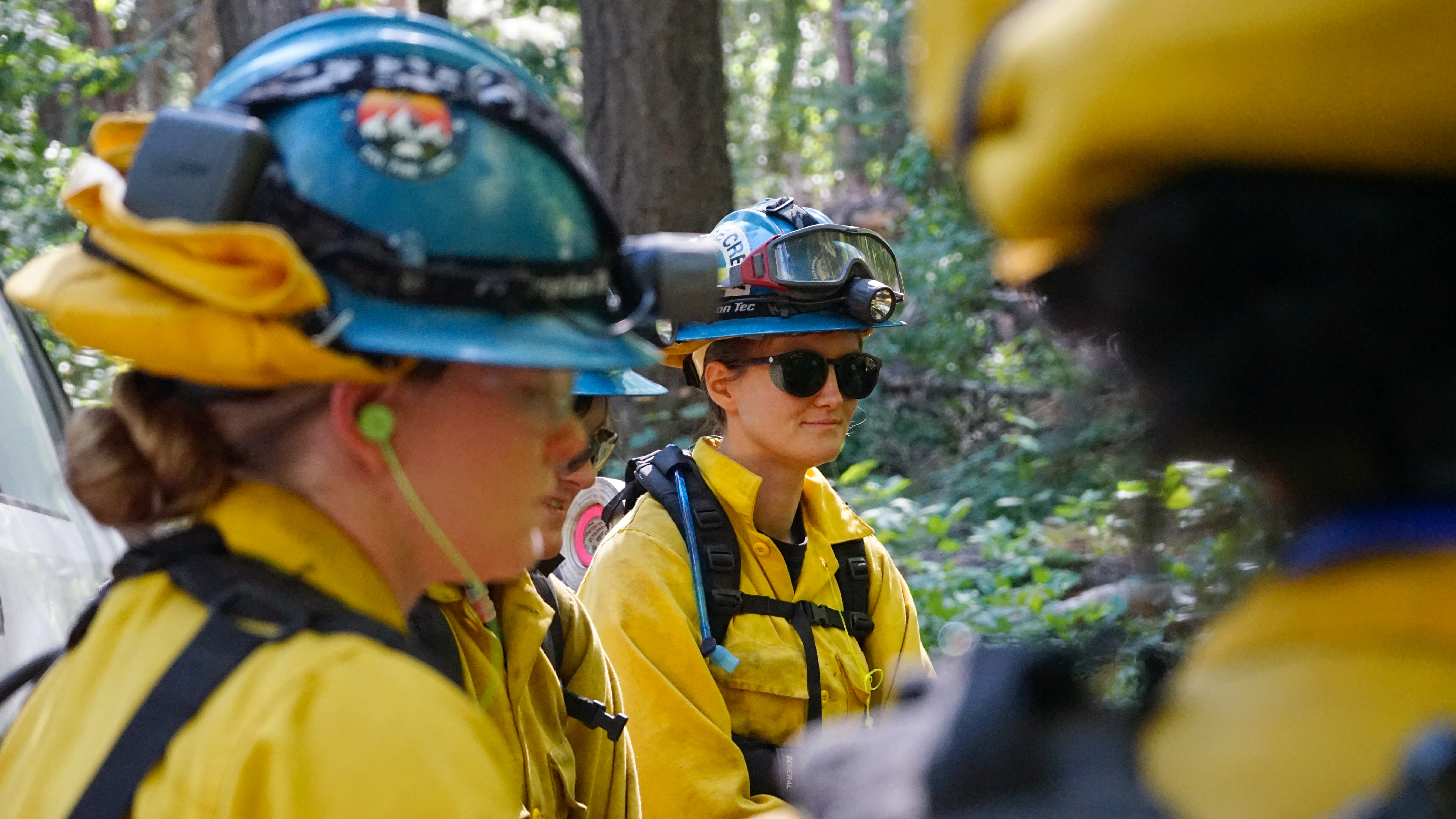 CCC Tahoe Corpsmember Hillary Aquino, foreground, and Redding Corpsmember Minga Wigington, background, listen intently to instructions before the start of a prescribed burn preparation project.
The CCC-Yosemite internship is already providing a path forward to young women interested in firefighting. Lupe Ruiz participated in the internship the last two years, as well as working on a CCC-CAL FIRE-partnered hand crew in Riverside County. Now, she's working as a Firefighter Type 1 Apprentice at the El Portal Fire Station.
"I met a lot of great connections here," Ruiz said. "Everyone I met was like, 'Hey, send me your resume so when you're applying you can get it done right. We want you to get in here.' I started in May and it's been really awesome. People have your back and there's always opportunities to grow."
This year's crew was quickly presented with an opportunity to grow and learn. In just their second week in the park, they were assigned—alongside staff like Ruiz— to the Pika Fire.
"We were out there for a whole week camping out," Barton said. "They dropped in our packs that had our overnight stuff. We had bear boxes and our chain saws and maintenance tools."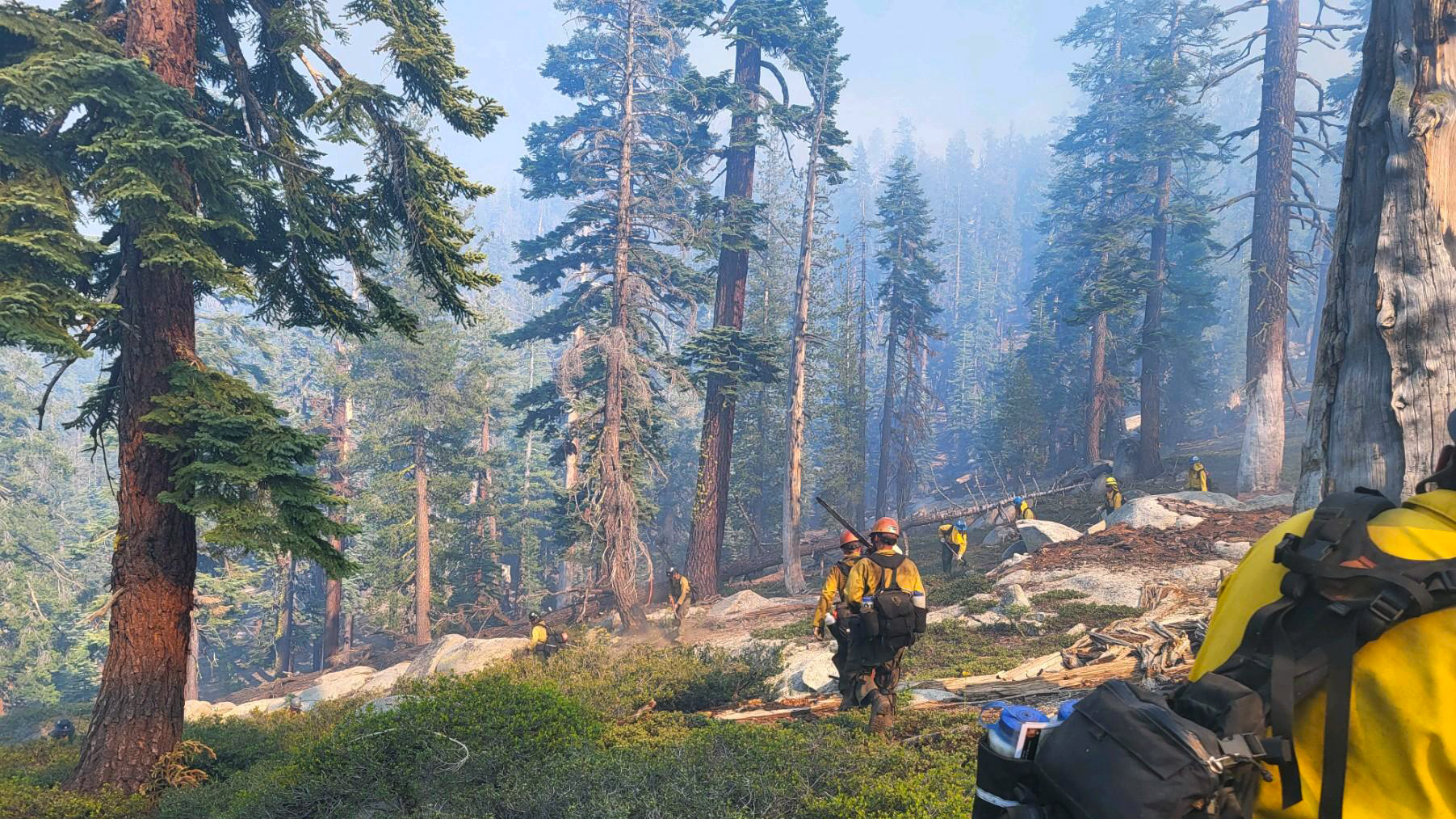 The women of CCC Yosemite 2 work to cut hand line, off in the distance, on the Pika Fire in July 2023 in Yosemite National Park. (Image courtesy of NPS/Inciweb)
Barton came into the internship having worked on fires with one of the CCC's CAL FIRE-partnered hand crews. But, camping near the fire line and relying on a helicopter to deliver supplies was a new experience. And, for her crew mate Aby Magana, 22, of Oxnard, every part of fighting a fire was new.
"It was my first fire. It was scary at first, but I feel like I knew what I had to do," Magana said. "The girls that have been on a fire, I knew that I could go to them and ask questions. The first day went kind of south and luckily Julia was there to help me out. I'm really glad we all got the experience of being out there together."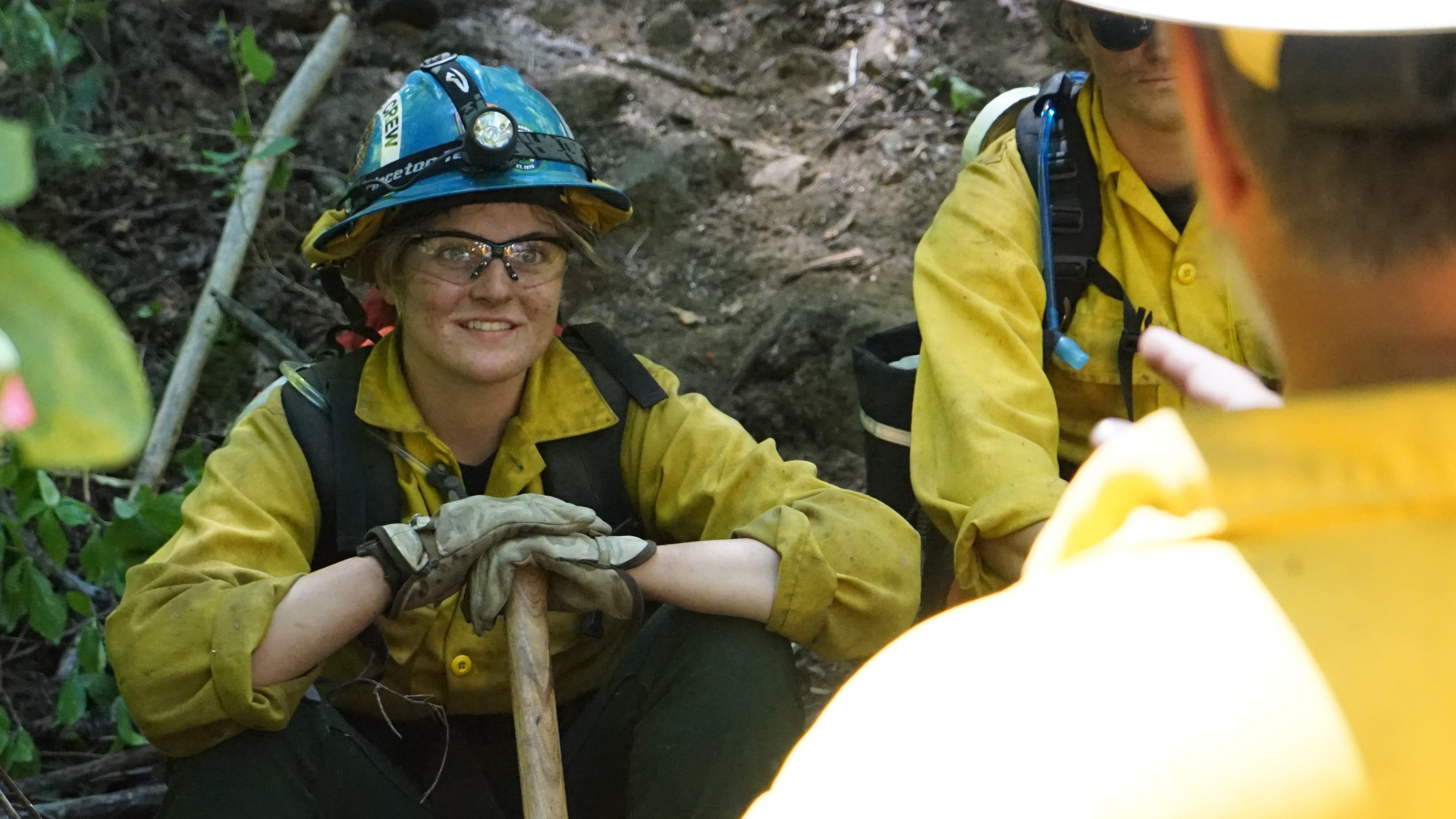 Placer Corpsmember Julia Barton listens intently to NPS fire leaders after a practice line cut and prescribed burn preparation project.
And together they are hoping to spread the word so that more young women get the experience of being a wildland firefighter.
"It shouldn't just be a male dominated thing," said Hillary Aquino, 26, of Valley Center. "I think women should get more into it and challenge themselves. I want them to see me and be like, 'Hey, I can do it too.'"
"That's definitely a big thing, I feel like the more girls people see on (a fire) crew, the more they feel like they can do it," Barton said. "It's really, really cool coming to NPS and seeing so many leads in fire be women. It makes me feel like, 'I can do this.'"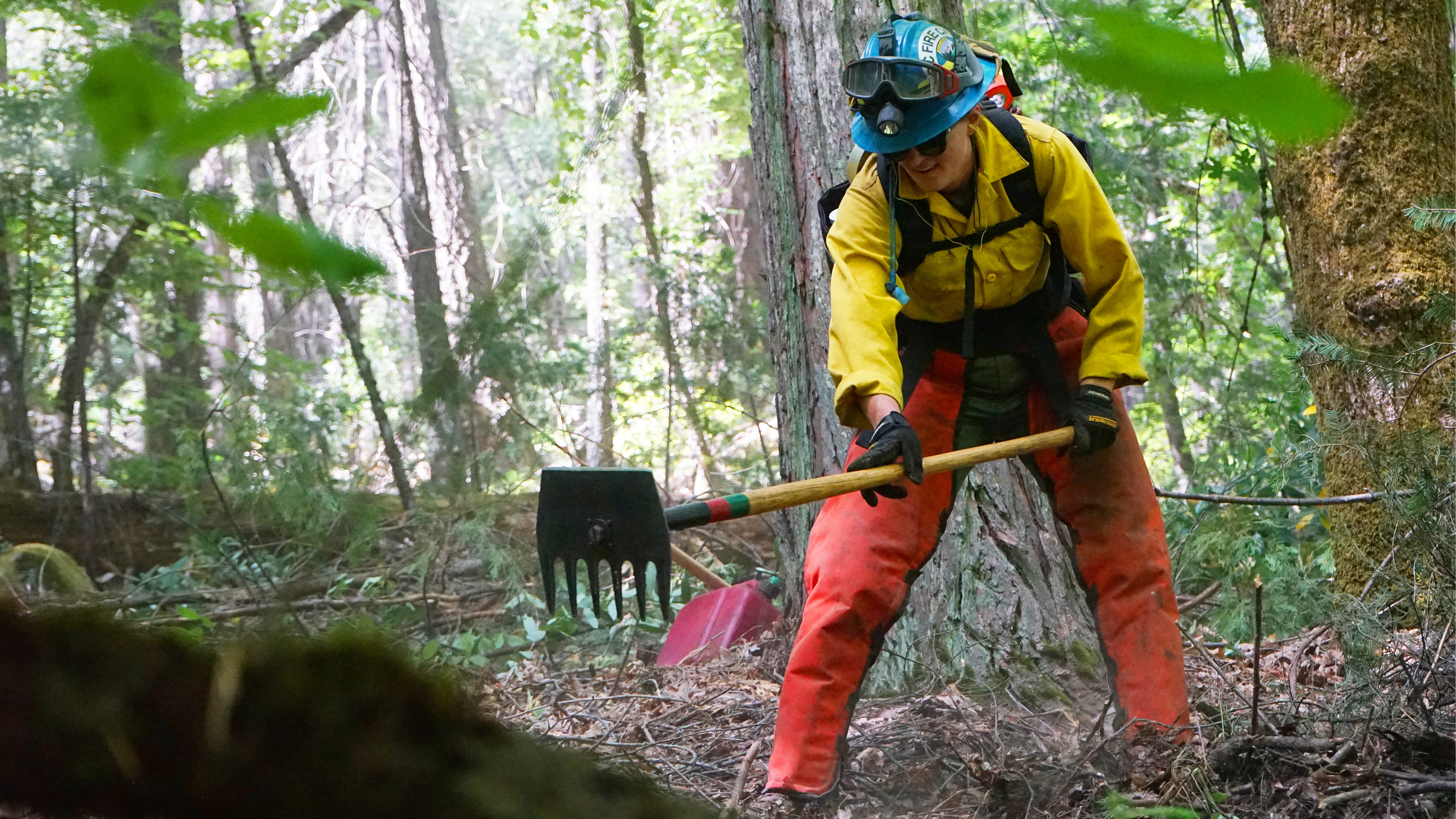 Redding Corpsmember Minga Wigington uses a McLeod to clear debris away while making a hand line for a future prescribed burn in Yosemite Valley.
And, indeed, they can. The CCC is a place they recommend women can start. On top of the Yosemite internship, the program operates 30 wildland firefighting hand crews in partnership with NPS, CAL FIRE, and the Bureau of Land Management. It's a paid year of service where young women can discover if wildland firefighting is something they want to pursue. No prior experience, training, or equipment is needed.
"It's for everyone," Aquino said. "As long as you put in the work and you have the mindset you can do it. And I want to inspire other girls to join firefighting."
"I hope to see more females in fire careers," Chavez said. "I feel like the culture of men being stronger than women, we need to change that mindset."
To learn more about starting, or even just trying out, a career in wildland firefighting, visit our wildland firefighting webpage. To connect with a recruiter about opportunities, we encourage you to fill out our online application.