Climbing To New Heights With Utility Line Arborist Training
California Conservation Corps Corpsmembers are getting hands-on arborist training that can lead to meaningful, good paying careers.
"Just show up, get paid, and learn," said Corpsmember Patricia Arriaga Rivera.
Arriaga Rivera is among 16 Corpsmembers to recently complete Utility Line Clearance Arborist Training (ULCAT) at Folsom Lake College's El Dorado Campus in Placerville. ULCAT includes hands-on experience in tree identification, electrical hazards, worksite inspection, chain saw and chipper operations, climbing and bucket operations, and more.
"I was a little scared for my first time up the tree, but it was liberating," Arriaga Rivera said.
Her fellow Corpsmember Keven Fobbs added: "I've learned so many skills that I will take through the rest of my life with. I feel like it's a privilege to get paid to do these trainings."
In partnership with the California Community Colleges Foundation, the five-week course is offered to Corpsmembers at no cost to them. In fact, Corpsmembers attend during their normal work hours and are paid their monthly stipend of $2,700. At the end of training, Corpsmembers leave with a certificate of completion from Folsom Lake College, as well as certificates in NSC Flagger, OSHA 10, and AHA First Aid & CPR.
"It feels good to be part of this course," Arriaga Rivera said. "Having teachers who are enthusiastic to help you is amazing. The instructors are very patient and I think it makes learning a lot easier. If I decide to go into utility line clearance, I now have a better understanding of how to work with trees."
The biggest challenge, and perhaps the most fun, for the Corpsmembers was tree climbing using a variety of techniques involving ropes, pullies, and metal spurs.
"It's pretty scary," Fobbs said. "You have to have trust in your knots and your system."
The arborist training is available to Corpsmembers multiple times per year and at select California Community Colleges. The first step is to apply to join the CCC and become a Corpsmember.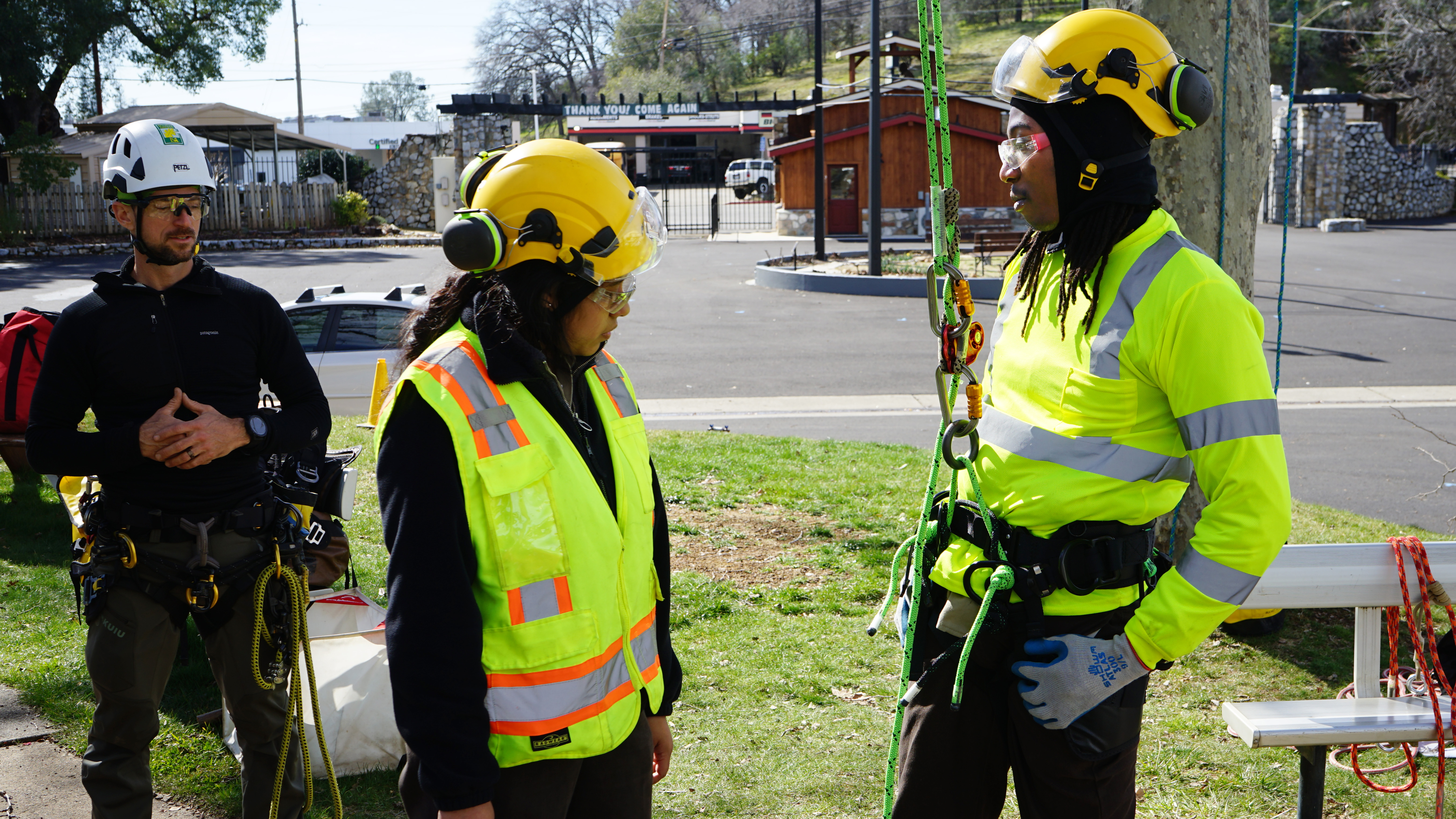 Corpsmember Mercedes Hernandez conducts an equipment inspection on Corpsmember Keven Fobbs, while an instructor supervises, at the fairgrounds in Placerville, CA.