Norwalk Energy Hub Retrofits Pomona Courthouse
Inside the Los Angeles County Pomona Courthouse, the difference is quite literally night and day. Gone are decades old fluorescent tubes spewing dim and orangish light. Now the hallways and courtrooms are bright – lit up by thousands of brand-new and energy-efficient LED tube lights.
The lighting upgrades were installed over the past four months by the young adults of the California Conservation Corps' Norwalk Energy Hub. The work is part of the hands-on training Corpsmembers get to prepare them for jobs in energy efficiency, especially when it comes to retrofitting light fixtures.
"Some fixtures are easy, some aren't," said Corpsmember Diana Alvarez of Fullerton.
With 8,761 light fixtures between the Courthouse's two buildings, retrofitting them all makes for some long nights. "If you're working on a fixture with one lamp it takes about five minutes. Two lamps take maybe seven. It's pretty fun. Time goes by really fast when you're up there retrofitting," said Alvarez.
The two dozen 18- to 25-year-olds on the job don safety vests, hard hats, gloves and eye protection, as they scale up and down ladders – often working past midnight, especially if after a fixture was retrofitted, the lights don't turn back on.
"We can never leave a job undone, so we'll be here as long as it takes," said Corpsmember Luis Diaz of Long Beach. "There's a bit of anxiety with, 'Oh, is my light going to turn on? Are we going to pop a breaker?' It always feels rewarding when everything comes on with the first try."
Courtrooms, hallways, and even the clerk's office received the new lights, which will save the courthouse buildings an estimated 218-kilowatt hours in energy use each year.
When they're done in Pomona, sometime in mid-September, the same energy crews will move their ladders over to the Superior Court building in Norwalk where 7,296 fixtures need an overhaul that's estimated to save 124-kilowatt hours in energy use each year.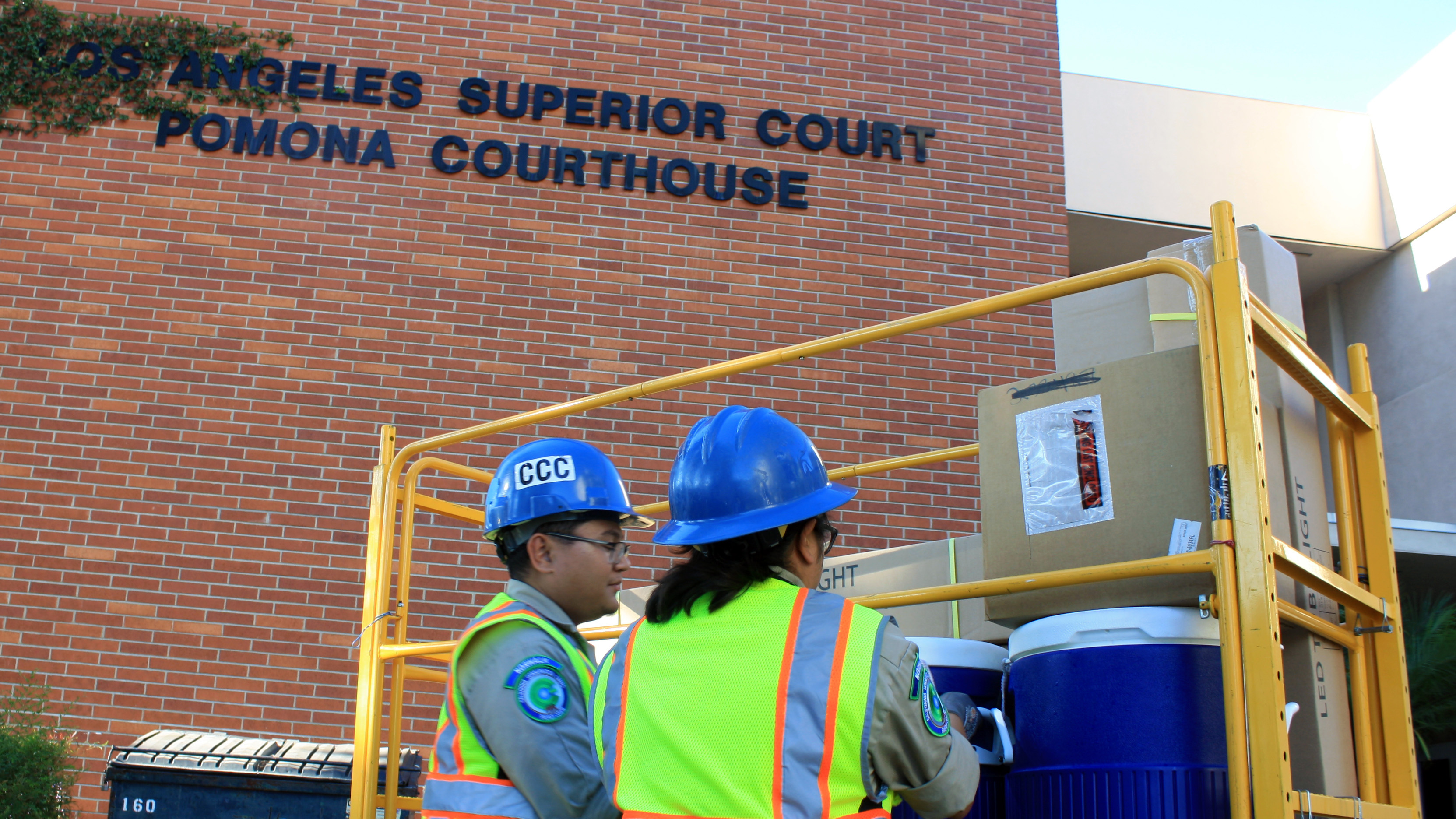 Corpsmembers Joie Reoma and Diana Alvarez prepare equipment outside for a night of work at Los Angeles Superior Court Pomona Courthouse.
The Judicial Council of California which operates the courthouses partnered with the CCC on this project and similar ones across the state and projects energy savings of $6 million over the next ten years. Meanwhile, the Corpsmembers earn certifications and experience needed for good paying, entry level jobs.
"It's a great program," said Alvarez. "You get a lot of experiences, free training and get OHSA certification. On top of that, you get scholarships and it looks amazing on your resume."
Corpsmembers learn electrical, wiring, and safety skills as part of their training. The trainings meet American Society of Heating, Refrigerating and Air-Conditioning Engineers standards and are required by most energy industry employers.
"I joined because I saw what we can do here," Diaz said. "I want to pursue a career in energy. The advantage is we get training and experience to make that happen."
Alvarez added, "On top of that, you get scholarships and it looks amazing on your resume!"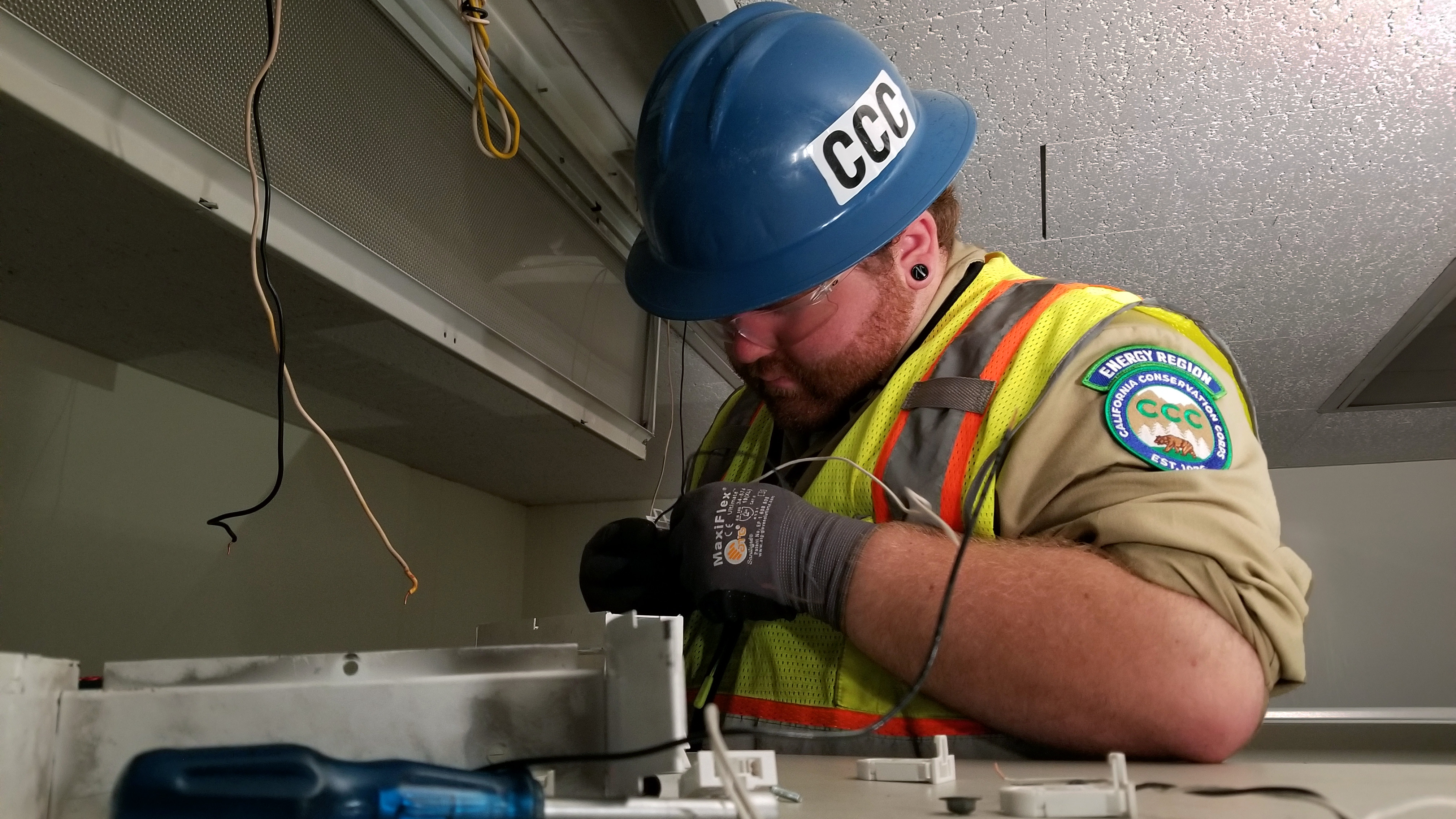 Corpsmember Hunter Grosse examines an electrical socket's wiring before installing it in the light fixture above filing cabinets.