Grover Hot Springs State Park ADA Trail
Grover Hot Springs State Park is beautifully – and quietly — tucked away in the heart of Alpine County. Yet, it sees significant traffic from day hikers and campers each year thanks to the hot springs pools that sit on the meadow's southern edge. All that traffic has left existing trails over-used, vulnerable to spring run-off, and in need of a major upgrade.
The California Conservation Corps, in collaboration with State Parks and the Alpine Watershed Group, is working to rebuild the meadow trail from the campground to hot spring pools. A crew of 18 to 25-year-olds spends every other week at the park, hauling wheelbarrows full of road base, chiseling rocks, and cutting wood beams for bridges. They're not just re-routing and improving the trail, Corpsmembers from the nearby Tahoe Center are making the trail more accessible to visitors by building it to ADA standards.
"It's hard work, it's really physically demanding, and every day is a work out," said Corpsmember Logan Bailey. "All said and done, when the trail is finished someone in a wheelchair should be able to roll the trail without any difficulty."
In 2018, Corpsmembers and State Parks constructed an 800-foot elevated boardwalk. It not only allows wheelchairs to cross Grover Meadow, but it improves the area's hydrology by allowing spring run-off to flow through without damaging the trail. As the trail twists and turns to the west, additional boardwalks, bridges, and a sturdy five-foot wide trail are being built.
"There's a lot of steps to it," said Corpsmember Jaime Knox. "We are probably doing 500 shovels of dirt every day. We end up walking back and forth about a million times."
Each trip brings large granite rock, wheelbarrows of gravel, or a dirt and rock mixture known as aggregate. Corpsmembers use the large rocks to establish the sides of the trail. Between the rocks goes aggregate, which solidifies into a hardened state similar to asphalt. The crew is also adding safety rails on the boardwalks, which rise about four inches above the deck and are known as "bull rails".
Tahoe Corpsmember Tristan Manzano uses a vibroplate to compact gravel and road base to create a solid trail bed. The trail is compacted until it feels like asphalt and allows for bikes, strollers, and wheelchairs to easily pass over it.
"The best part is putting in those last screws and see it all perfected and nice," said Corpsmember Anthony Pavon. "It feels good."
The boardwalks, bridges, and trails will take hikers and walkers from the park's campgrounds and auxiliary parking lot to the hot springs and other nearby trails. It is designed to last for decades, something Corpsmembers take pride in knowing.
"That's what's really cool," said Knox. "In 20 or 30 years I can come back and show my children, my family, and say, 'I did this trail. I did this rock right there.' They may not care, but it's still going to be cool to me. I would never have known about this place if I didn't' work here. It's pretty small, but it's so beautiful."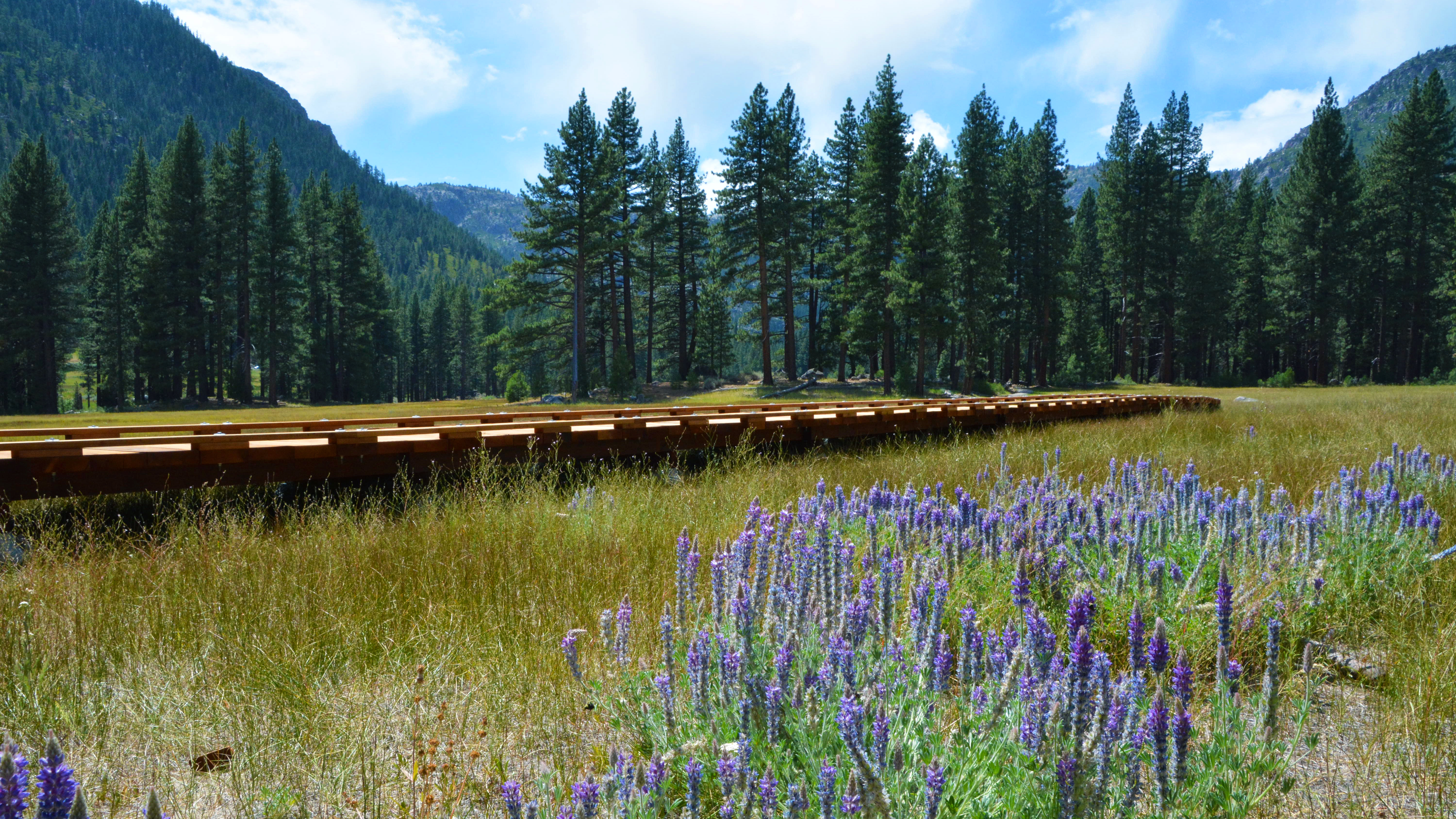 Wild lupine grow in Grover Meadow, which is now bisected by an elevated 800-foot long boardwalk leading visitors from the campground and an auxiliary parking lot to the hot spring pools.