Corpsmembers Support COVID-19 Vaccination Sites
COVID-19 vaccines are getting into the arms of Californians and Corpsmembers are helping make that happen.
CCC crews helped the California Governor's Office of Emergency Services (CalOES) and the Federal Emergency Management Agency (FEMA) turn parking lots into vaccation stations.
Now, thousands of Californians are driving into the Oakland Coliseum and Cal State Los Angeles parking lots to get inoculated against the virus.
"We've been setting up inside the tents and we've been bringing out supplies to the tents," said San Diego Center Corpsmember William Leonard. "We've been supporting both the vaccination walk-in and drive-in. We've been supporting operations for CalOES, FEMA, the National Guard and basically maintaining whatever they need and whatever we can do."
The crews are working 13 to 14-hour days, seven days a week during their two-week deployment to vaccine sites. The work is similar to wildfire base camps which Corpsmembers support during fire season, but the vaccination sites are much busier.
"Gloves, face masks, face covers, band aids, just the stuff they need to use on the tables at the vaccination tents," said Chico Center Corpsmember Sierra Green. "It is very much wherever they need us. All the time we're rotating and going out and doing the tasks. You just kind of run around and do everything and it's kind of exciting."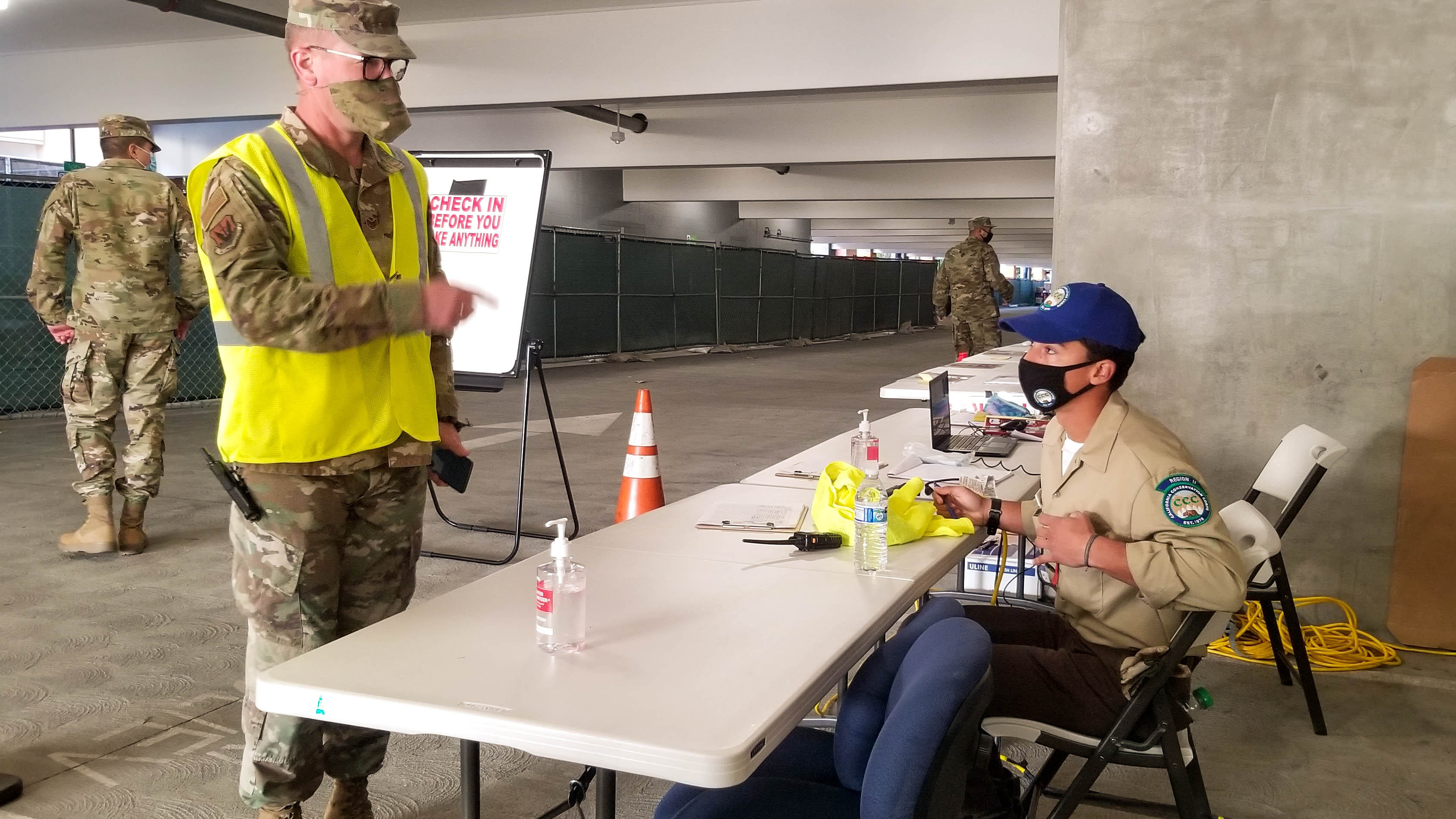 San Diego Corpsmember William Leonard talks to a California National Guardsman at the employee check-in station at Cal State Los Angeles at the mass vaccination site. 
The biggest thing Corpsmembers are experiencing is the pride in helping the state end the pandemic once and for all.
"I think the best part is when the people leave and I see their faces and they are usually really happy and really appreciative," said Delta Center Corpsmember Daniel Lopez. "I've seen so many people just so desperate and worried and just finally to see that relief is amazing."
Both vaccine locations are anticipating as many as 6,000 vaccinations being given each day. While Corpsmembers work is limited to traffic control and basic supply runs and monitoring, it is work they take pride in doing.
"You can definitely see the value of your work here," said Leonard. "We'll stay here as long as we're needed. We're doing our job every day, waking up, putting in our work. It's fulfilling and I love what we're doing every day. It's what i joined for and I wouldn't trade it for anything."