California Conservation Corps Trains for Responding to Flood Emergencies
STOCKTON, Calif. — The California Conservation Corps brought nearly 200 Corpsmembers together from across the state for a large-scale exercise to assure its readiness for flood emergency response.
The CCC is the state's 'boots on the ground' when it comes to flood events. The Flood Fight Exercise reinforces basic principles of flood response and educates Corpsmembers about emergency response situations and the incident command system.
The threat of a flood event in the state is always a possibility, especially when there are heavy rains. In September, the National Weather Service's Climate Prediction Center forecasted above normal precipitation in parts of California.
"We have to be prepared for major flood events," said California Conservation Corps Director Bruce Saito. "When levees breach, mudslides swallow neighborhoods and homes are submerged, the California Conservation Corps will be there to help."
The CCC can be called upon to assist in flooding events by Cal OES, local and county governments, and regional water and irrigation districts. The CCC also maintains agreements with various municipalities and districts throughout the state to respond to floods of creeks, neighborhoods and farm land. Additionally, the exercise fulfills a federal requirement for emergency response agencies to conduct regular drills.
"Every Corpsmember is trained to respond to flood events, this exercise provides a real-world experience for them and their supervisors," Saito said. "It is also important to show our fellow Californians that the CCC's young adults are ready to help when called upon."
Corpsmembers from 13 CCC centers practiced flood response techniques, including how to utilize sand bags to reinforce levees, protect structures and preserve property. The exercise took place in Stockton's Van Buskirk Park just west of Interstate-5 and south of 8th Avenue.
Crews of 15 Corpsmembers worked along a 1,000-foot section of levee to lay plastic sheeting and sandbags to prevent levee erosion. Corpsmembers practiced responding to a boil, where water flows through or under a levee – often due to rodents burrowing. Each crew created a boil sandbag ring and 'U' shaped sandbag ring to reduce the flow of water and erosion.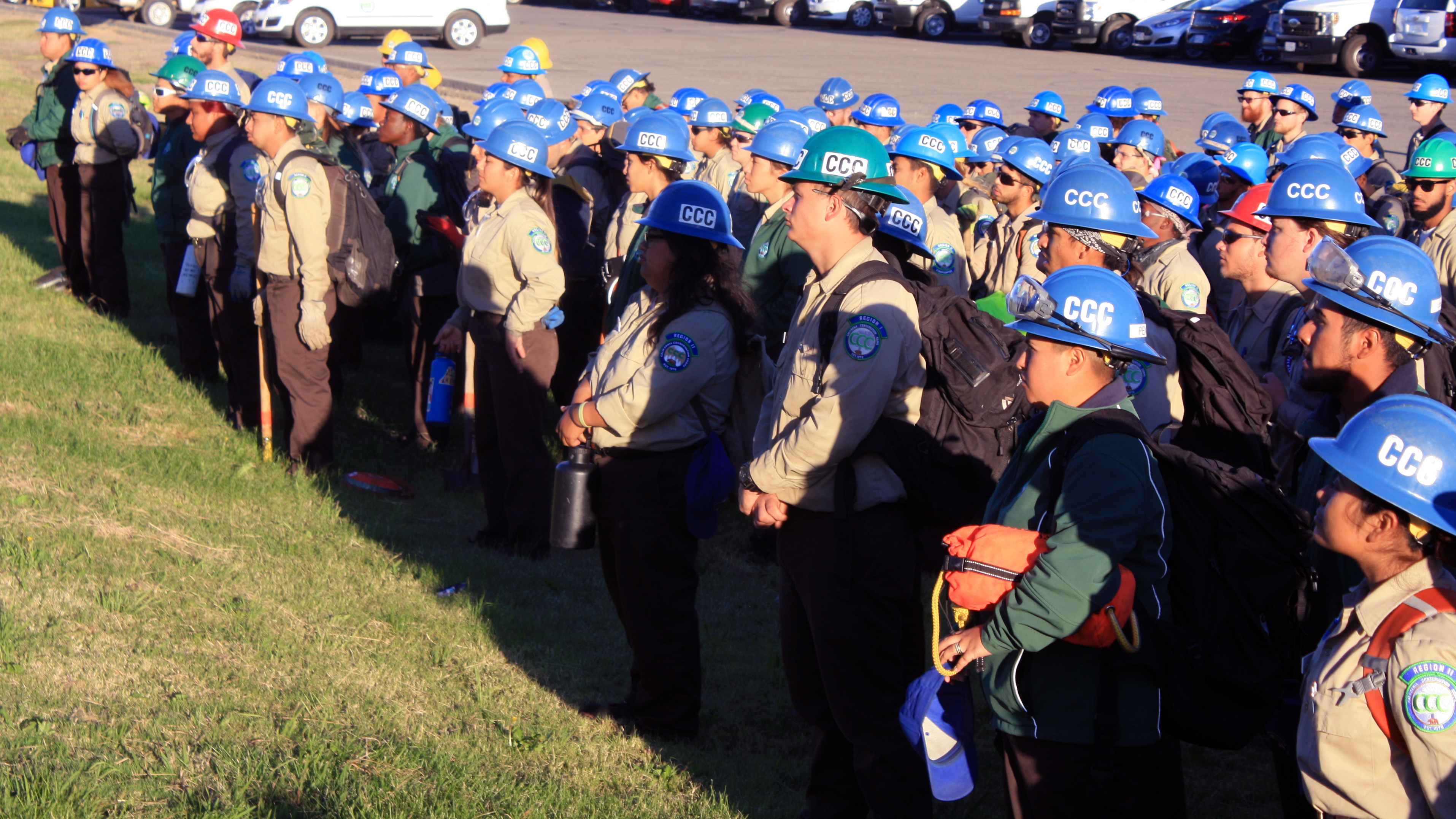 More than 200 Corpsmembers and staff from 13 CCC centers line up for morning briefing in Stockton's Van Buskirk Park for the biennial Flood Fighter Exercise.
The CCC partners with the Department of Water Resources to respond to major incidents across the state, where Corpsmembers serve as labor to accomplish DWR goals. The exercise was a collaboration with DWR and the City of Stockton.
Corpsmembers were housed and fed at the newly opened CCC Delta Center in San Joaquin County which can serve as the staging area for up to 500 Corpsmembers in the event of a flood disaster.