Building New Trails, New Opportunities in Mt. Shasta
In the shadow of Mount Shasta this summer, a "beehive" of activity is helping construct a variety of new pathways. The California Conservation Corps, on behalf of the Mount Shasta Trail Association (MSTA) and Mount Shasta Mountain Bike Association, is building the first section of new trails for hikers and mountain bikers that could eventually run for 45 miles.
"We put them on the trail thinking that if they got half of it, or three quarters, done we would be really excited," said John Harch, MSTA president.
Beyond giving mountain bikers a cool place to ride, the project work provides the young adults of the CCC a chance to find pathways to careers they never saw as possible.
"I wanted to try something different and out of my comfort zone," said Corpsmember Madison Castro, of Yreka. "I didn't really know about working outdoors and then I finally gave it a try. I enjoy it a lot and the CCC has made me realize that I want to work outdoors."
Castro and her crew of 15 Corpsmembers are based out of  CCC's nearby Siskiyou Center in Yreka. They do everything from forest management to restoring fish habitats. Along the Gateway Trail in Mt. Shasta, they've spent weeks removing potential hazards and perfecting the trail tread.
"You've got this crew of people like a beehive and you come back a few hours later and there's 200 more yards of trail done," said Harch.
And so, the MTSA and CCC crew started on the next section of trail. The untreated section meant the crew faced  deep thickets of manzanita and other brush. So, it was time to break out the chain saws.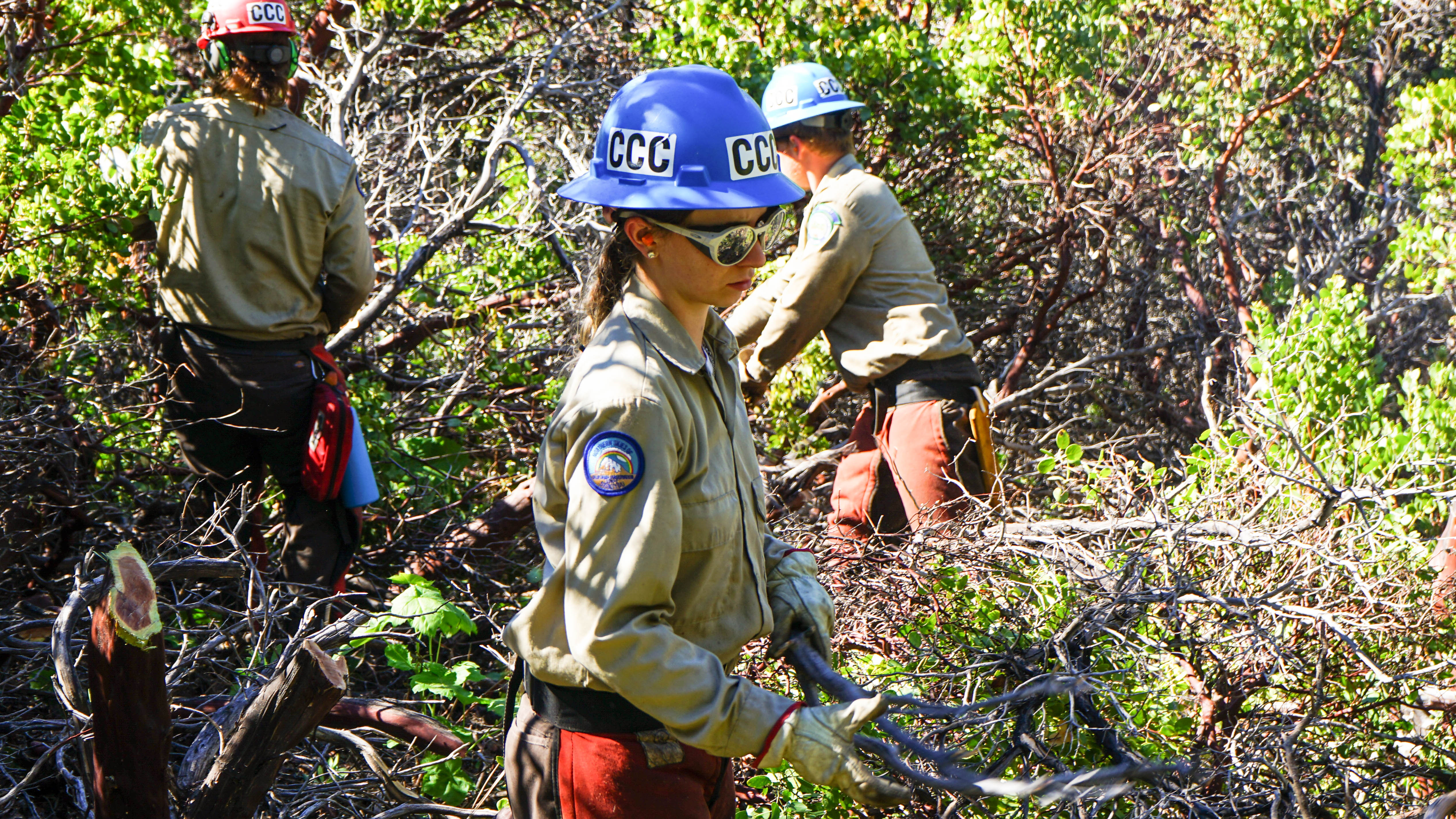 Siskiyou Corpsmember Madison Castro moves cut tree limbs and branches into piles to clear the way for additional trail mileage.
"Manzanita is hard, but it can come out pretty easily," said Corpsmember Tyrique Watts. "The time goes by so fast. We're just constantly moving forward and forward. We've had a bunch of people come out and tell us they're really excited for us to be out here in town and on the trail itself."
The excitement for residents and shop owners in the area is likely due to the potential economic impact of the new trails and trail system.
"We've seen studies that say if you can build 100 miles of trail with varied terrain, it will attract mountain bikers," Harch said. "They will come and stay two, three, four days in your area to experience those trails."
For Corpsmembers, the experience on this project is fueling their desire to continue a career in natural resources. An opportunity the CCC is helping them achieve by paying them a monthly stipend of $2,700 to train and work hands-on in trail building, forestry, and more.
"All the experience I've gained in such a short amount of time; I've never gotten that from another job," Castro said. "After the CCC, I want to get into fire or forestry work."
"Our experience goes a long way," said Watts. "I want to drop trees. With the CCC, I've got options. I can go to CAL FIRE, U.S. Forest Service, or even to a private company."