Monterey Bay Corpsmembers Prepare Coyote Canyon Park
Here's an idea. There's this defunct cattle ranch up in the hills with some amazing views. It would make a great place for hiking, mountain biking or just chilling. A walk in the park. Right?
Just ask Julian Burgos, "It's not just a matter of 'we've got new land let's open the gates.'" He's a Corpsmember with the California Conservation Corps and one of a dozen Corpsmembers tasked with getting the cattle ranch rebranded – so to speak – by spring of 2020.
"You've got to make sure the ground is secure, you're not endangering the environment, and making everything safe for people to use."
Santa Clara County Parks and Recreation Department contracted with the CCC to do much of the heavy lifting as it prepares Coyote Canyon Park. The land was most recently a cattle ranch riddled with thousands of feet of barbed wire fencing strung across steep and uneven hillsides.
"This project has really been about removing remnant infrastructure, particularly fencing that's no longer needed," said Jared Bond, Santa Clara County Parks' natural resource program supervisor. "We've also been repairing boundary fence because cattle grazing is a tool that we use to manage the grassland and having a contiguous and sound perimeter fence is really important."
Corpsmembers from the CCC's Monterey Bay Center in Watsonville were brought in to do the work. On their checklist was replacing outdated barbed wire fencing, removing 2,085 feet of unnecessary fencing inside the park and adding 25 boundary markers.
"You want to make sure you keep out people who are trespassing, so that's why we put up the boundary signs," said Corpsmember Amanda Romo of Watsonville. "And then there's the fuel reduction work, which is a lot of cutting." And, in relentless sun.
Romo's crew helped clear 6.5 acres of pine trees, non-native plants, and brush in order to reduce fuel loads and fire risk in the area.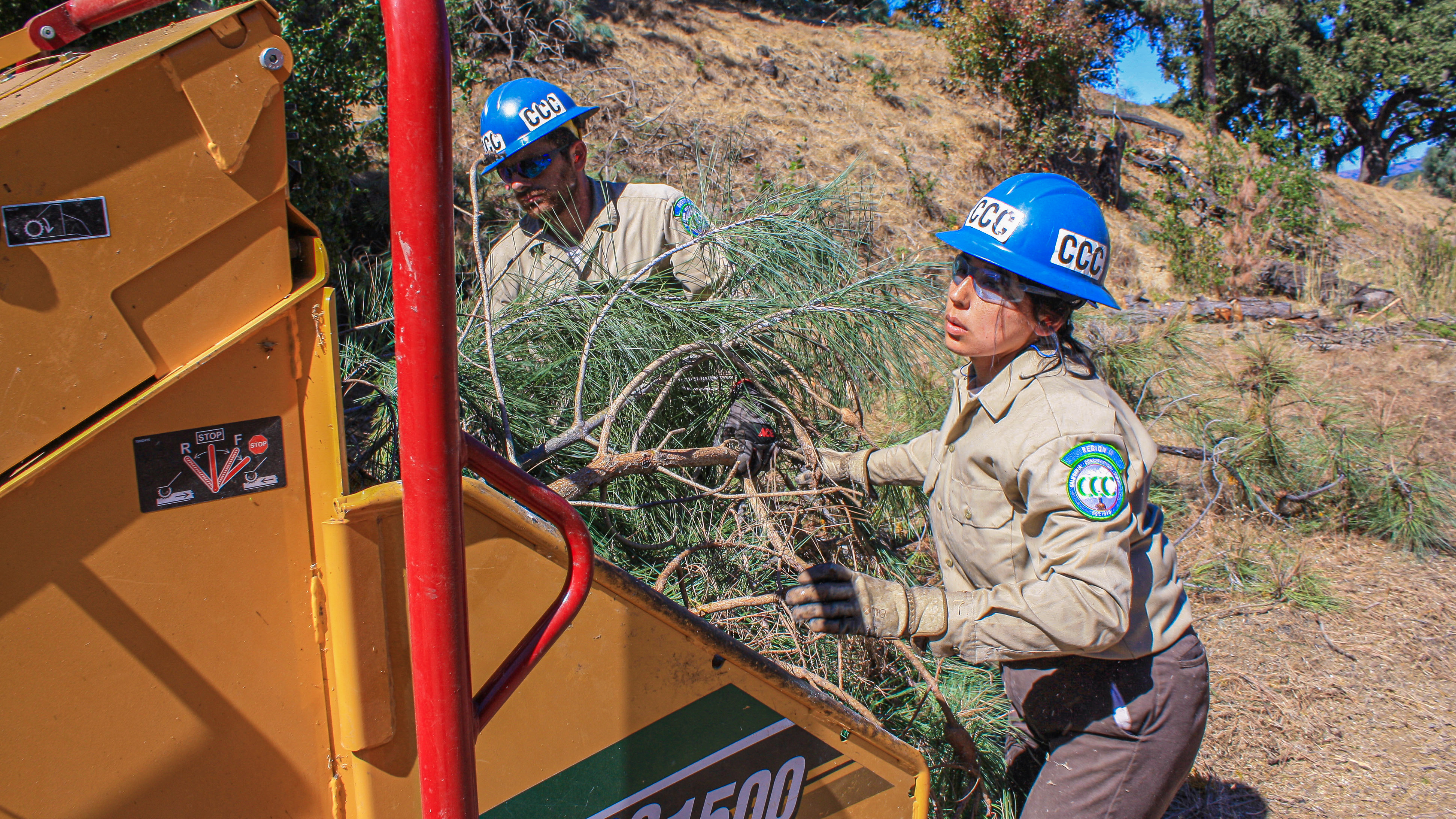 Corpsmembers Shane Boswell and Kimberly Reyes-Maravillo pull tree limbs into wood chipper as they treated 6.5 acres during a week of work near Morgan Hill.
"Because we did the fuel reduction, we're helping reduce how quickly the fire can spread to the neighborhood," Romo said.
The plans for Coyote Canyon are still being finalized, including the trails which will cut through the 2,741-acre property. The new park property provides regional connectivity to three existing county and state parks—Anderson Lake County Park, Henry Coe State Park and Coyote Lake-Harvey Bear Ranch County Park.
Corpsmembers camped at Coyote Lake during the first phase of their project work. The location provided them with an opportunity to learn how existing parks are maintained and the process of opening a new park. Educating Corpsmembers about natural resource conservation and career opportunities are major goals of the CCC program.
"I've learned all about the jobs that are required to even just prepare a trail," Romo said. "I'm thinking of becoming a game warden or park ranger. Through the CCC I've found out a lot about being a park ranger and what kind of skills you need to have."
The CCC is scheduled to conduct additional project work in order to prepare Coyote Canyon for opening.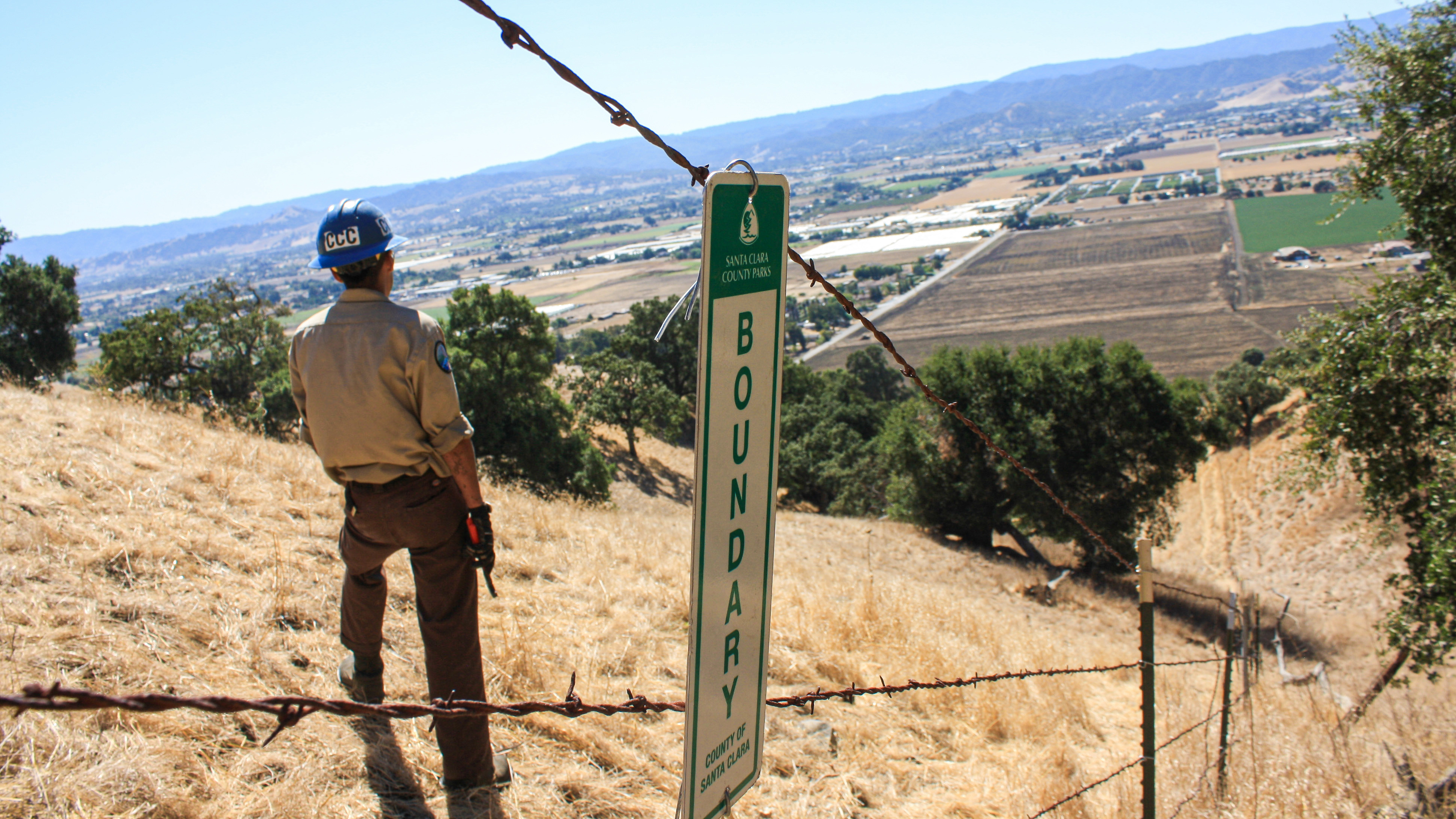 Corpsmember Julian Burgos looks out over Morgan Hill after he and his crew completed renovations of cattle fencing at Coyote Canyon Park.