The nonresidential Sacramento Energy Hub and Fresno Satellite were established in 2017 in response to the increasing demand for labor focused on energy conservation related projects.
The energy program previously focused on Proposition 39 projects, providing a much needed trained labor source to perform industry standard (ASHRAE LEVEL II) energy surveys. Because the cost of lighting is almost always the highest cost for a school district, the Energy Corpsmembers focus primarily on lighting retrofits in schools. The Energy Region is expanding to include HVAC controls, solar projects, smart power strips, and more.
570 Bercut Drive
Sacramento, CA 95811
916-414-6202
CCC Sacramento Energy Hub
2536 N. Grove Industrial Drive
Fresno, CA 93727
559-458-0914
Life at the Sacramento Energy Hub
The Sacramento Energy Hub participates in an active volunteer program. Corpsmembers are required to perform a minimum of 48 hours of volunteer service in their year with the California Conservation Corps. Several of our Corpsmembers serve many more hours. Corpsmembers often help at local festivals, clean-ups, and events.
The Corpsmember Advisory Board (CAB) is considered the governing body of the Corpsmember community. They have the opportunity to fundraise to pay for recreation activities, center improvement projects and more. The board works closely with staff to initiate positive change and improve the community. Participating in CAB is a required component of promoting to a second year, but also a great way to boost a resume and gain great communication and public speaking experience.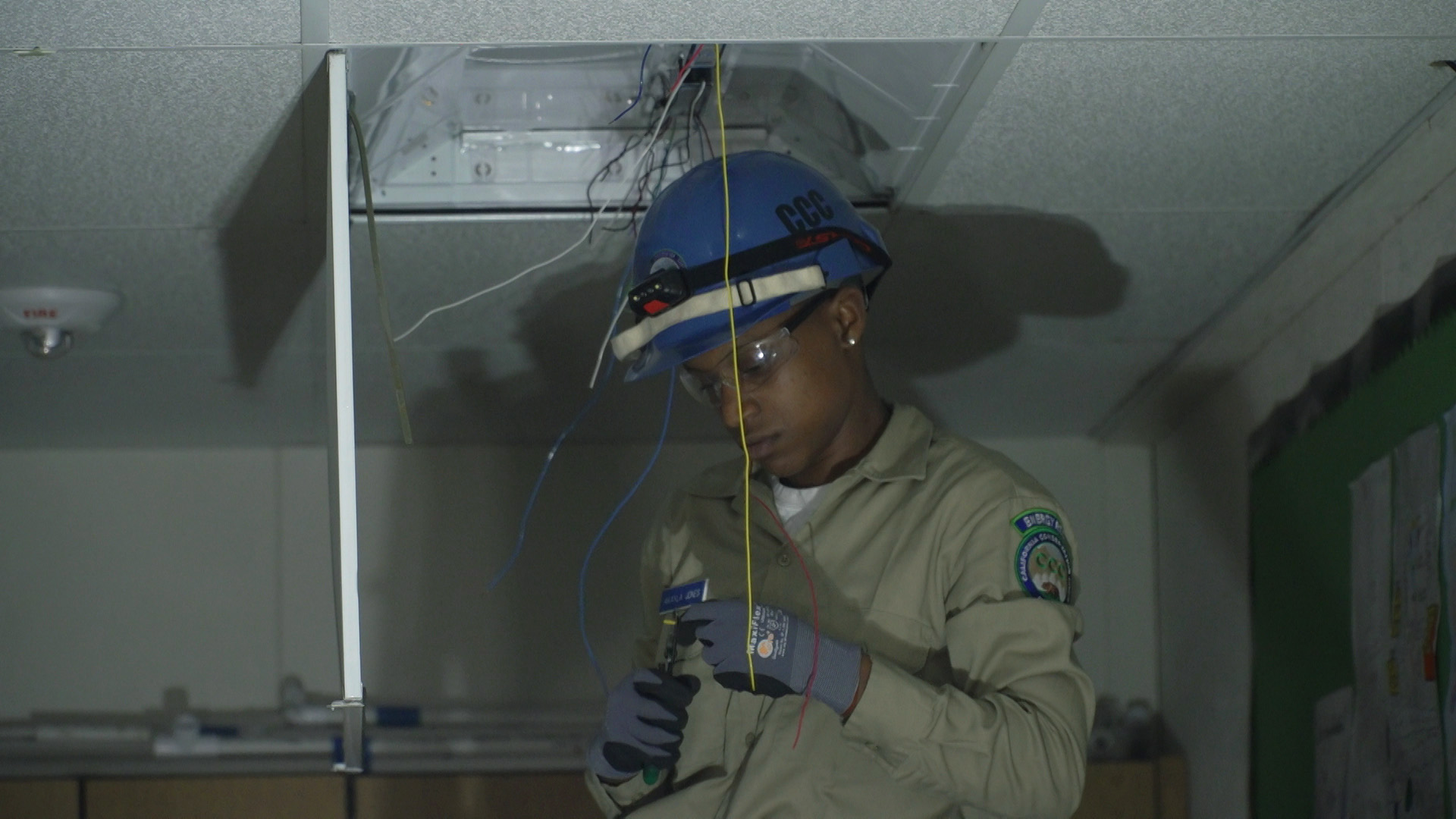 Sacramento Energy Corpsmember Akayla Jones strips wires as part of a lighting retrofit project at a Sacramento City Unified school.
Projects often require travel. Crews from Sacramento recently returned from a project in a small coastal community in Humboldt County. The Sacramento Energy Hub encompasses the entire central and Northern California area, but may have opportunities to assist the Norwalk Energy Hub with projects in Southern California. Project travel typically occurs in 8 day increments (Wednesday to Wednesday). Corpsmembers stay in hotels and manage their own small food budget, which is provided. Projects like these are great opportunities for Corpsmembers to get to know each other better and to see different parts of California.
Like all Corpsmembers in the California Conservation Corps, Energy Corpsmembers are required to respond to emergencies. These can occur at any time of the year and can include floods, fires, pest infestations and oil spills. The California Conservation Corps is proud to serve our state through Emergency Response, and we take the responsibility very seriously. If an Energy Crew is dispatched to an emergency, Corpsmembers may only have a few hours to pack up and report for duty, traveling to various regions for up to 16 days at a time.
Corpsmembers are trained to perform work at industry standard and at the schedule that best serves our partners, often swing shifts from 1:30pm – 12:00am or night shifts. Crews typically work 10-hour shifts Monday through Thursday. If the project allows, the day shift is 6:30am – 5:00pm. This requires a great deal of flexibility and planning. Successfully navigating these schedules prepares graduates to be successful in the energy and construction trades. Our partners include the Department of Justice, Caltrans, Department of General Services and more. The Energy crews have performed surveys and retrofits at thousands of school districts. Each project is an opportunity for a Corpsmember to build a relationship for a potential career.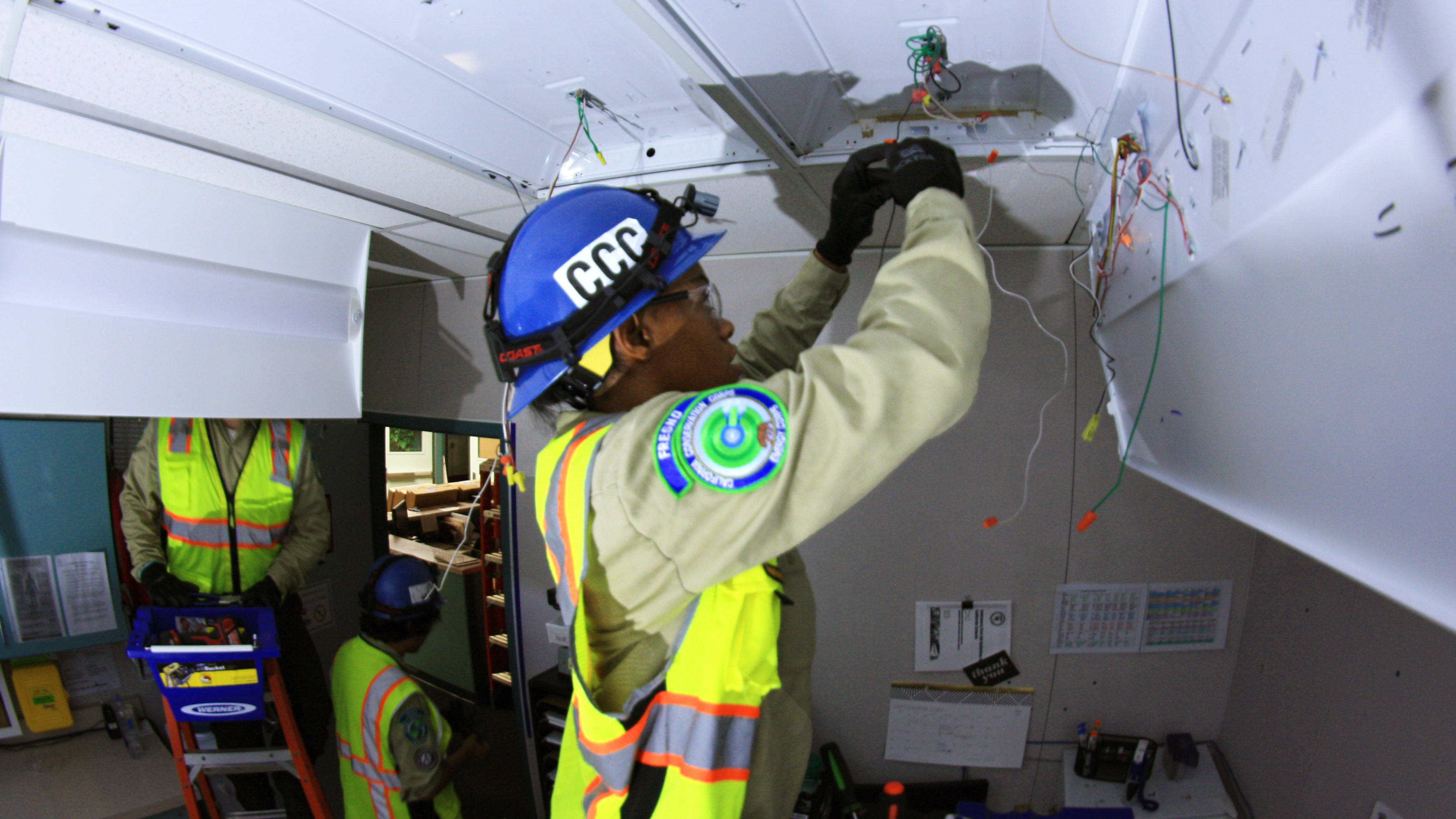 Fresno Energy Corpsmember Breanna Booker replaces a tombstone inside a light at Tropico Middle School in Rosamond, CA.
Building Envelope
Cal-OSHA 10-Hour Safety Training for Construction
Electrical Concepts
Energy Audits
Energy Efficiency Basics & Data Collection for Energy Surveys
Energy Efficiency Fundamentals
First Aid & CPR
Introduction to Wiring and Lighting Retrofits
Ladder Safety
LED Technology Hands-on Training
Lighting Commissioning
Lighting Control Installation
Lighting I: Lighting Your Way
Lockout-Tagout
Maintenance Best Practice for Energy Efficient Facilities
Safety Stand Down
Scissor (Aerial) Lift
ServSafe Food Handler Certification