The Placer Center is a residential facility housing up to 100 Corpsmembers. The center has remained in continuous operation for more than forty years serving the State of California. Center operations are currently based at the CCC's Greenwood Center while the campus in Auburn undergoes renovations. Placer Center reopens in fall 2021 with new dorms, dining hall, and multipurpose room.
The Greenwood Center is located in El Dorado County off Highway 193. Built by Corpsmembers in the 1980s, Greenwood's location has helped Corpsmembers enhance and restore several regions of the Sierra Nevada.
The center conducts conservation work in El Dorado, Placer, Nevada, Sierra, Yuba, and Sacramento counties. The center operates two Type I wildland firefighting hand crews, as part of a partnership with CAL FIRE, a culinary program emphasizing institutional food services skills, and four natural resource conservation crews.
4411 Highway 193
Greenwood, CA 95635
530-823-4075
Life at the Placer Center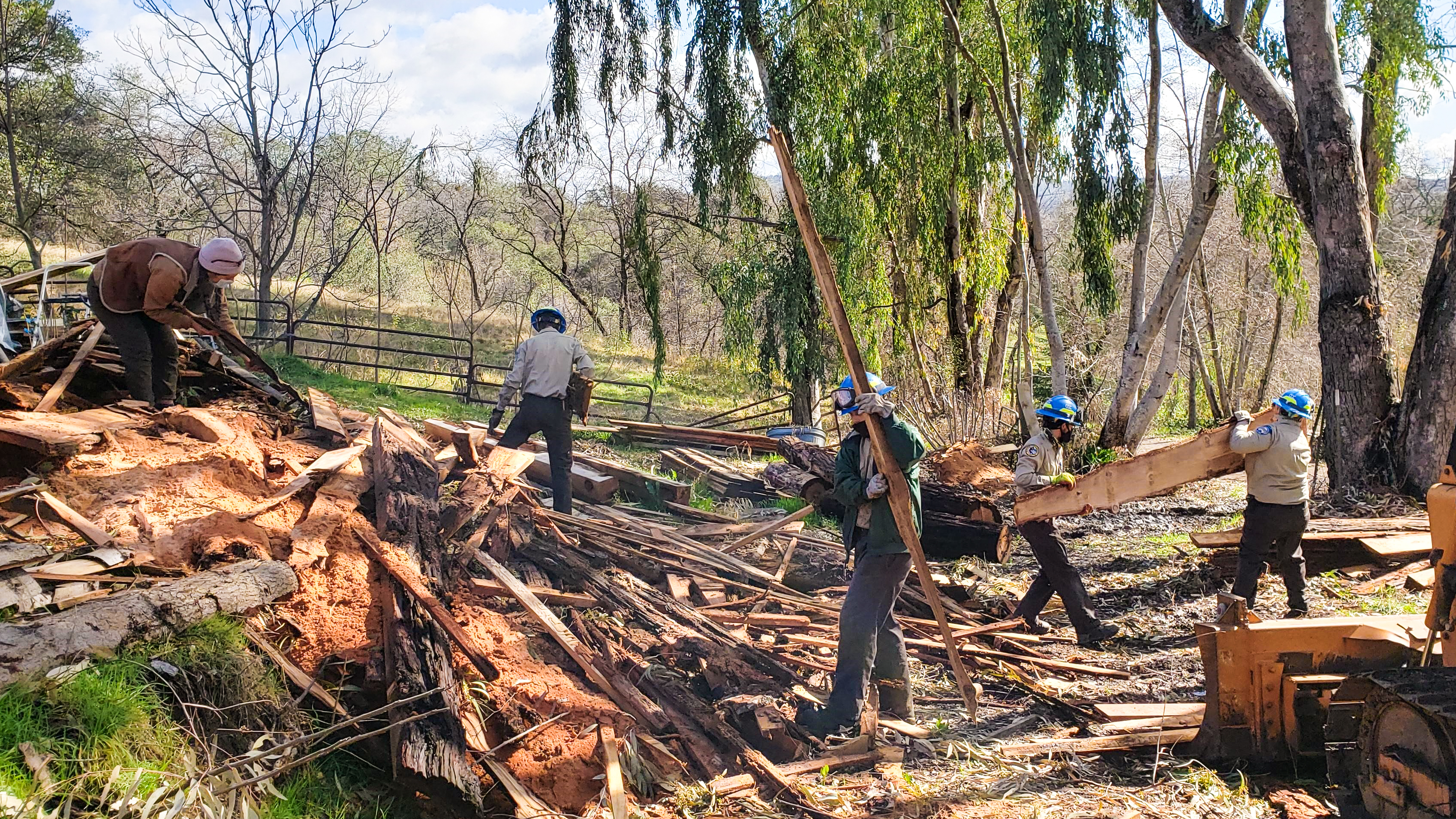 CCC Placer Corpsmembers peel the bark off cedar trees as part of a volunteer project. The bark was used to rebuild an education area of the Placer Nature Center, where Corpsmembers regularly volunteer their time.
Volunteering in nearby communities or for local organizations is a valuable way to get Corpsmembers involved in something bigger than themselves. It allows them to see firsthand how the direct giving of one's time can affect others in a positive way. Corpsmembers can expect to volunteer a minimum of six hours per month.
In the last year, events have included various Placer County Nature Center events, community tree planting events in the City of Roseville, and support to a children's therapeutic equestrian center.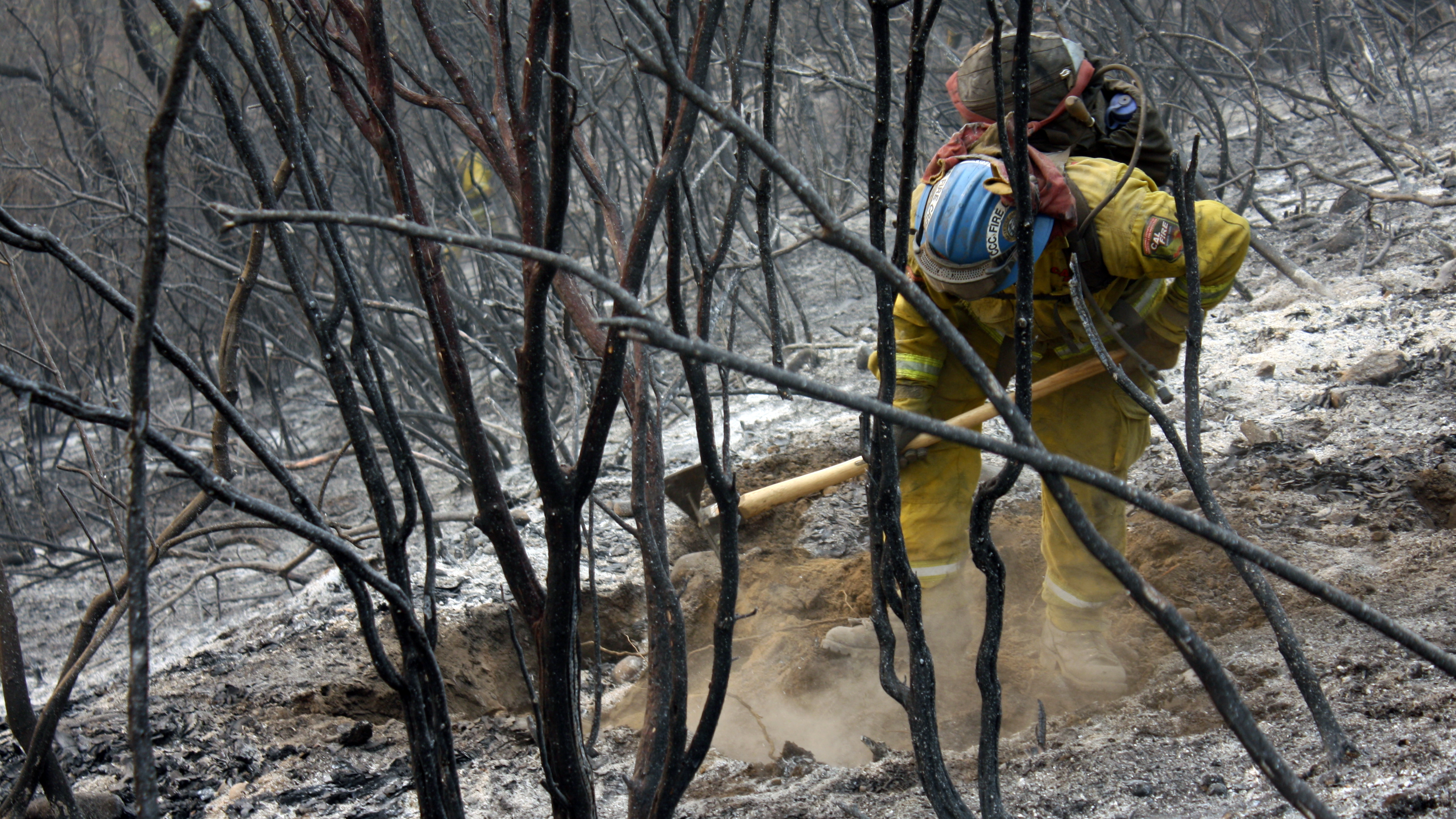 A Placer Wildland Firefighting Corpsmember digs out a smoldering tree root during mop up operations at the November 2018 Camp Fire near Paradise, CA.
The California Conservation Corps and CAL FIRE established a partnership at the center in spring of 2017. The center houses two Type I wildland fire hand crews overseen by CAL FIRE captains who will also provide technical supervision and training to the crews.
Project work in recent years has included trail construction, fuel reduction, stream clearance, tree planting, native flora planting and maintenance, highway vegetation maintenance, tree trimming, storm damage clean up, flood emergency response, wild land fire response, and fire camp support. Sponsors include city and county agencies, Department of Water Resources, CAL FIRE, California State Parks, CalTrans, Cal Recycle, U.S. Forest Service, Nevada Irrigation District, and more.
No matter the weather, distance, or type of emergency, the Placer Center is committed to timely response to emergencies with well-trained crews in all circumstances. Whether cutting line, assisting with fire camp operations, sand bagging homes or property during a flood emergency, or staffing emergency shelters, Placer Corpsmembers are ready to offer their services at a moment's notice.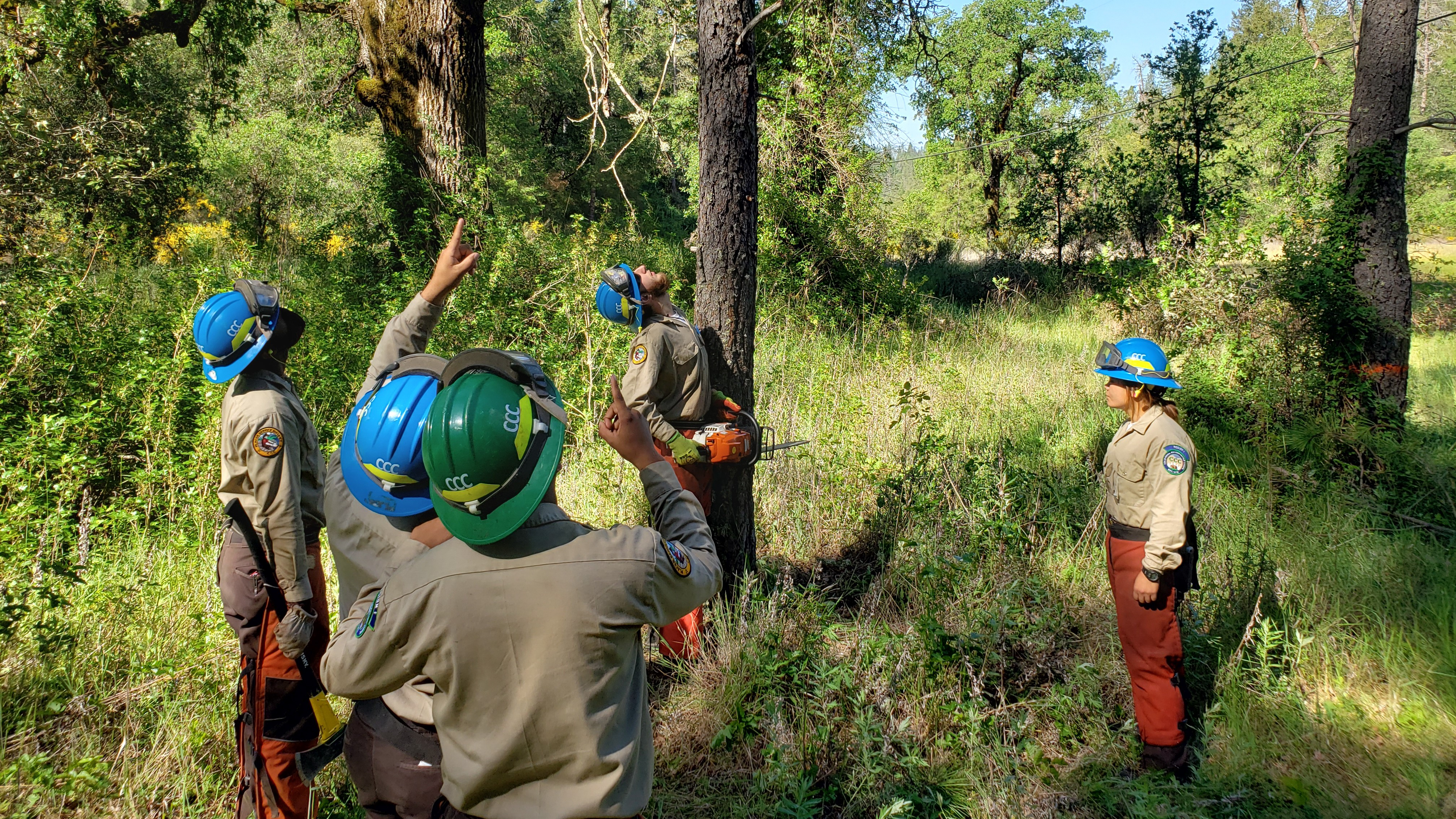 Placer Corpsmembers size up a tree during a chain saw tree felling training class in 2021.
All Corpsmembers at the Placer Center are required to complete Corpsmember Orientation, Motivation, Education, and Training (COMET) and core training courses. The Conservation Awareness core course is instructed by subject matter experts from the Placer Nature Center. The Career Development and Transition core course is instructed by subject matter experts from the Placer School for Adults and the Placer Center's Career Pathways and Transition Navigator (career counselor).
Beginning in fall 2021, Placer Center will partner with Yuba City College and Sierra College to provide opportunities for Corpsmembers to attend a CAL FIRE Firefighter I qualifying (~240 hour) Academy.
CAL FIRE Type I Firefighter Training (Basic Firefighter Training)
Chain Saw Training and Certification (including tree felling and bucking certifications)
Chipper Safety & Training
First Aid & CPR
Flora and Fauna Identification
Herbicide Application and Safety
Hazardous Waste Operations and Emergency Response (HAZWOPER) 40-Hour Training
Pesticide Handler Safety
Power Tools Safety and Operation
Trail Construction and Maintenance
Placer Center encourages and supports all Corpsmembers earning their personal Driver License and will financially assist with behind the wheel driving school costs. Once holding a driver license, Corpsmembers may attend additional CCC training and become operators of State of California vehicles, including in some cases licenses to operate specialty vehicles (large capacity vans, forklifts, etc.).
Many Corpsmembers enroll in Emergency Medical Technician courses through Sierra College.  Others attend courses to become certified shorefront lifeguards.
The CCC is a one-year program, however it is possible for Corpsmembers to promote into a second year as a specialist or as a crew leader.
Through a partnership with John Muir Charter School, CCC Placer Center offers classes to Corpsmembers in need of their high school diploma. Many Corpsmembers consider earning their high school diploma to be one of most important achievements obtained while in the CCC.  Placer Center has the distinction of having 13 Corpsmembers graduate high school in 2021.
Placer Corpsmembers go on to jobs with State of California Fish and Wildlife, CAL FIRE, California State Parks, federal land management and wildfire agencies, private wildland firefighting companies, local fire department and academies, and private arborist companies.