The Butte Fire Center opened in 1978 as a CCC/CAL FIRE Center. The center closed in 2003, then reopened in May 2016 housing up to 60 residential Corpsmembers who provide fire prevention and protection, and work on natural resource projects in the surrounding community.
Young men and women are assigned to the Butte Fire Center from all over California. For most Corpsmembers, it's the first time they have lived near mountains, operated a chain saw, or worked in a commercial kitchen. Corpsmembers can choose to participate in the Butte Fire Center's Wildland Firefighting Program or its Culinary Program. No previous experience is necessary.
The center is located on a heavily forested property in Magalia, about fifteen minutes from the town of Paradise and 45 minutes away from Chico.
6640 Steiffer Road
Magalia, CA 95954
530-327-6252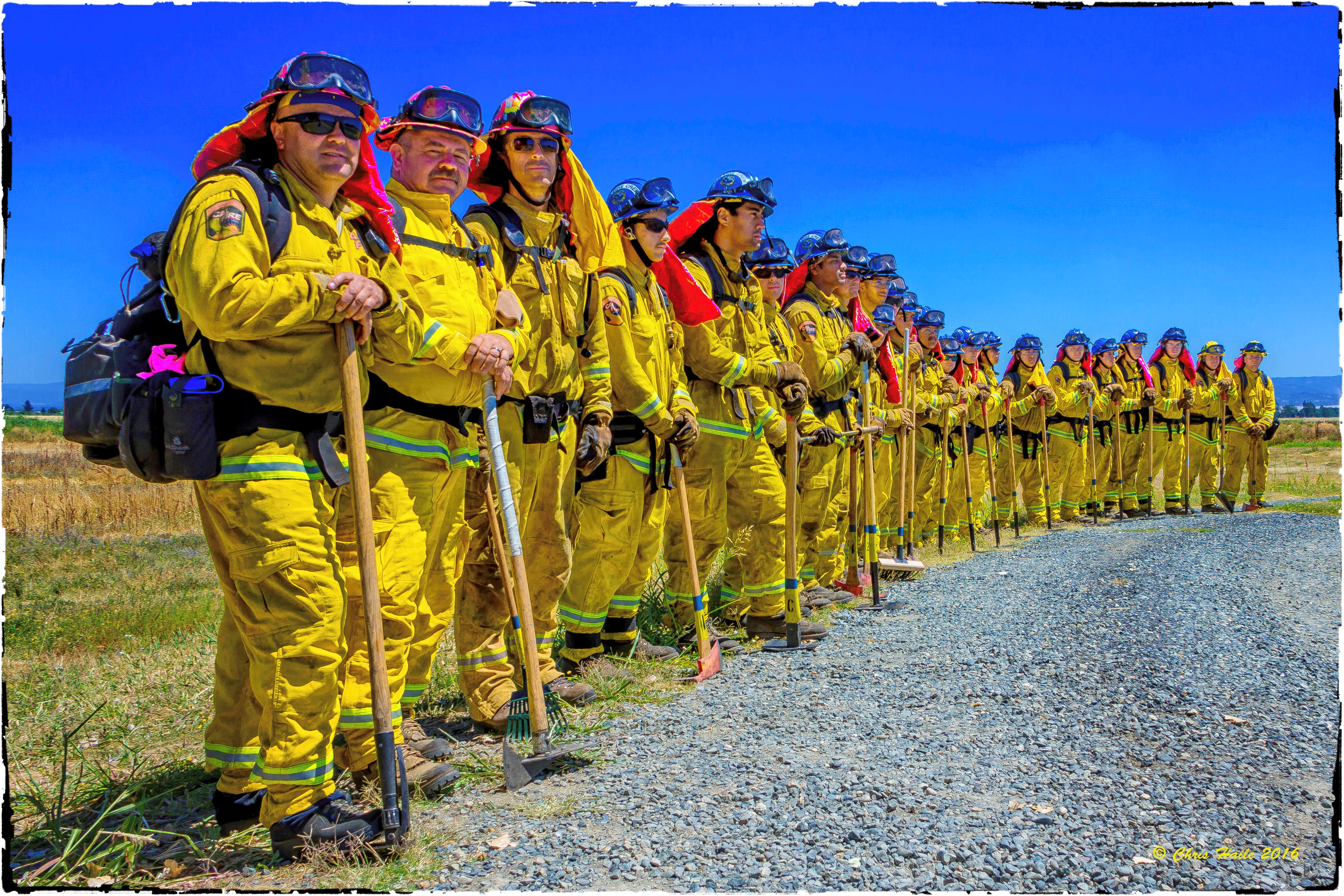 The California Conservation Corps' Butte Fire Center primarily focuses on firefighter training and work through their Wildland Firefighting Program.
Living quarters at the Butte Center consist of dorm-style residence halls with separate housing for men and women. Rooms are designed for two or more Corpsmembers. Everyone eats breakfast and dinner in the dining hall.
Personal vehicles are allowed at the center, and there is plenty of parking.
There is a computer lab and Wi-Fi access at the center. There is also a recreation room with pool tables and TVs for gaming, movies, etc. There is an outdoor basketball court and a gym with cross-fit racks, weights, a treadmill, and several other exercise machines.
Projects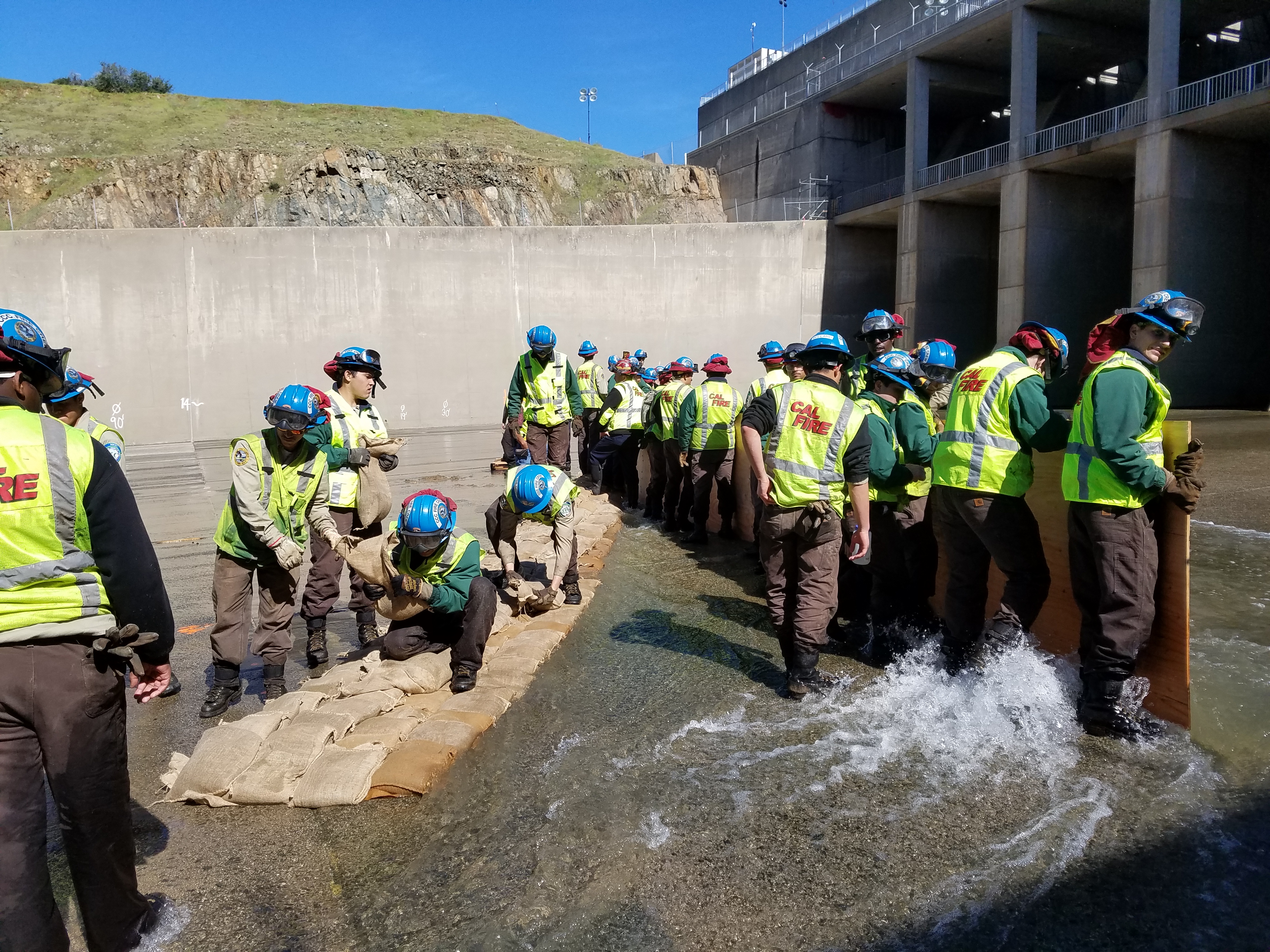 Like all Corpsmembers in the California Conservation Corps, crews at the Butte Fire Center respond to emergencies throughout the state. This crew is placing sandbags at the Oroville Dam in Northern California after its spillways failed causing major flooding and damage in the area.
Corpsmembers at the Butte Fire Center specialize in providing fire prevention and protection with CAL FIRE. In addition, crews may work on natural resource projects in the surrounding community as well as respond to emergencies throughout California.
Education and Training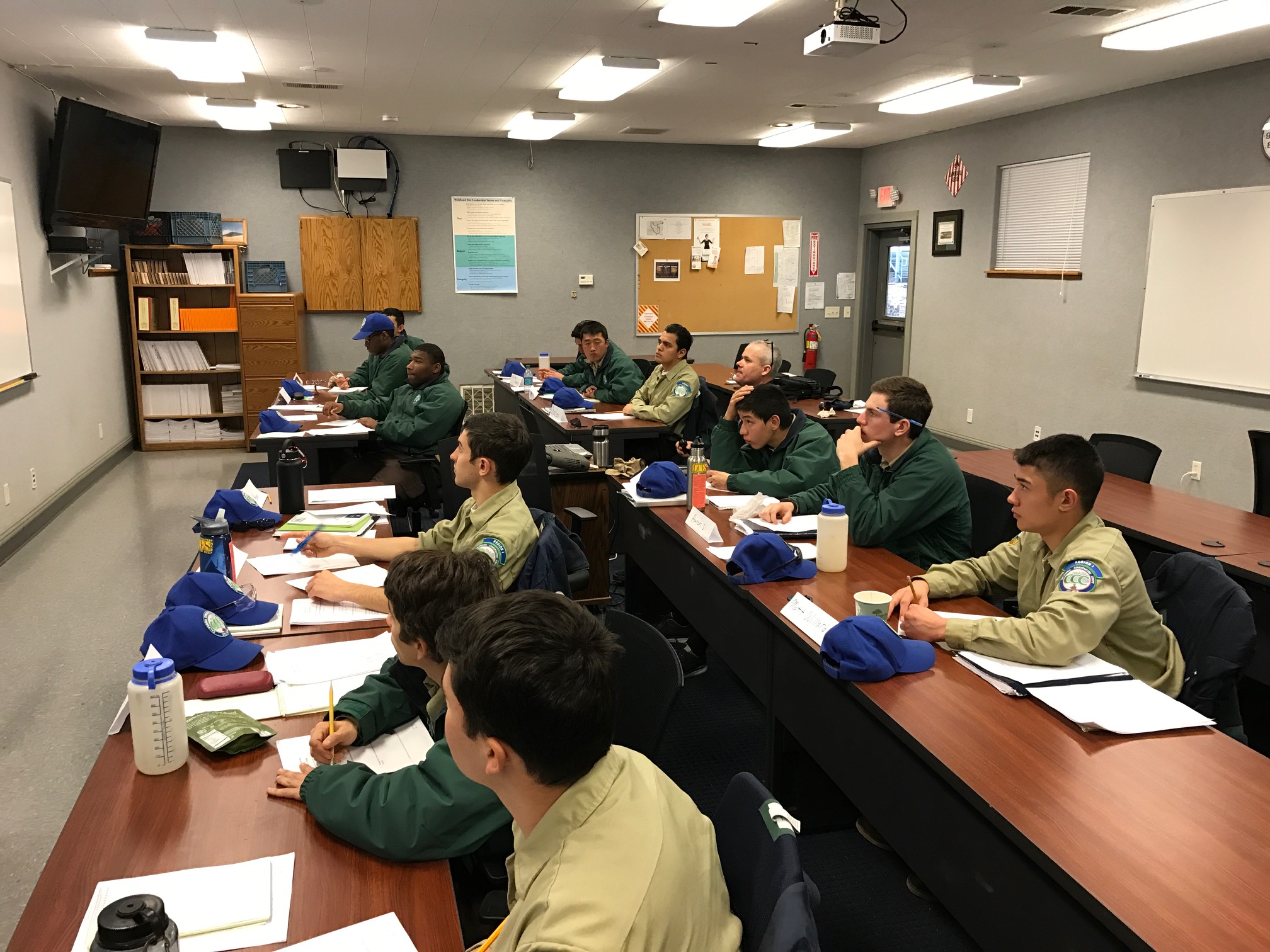 Corpsmembers hit the classroom after a day's work for more formal education to meet the Corps' education requirements.
All Corpsmembers at the Butte Fire Center complete Corpsmember Orientation, Motivation, Education, and Training (COMET) and core training courses. Specialized trainings and certifications available at the center include:
First Aid & CPR
Automated External Defibrillator (AED) Certificate
Chain Saw Training and Certification
Chipper Safety & Training
Ladder Safety
Leave No Trace
Safety Stand Down
Power Tools Safety and Operation
In addition, the center offers two programs to Corpsmembers: the Wildland Firefighting Program and the Culinary Program.
Wildland Firefighting Program
Corpsmembers train with and work directly with CCC and CAL FIRE personnel as Type I fire crews that work on "hot" lines on the fire's edge. Experience as a Butte Fire Center firefighter can lead to career opportunities in wildland firefighting.
Requirements: Previous experience is not required to join the Wildland Firefighting Program at the Butte Fire Center. However, the program requires determination, mental toughness, and physical fitness including:
High School Diploma, GED, or high school equivalent
Physical Fitness Test:

25 push-ups in 2 minutes
25 sit-ups in 1 minute or hold plank for 1 minute
2-mile run in 18 minutes or less
5 pull-ups in 1 minute or hold onto bar for 1 minute
Complete a 2-mile hike uphill (an 800-foot elevation rise) in 30 minutes wearing full fire-protective gear (boots, hardhat, gloves, and fire-protective clothing over uniform) and carrying a 40-pound backpack and a chain saw, shovel, or other hand tool.

Written Test: After completing the classroom portion of the CAL FIRE/CCC fire training, all applicants are required to pass a firefighter written exam to remain at Butte Fire Center. Corpsmembers who do not pass can transfer to another residential CCC center.
Physical Exam: Corpsmembers must have a CCC pre-employment physical exam once they arrive at Butte Fire Center. The must be cleared by the CCC's physician to perform the duties of a wildland firefighter, including working long hours over multiple days in heat, dust, and smoke.
Background Check: California residents between the ages of 18-25 cannot be on parole or formal/supervised probation, or have convictions for violent crimes or serious drug offenses.
Course Description: The CAL FIRE Fire Crew Firefighter Training course at the Butte Fire Center provides physically fit CCC corpsmembers with the basic skills in wildland fire suppression.
There will be 20 quizzes. The cumulative score must be 80% or higher. No retakes are allowed.
There will be a comprehensive 50 question final exam that corpsmembers must pass with an 80% or higher. No retakes are allowed.
Corpsmembers will write on paper or recite the "10 Standard Firefighter Orders" and pass with an 80% or higher. Two retakes are allowed.
Corpsmembers will write on paper or recite the "18 Watch-out Situations" and pass with an 80% or higher. Two retakes are allowed.
Corpsmembers must recite the shelter deployment statement, clear an area 4-feet by 8-feet down to the soil, and get into the fire shelter in 30 seconds or less in full wildland Personal Protective Equipment (PPE).
Program Schedule: In the winter, days of operation are Monday through Friday. During Fire Season, the Butte Fire Center operates seven days a week and is able to respond to fires 24 hours a day. When crews are dispatched to a fire, the typical schedule is 24 hours on, with little or no rest, often cutting fire line for hours at a time. This is followed by 24 hours off. Corpsmembers should be prepared to be out on assignment for 14-21 days at a time, with only one day off before returning to an emergency.
Corpsmembers continue training and work on fuel reduction projects and other outdoor projects in nearby forests and parks when they aren't responding to a fire or an emergency. They also take career, leadership, or personal development classes in the evenings. On weekends and days off, there are often volunteer opportunities and recreational trips.
Culinary Program
The Culinary Program at the Butte Fire Center provides Corpsmembers with training and on-the-job work experience in a commercial kitchen. Corpsmembers also have the opportunity to earn a ServSafe Food Protection Manager certificate.
Under the supervision of professional culinary staff, Corpsmembers daily prepare meals for 60 or more people.
During fire season, kitchen staff may have to cook for 100 or more people on very short notice and be required to work extra shifts when the Butte Fire Center is designated a base of operation for visiting fire crews deployed on nearby fires.
Experience gained through the Culinary Program positions Corpsmembers for careers in commercial and institutional food preparation.
Corpsmembers in the culinary program participate in all other aspects of the CCC program, but are not required to meet the fitness standards for fire training.