Female Firefighters Form New Inland Empire Fire Crew
Sweat pouring down her face, her muscles burning head to toe, this is not Gabby Delores' typical morning walk. A 45 pound vest weighs on her shoulders making the three-mile walk feel like a brutal crawl. But for Delores, stopping or turning back is not an option. The walk must be completed if she is to make the cut to be on the California Conservation Corps' new Inland Empire Fire Crew.
"The whole time I kept thinking, 'You're going to be a firefighter, you're going to be a firefighter,'" Delores said. "My passion is the outdoors, what better way to help the outdoors than being a fire fighter."
Growing up in Colton, weekend hikes developed Delores' love for the outdoors. She first became aware of the CCC while running along the Santa Ana River Trail in San Bernardino, where she saw Corpsmembers gathering for early morning roll call.
"If they could do it, I could do it," Delores said of the Corpsmembers she used to watch. Now after more than a month in the CCC, Delores isn't just one of those Corpsmembers, she's a member of a majority female fire crew.
"I'm really excited," Delores said. "I never thought I'd be holding a chainsaw and cutting down a tree. And when I got out there I was like, 'Wow!' It is such an amazing feeling. I just feel like I'm a part of something now, that I have such a big purpose."
In late September, Delores joined more than a dozen other female Corpsmembers for fire training. The work included field exercises where they used a tool — a combination axe and adze — called a Pulaski to cut fire lines. The Bureau of Land Management provided the training on how to use fire hoses and on fire safety and weather.
"I didn't know that there were so many elements that go into a fire," said Corpsmember Alondra Romero. "I thought it was just water. But it's clearing all the brush and all the fuel. It's interesting."
In just a few short weeks, the Corpsmembers tackled the educational challenges of becoming firefighters. Most had never held a chainsaw. Now, they can take one apart, clean it, sharpen it, put it back together, and use it.
"I've been very, very impressed with this crew," said Anthony Larios, a CCC crew supervisor who's led fire crews in the past. "It just blows my mind how fast they're picking it up. They're just hungry for it, they really want it. They want to prove themselves."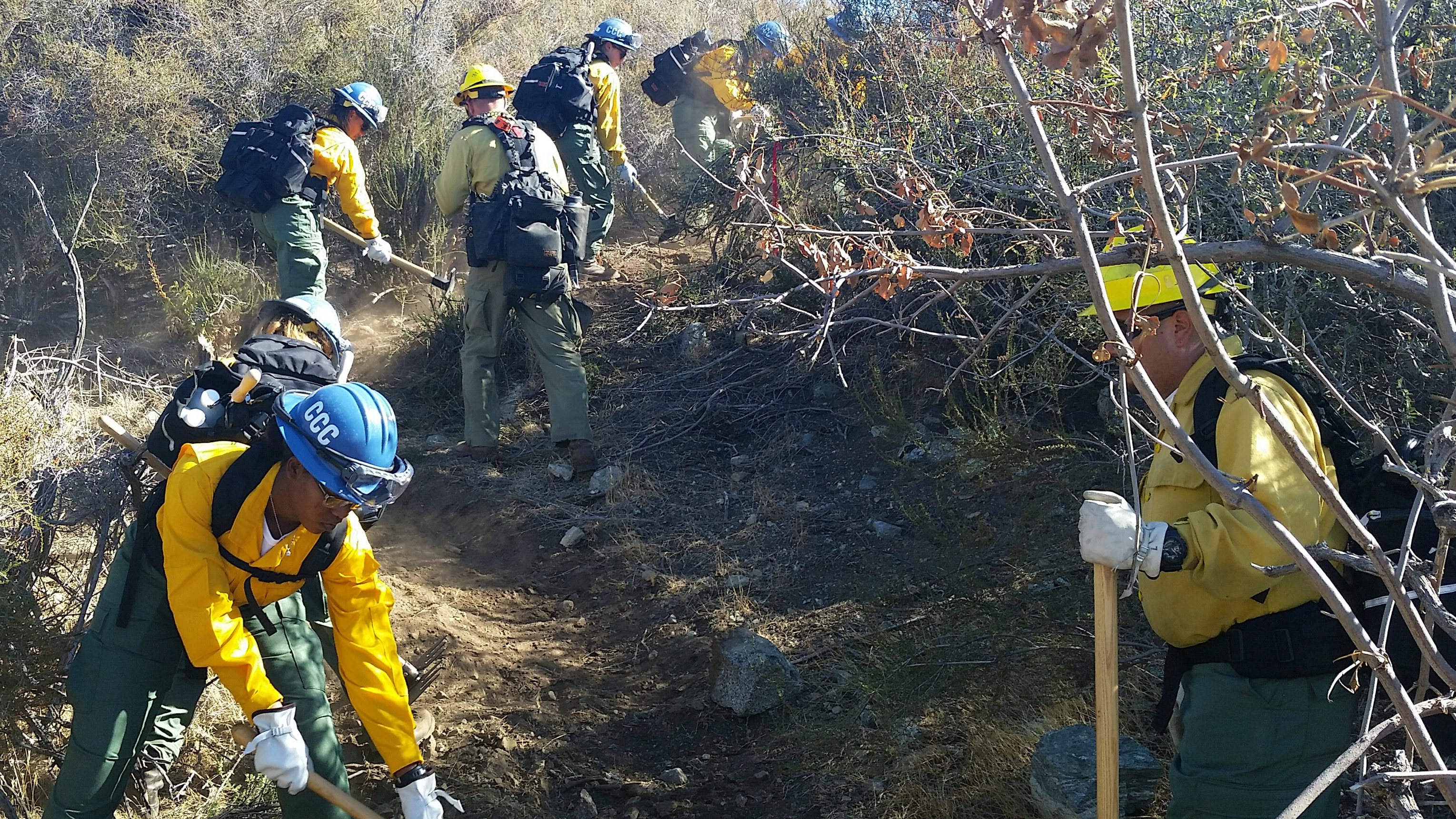 Corpsmember Nyaira Humphrey practices cutting a fire line on the Morongo Indian Reservation in San Bernardino County.
There is no greater challenge to becoming a wildland firefighter than the pack test – that grueling three-mile walk in under 45 minutes Corpsmembers must pass to become firefighters. To top it off, a 45 pound vest must be worn, which is like carrying a four or five-year-old child on your back.
"There was a lot of pressure, but everyone was pretty motivated," said Corpsmember Diana Vaca, a veteran of the CCC trails program. "I definitely feel accomplished and relieved. I feel like I legit lost 45 pounds after doing that."
Eight female Corpsmembers passed the pack test in early October and another six passed later in the month. A total of 14 women and four men now make up the fire crew, including Vaca, Romero and Delores. Finishing with just 59 seconds to spare, Delores' face was drenched in sweat and tears of joy.
"It was definitely emotional," Delores said. "Happiness and overwhelmed that I am actually maximizing my potential and going after everything the CCC provides."
Delores wants to turn her time in the CCC into a career in forestry. Vaca and Romero both plan to pursue firefighting careers.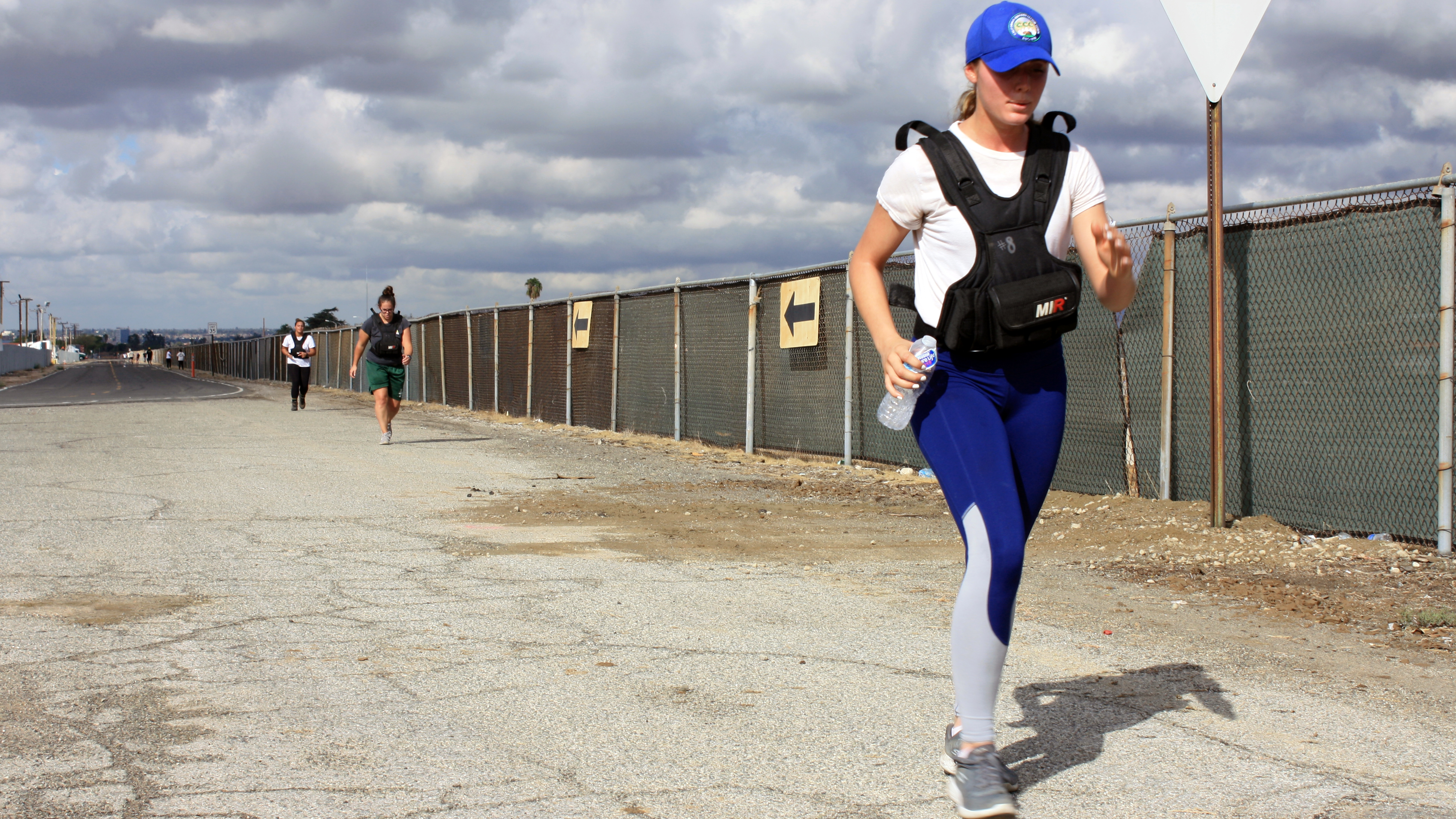 Corpsmember Anna Atkinson, Special Corpsmember Chelsea Noler and Corpsmember Falon Hafoka complete the first mile of the three-mile pack test. Corpsmembers spent several weeks training for the arduous physical test by adding extra weight onto the vests.
"The primary reason for doing this was to get people interested in fire management and develop an applicant pool," said James Gannon, a BLM Fuels Specialist. "We're looking to get a broader applicant pool; just increasing the diversity of applicants to more closely match the population. There's a large pool of people that would be interested if only they knew about the opportunities."
The new CCC Inland Empire Crew 5 will be a valuable resource to BLM and the National Park Service as it will be the only firefighter hand crew in the Southern California desert region. It's not just beneficial to local communities, but will enhance the lives of crewmembers, like Aleena Gonzalez.
"With everything I've been through personally, it's worth it," Gonzalez says of the physical and mental hurdles. "I made it. I was half way through and I could just see that my life is about to change. I'm so grateful."
And, when Crew 5 isn't working on the fire lines, the Corpsmembers will be removing dead and overgrown vegetation to lessen fire danger on federal lands. It's future work that suits Delores just fine, as she begins her career in the outdoors and making California an even better place to live.
"The CCC is a place where your passions can grow," Delores said. "You feel like you have a purpose. There are so many opportunities here, it's a great feeling overall."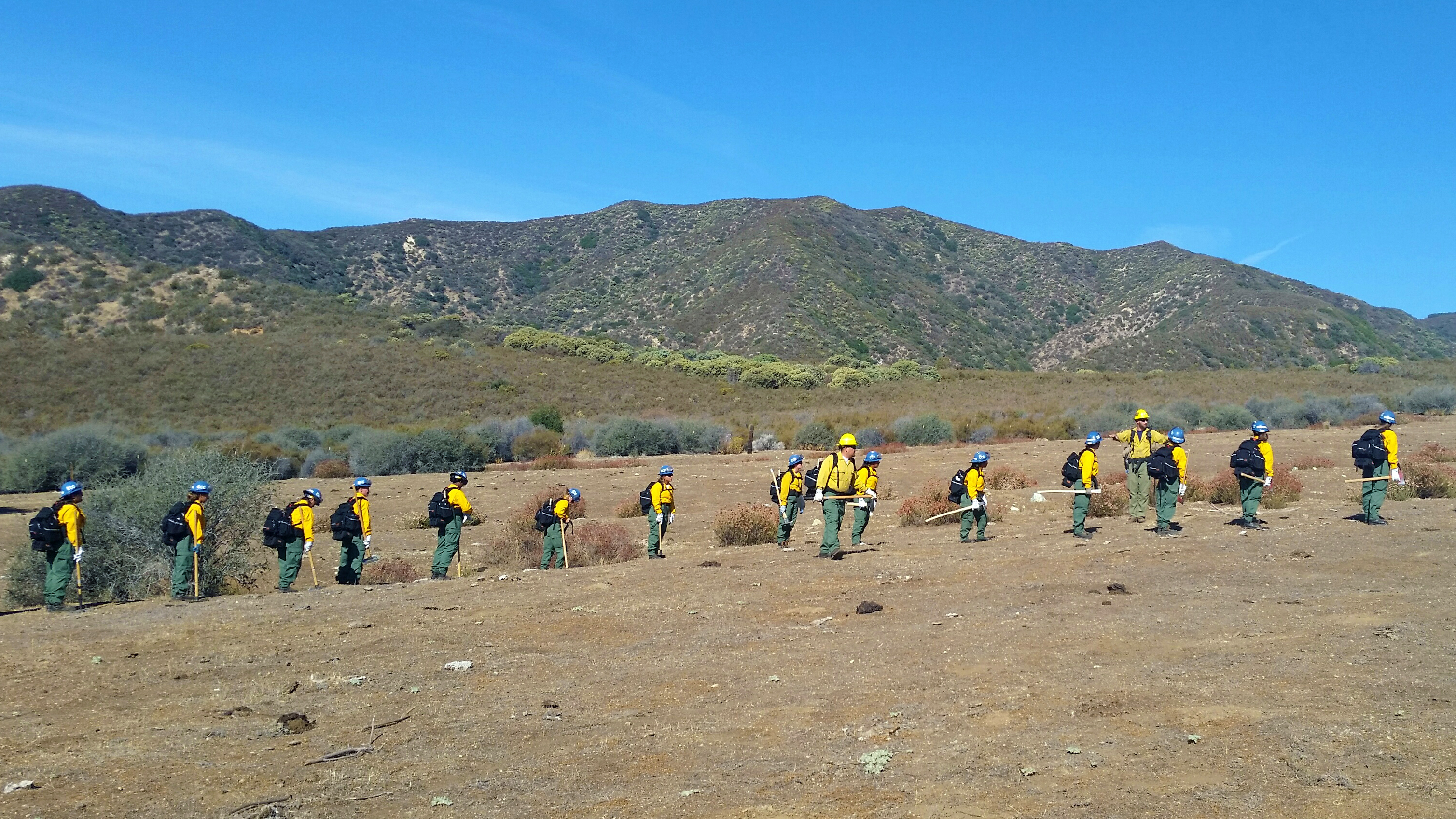 CCC Inland Empire Crew 3 lines up for field exercises with BLM firefighters on the Morongo Indian Reservation. A total of 14 female Corpsmembers and four male Corpsmembers make up the new fire crew.